Country music has always existed in their own world, separated from the publicity and paparazzi of Hollywood or New York City. The hub of country music resides in Nashville, Tennessee, home of the Bluebird café and the Grand Ole Opry. Two years ago, I didn't know much about Nashville or the country music world to be honest. And then, the show Nashville premiered on ABC. Last week, after a month or so hiatus the show returns for new episodes, and I am still as hooked as when I watched the first episode.
I will admit I first tuned into Nashville because of its star, Connie Britton (and her beautiful hair). I am a massive fan of Friday Night Lights and would watch pretty much anything that has Tami Taylor in it. But after the first episode I was drawn in by the world of Nashville and country music.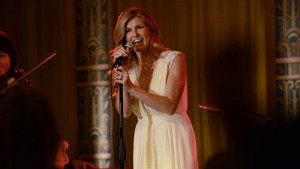 As a casual listener of country I was naïve to places like the bluebird and other Nashville country music sites that have launched the careers of many greats. But I love that the show films in Nashville so I wasn't looking at sound stages and recreations of these legendary places, but the actual sites.
The music of Nashville was also a draw to me. Not all of it…unfortunately some of the singers are better actors than they are singers. But I was surprised by how good of a singer many of them were. And I found myself loving the more folk-y songs that the show produced. The show, while fictional, actually mirrors the music industry in a lot of ways especially in regards to the struggle for album sales and the dichotomy of the country music industry. There is not one specific sound of country today in my opinion, but rather a few popularized sounds and singers must struggle to find their place and success within those areas.
The show also deals with the pitfalls that surround Nashville including the different type of expectations that surround country music stars in comparison to other famous singers. Country music is known for appealing to a more conservative audience and more simplistic roots than rap or pop music. One of the shows main characters, Juliette, constantly is at odds with fans and parents of her fans for this very reason. She is a great country artist, but does not line up ideologically with her fan base. She has learned the hard way though, that with no fan base, she has no career.
Nashville is probably not winning any Emmys anytime soon, but because of it's interesting take on the city of Nashville and country music, I am sure I will keep tuning in!