Domestic abuse. It has always been an issue since the beginning of time, but only just recently becoming a problem to really talk about. I bet you're wondering how country music has covered this controversial topic over the years. How do you sing about something so serious? A man abusing a woman is by no means a "light" topic of choice, but it is what I will be discussing today. I've selected 6 different songs that take on some different views about domestic violence. I think you'd be surprised at how many different viewpoints country music has tackled with this topic… Let's start with good old Johnny Cash.
"Delia's Gone" by Johnny Cash
Now you may not think this song has to do with domestic abuse at first, but the more you listen, the more it will come to you. "So if you woman's devilish /You can let her run /Or you can bring her down and do her / Like Delia got done" This song from 1962 fits the timeline pretty well. At this time women weren't taken seriously, they were just an object on your arm. As this song demonstrates, at the first sight of a woman having "devilish" thoughts, you need to put her down. While this wasn't the first recording of this song, you get the picture. Each recording has different words in different parts, so an original writer isn't known. If this song isn't sad enough, here's a twist, it's based off a real murder case. Since domestic abuse at this point in time wasn't even really known as "domestic abuse" (more like the woman always being subordinate to man), most people probably wouldn't even bat an eye at this song. However, as we move down the timeline, Wanda will begin to surprise people with a woman's perspective of how to stick up for herself.
"My Big Iron Skillet" by Wanda Jackson
This song, released in 1969 and written by Bryan Creswell and Wilda Creswell, really changed the view point of domestic abuse. It was sang by Wanda Jackson and seemed like one of the first songs from a women's perspective. And thank goodness for that because this song truly paved the way for future women in the country genre. "With my big iron skillet in my hand/ Gonna show you how a little woman quits a great big man /If you live through the fight we're gonna have when you get home / You'll wake up and find yourself alone" This song is what started the "little women with strong fight" trend in country music today. It demonstrated a new light for domestic abuse, that there is a way out. I think we can all agree this song has a much different vibe and viewpoint than "Delia's Gone". Loretta Lynn was also a prominent woman at this time who spoke out against male wrongdoing. While she spoke out, her song lyrics still weren't as straightforward as Wanda Jackson. You go, Wanda.
 3.  "Independence Day" by Martina McBride
Now as we move a little bit further down the timeline, country artists' and songwriters begin taking a different perspective when writing about domestic abuse. "Independence Day" was released in 1993 and written by Gretchen Peters. This song shakes things up by talking about domestic abuse from a child's perspective. "She tried to pretend he wasn't drinkin' again/ But daddy'd left the proof on her cheek./ And I was only eight years old that summer" This song shows the stress and torment that a young girl has to go through by seeing her mother being beat. It also shows the outsider's role when they notice someone being abused. "Some folks whispered and some folks talked/ But everybody looked the other way". This truly spells out the harsh reality of society's cold shoulder. While the song is sad, it also shows the hope of a better future that this young girl has once her mother and her are free from her father. Martina McBride has always done a fantastic job at singing songs of serious content and being a great women figure. While her approach is sad and thoughtful, we will soon move down the timeline just a little more to see how this approach has changed. Instead of sorrow, we will see the Dixie Chicks get revenge.
4. "Goodbye Earl" by the Dixie Chicks
Who doesn't recognize this sassy song performed by the Dixie Chicks? Released in 2000 and written by Dennis Linde, "Goodbye Earl" is certainly a song to remember. While this song has a fun tune and lighthearted tone, it does a really great job at showing the important role friends can have in life. Unlike the other song's about women taking care of business themselves, it shows "Mary Anne and Wanda" looking out for each other in a time of need. The song begins with lyrics of Wanda getting abused, then quickly moves to their plot "And it didn't take them long to decide / That Earl had to die". The song continues to talk about the story of how Earl was killed. While this song may have been thought of as a bad way to put a light on domestic abuse, I think it does a great job of continuing the trend of strong women. Not only strong women, but their friends who are willing to help out, unlike the bystanders in "Independence Day". While it's a touchy topic, I think they did a great job on looking at a different point of view. "Mary Anne's" friend outlook on domestic abuse differed greatly from a young child witnessing her mother's abuse, like in "Independence Day". And we all know, the Dixie Chicks absolutely rocked this song with their feminine twang. With feminism paving the road for the future at this point, lets move on toward another strong woman figure who gave her opinion on domestic abuse.
"Gunpowder and Lead" by Miranda Lambert
"Gunpowder and Lead" co-written and sang by Miranda Lambert in 2008 definitely intensified the idea of women empowerment. While "My Big Iron Skillet" certainly showed her man whose boss, Miranda Lambert takes it to a whole other level by including another controversial topic, guns. The song goes on about Miranda Lambert being this little girl who is tired of being thrown around when she finally says "His fist is big but my gun's bigger / He'll find out when I pull the trigger". This is another song about a women taking domestic abuse into her own hands, I think it differs from the others because 1. she is completely dealing with it by herself and 2. she is out to kill for what he's done to her. No song about exemplifies both these things. If you're interested in more about Miranda Lambert and relationships, I suggest this Article. Now we will move on to the last song on our timeline, which takes the most interesting viewpoint in mind.
"Take Your Time" by Sam Hunt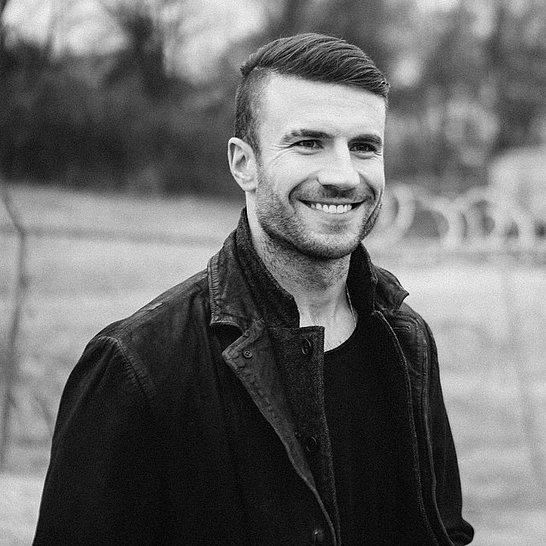 I saved this country song for last because it's the latest released song and takes a very different viewpoint on domestic violence. "Take your time" was released in 2014 and was co-written by Sam Hunt. While the song itself doesn't say anything specific to domestic abuse, the music video brought a lot of attention. This taste of country article brings light to that. The point of view from this song comes from another man, who likes the girl who was once abused, telling her that he'll wait for her. I like that this music video was made about domestic abuse because we needed a song from a future lover's point of view. Many artists have written about what's going on at the time of the abuse, but not the aftershock of everything and how the victim continues on with their life. I think Sam Hunt does an awesome job at emphasizing a man's patience with someone he truly wants to be with after knowing she's been abused in the past. "I don't wanna steal your freedom/ I don't wanna change your mind / I don't have to make you love me / I just want to take your time". He sings about not wanting to take her newly given freedom from her and just wanting to get to know her as a person. Very well done, Sam Hunt.
Domestic Abuse  is a very serious and controversial topic. All these songs demonstrate the effects this abuse can have on not only women, but men and children too. Country music has always done a great job at bringing light to serious topics, and I hope it continues to do so throughout the years.