The endless quarrel between Secretary Hillary Clinton and Donald Trump in the 2016 Presidential Election has ignited discussion in almost every form. Whether it be in person, on Facebook, or in the classroom, everyone seems to be talking about the heated election. With early voting already in session and election day right around the corner, I would like to draw attention to how the news has discussed both candidates and how they have handled media coverage throughout the campaign period. Although every television station and news distributor is eager and required to cover each candidate, if we analyze articles and clips from particular news websites we can easily see the patterns and themes within their tone and amount of coverage. Furthermore, through such analysis, we can easily see that modern-day news stations are highly political and biased in their coverage. It is of upmost importance that voters be informed and educated during this important time of year, but also develop opinions and beliefs on their own and without the influence of the news they read and watch daily. With this in mind, we can see how such coverage could influence and sway a voter in a certain direction. By highlighting the wrongdoings of the journalism industry, voters can make well-informed decisions and formulate opinions about who is better qualified to be President of the United States.
Taking into consideration the number of news stations in America, for my analysis I will focus on only a few. By taking note of the existing trends in American media, it's easily recognizable that certain news stations have deeper political roots than others. The evidence is reflected in the average audience political affiliations. Specifically, according to a Business Insider survey, on average "Fox's audience leans conservative, while CNN, ABC, CBS, and NBC have audiences that lean left." Among the newspapers, the New York Times and the Huffington Post identifies more with liberal audiences and USA Today tends to grab the attention of left wing readers. While some news distributors pride themselves on neutral and balanced news coverage, many of the most popular news stations and papers lean on one side or the other. With regards to the current election, we must consider the type and amount of coverage each candidate has received and from what source. For example, throughout his presidential campaign, Donald Trump has claimed the mainstream media is corrupt and is poisoning the minds of American voters. Even more, he has suggested that the biased media are "Hillary Clinton's lapdogs in the presidential election." Perhaps Trump is alluding to the 200 plus newspapers that have already endorsed Hillary Clinton. In sum, both candidates seem to be receiving the same amount of media coverage, but Trump has had more negative coverage in comparison to Clinton. This presidential election may have the most lopsided media coverage the US has ever seen. To many, his claims may seem outrageous, but Trump brings to light a serious issue for voters that is applicable even outside of the election season. With the media influencing their audiences, voters are unable to formulate opinions about policy on their own.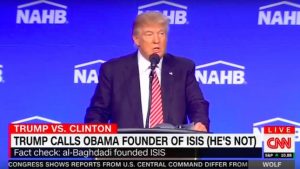 To those who speculate the reality of media bias, Huffington Post writer, Jeffrey Ann Goudie, admits that journalists are individuals with their own political affiliations and beliefs. In response to his claims, she suggests that "before bashing the media, Trump needs to know what I learned in J-School, that the media do have a bias – for fact-gathering and for trying to tell the truth." Regardless of the intentions behind the news coverage, the influence the media has on it's audience is manipulative and persuasive. From my own work of The Public and its Problems: Search for the Great Community, I would like to emphasize that "the adulteration of knowledge is due not to its use, but to vested bias and prejudice, to one-sidedness of outlook, to vanity, to conceit of possession and authority, to contempt or disregard of human concern in its use." We must continue to expose the influence of the media and encourage voters to educate themselves, formulate opinions, and choose the candidate they believe will guide our nation in the right direction.