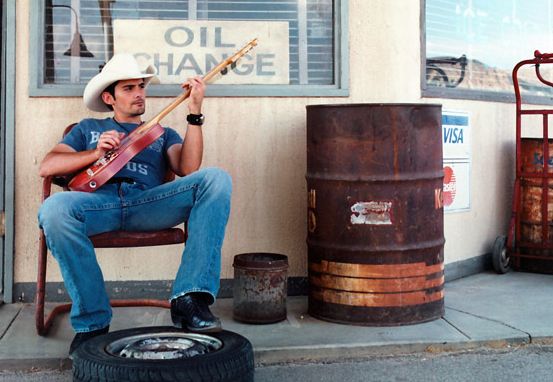 Written by Dustin Hixenbaugh
Brad Paisley, if you don't already know, has made a career that many performers would envy by singing songs that are just a little catchier, just a little smarter than the other fluff typically playing on the country radio. In the decade and a half since the release of his first album, Who Needs Pictures (1999), he has hit #1 on the Hot Country chart 18 times, won the Country Music Association's prestigious Entertainer of the Year Award (2010), and built a large and (mostly) loyal following of country and country-pop listeners.
It is true that Paisley's biggest chart-toppers have been of the Interchangeable Love Ballad variety, including "We Danced" (2000), "She's Everything" (2006), "Then" (2009), and "Remind Me" (2011), the last of these a double-platinum duet with Carrie Underwood. But these predictable hits had their purpose. They kept Paisley affording the hats he likes to throw out at his live shows, and they lured new listeners to his albums, where they would be surprised with edgier guitar solos, jam sessions with Alan Jackson and Keith Urban, comedic banter with veterans like Bill Anderson, George Jones, and Buck Owens, and the occasional critical perspective on pop and southern culture.
Last year's Wheelhouse album took the experimentation and critical perspective a bit too far in the eyes of conservative listeners. Although the record still reached #1 and #2 on the country and pop charts, respectively, none of its singles became major hits. "Accidental Racist," the controversial duet with LL Cool J, topped out at #22, "Southern Comfort Zone" at #10. Even "Beat This Summer," the album's most toothless track, stalled at #9. Sure, a lot of artists would kill for this much radio play, but for Paisley it was a slap on the hand. The Wheelhouse singles rank among the least successful in his career.
This brings us to last Tuesday and the debut of his new album, Moonshine in the Trunk.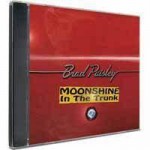 I'm still working my way through it, but from what I've heard, it doesn't seem to cover new ground as much as it returns to the themes and instrumentation that fueled Paisley's rise to fame in the mid-2000s. Whether the radio will forgive him for Wheelhouse ("Accidental Racist" in particular) is yet to be determined. But still, Moonshine should reassure wandering Paisley fans that he's still catchy, he's still clever, and he's still tossing back beers on the lake.
The Playlist
I always look forward to my favorite artists' new albums because they give me an excuse to revise my iTunes playlists. My current Paisley Playlist has 24 tracks, though I suppose this number could change depending on how much I end up loving Moonshine. 
The ten songs I have listed below, however, won't be going anywhere. Some of them are older hits people seem to have forgotten about in the midst of the Wheelhouse fallout, and some of them are album cuts that never made it to the radio. Whatever you think of his recent work, it is hard to deny that Paisley has performed some of the twenty-first century's more moving/thought-provoking country songs. These may just be my favorites.
1. "He Didn't Have to Be" (1999). Paisley's first #1 hit, from the album Who Needs Pictures, casts an admiring look on the singer's stepfather. It's a syrupy song that shares some qualities with the Interchangeable Love Ballads I dismissed earlier, but I'll forgive this since the story is told so clearly and with such sincere emotion. Paisley would revisit the theme of fatherhood in the more recent chart-topper, "Anything Like Me" (2010).
2. "Celebrity" (2003) / 3. "Alcohol" (2005). He doesn't always get the credit he deserves for it, but Paisley is a gifted comedian. In "Celebrity," from the Mud on the Tires album, he laughs about the reality TV phenomenon, which makes celebrities out of just about anyone (and which has become somewhat ironic given his new role as a judge on ABC's Rising Star series). "Alcohol," from Time Well Wasted, describes drinking-related incidents that are funny, but only when they're not happening to you. Kind of like a hangover.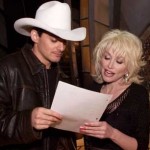 4. "When I Get Where I'm Going" (2005). With Dolly Parton on harmony, this is probably the most spiritual track that Paisley has released as a single. His motivation to record it, I remember him saying, was the recent death of a favorite aunt. In any case, the song was an unlikely #1 in 2005–Paisley's 5th, Parton's 25th. It also features some of Paisley's strangest imagery, including flying through the sky and running fingers through a lion's mane. What?!
5. "364 Days to Go" (2006). The Brad Paisley Christmas album consists of mostly forgettable holiday covers like "Winter Wonderland" and "I'll Be Home for Christmas." But this track, written from the perspective of a father relaxing on the couch at the end of a long Christmas Day, is special. We may have over a hundred days to go until the next Christmas, but that's no excuse not to appreciate spending time with the people we love.
6. "Letter to Me" (2007) / 7. "Some Mistakes (2007). Following "When I Get Where I'm Going," Paisley continued to express his nostalgic side, first in Brad Paisley Christmas and then in 5th Gear (which, for the record, is my favorite of his albums). In "Letter to Me," he inverts the classic school tradition of writing a letter to your future self by thinking about the advice he would send back to his high school self. What would he change? Surprisingly, very little. "Some Mistakes," which is an album cut that should have been a single, continues the carpe diem theme: "Some mistakes are too much fun to only make once."
8. "Ticks" (2007). In "Mud on the Tires" (2003), Paisley proved he wasn't above singing about barroom romance. But in "Ticks" he takes the theme further, delivering with perfect comic timing some of country music's best cheesy pick-up lines, ranging from "I wish I was your beer" to "I'd like to check you for ticks." As I imagine him, this song's narrator is just one beer shy of singing Paisley's other great drinking song, "Alcohol."
9. "Welcome to the Future" (2009) / 10. "Southern Comfort Zone" (2013). Even people who say they agree with the principles guiding "Accidental Racist" dismiss it as poorly written and performed. These criticisms certainly don't apply to all of Paisley's attempts at social relevancy. In fact, "Welcome to Future," which reflects on the historic Obama election, and "Southern Comfort Zone," which points out that even country folks can be open-minded citizens of the world, are some of the strongest recordings in his catalog. Also, of all Paisley's songs, "Welcome to the Future" is probably my favorite.
Do you also have a Paisley playlist? If so, what's on it? Share in the comments!