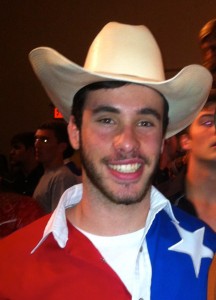 I grew up hating country, until I met her. Well, I had danced on a country-western dance team in high school (all the cool kids did it, I promise), but never became vested in country music. I got to college, went to tailgates, and heard that nasal twang that is ubiquitously known as country. When I started dating her, she slowly eased me into the phenomenon, by starting with Zac Brown Band's newest album "Jekyll and Hyde" (which I fell in love with). Throughout the relationship I was introduced to the likes of Glen Campbell, Alan Jackson, Luke Bryan, and mostly all other artists that are well known from Kenny Chesney to Sam Hunt.
As a musician myself, I listen to the lyrics attentively, and figured out that lot of the songs were about heartbreak. Well, that is the community that I have implemented country music into. Being broken up with, that's a community right? No matter how long ago it may have been, almost everyone has been through a break up, unless you're still in that relationship with your high school sweetheart. Breaking up with someone is different than being broken up with, and I know I couldn't have done it unless there was some huge fight. Mostly, I don't think I could ever gather enough testosterone to break it off with the person whose hand I will never hold again. Luckily (well not really), she broke up with me, and even luckier, I had learned about country music and knew that most of those songs could make the pain a bit easier.
People get broken up with, and one person is always left needing answers. I gained most if not all of my answers from country music, and I imagine that others do too. Artists don't write songs about getting over a loved one or seeing the brighter side of life just to make money. They do it to gain a following of people who go through what they've been through. Whether it's T-Swift singing about never getting back together with that boy, or Alan Jackson singing about the day the "world stopped turning" in September, people clutch onto country music for guidance. I'd think that most people who go through break ups like to listen to sad songs like Whisky Lullaby or Colder Weather, or redemption songs like Save It For a Rainy Day or Never Alone. A break up takes a toll on you, and the navigation granted by country music has a myriad of songs physically and literally meant for the listeners to relate and find serenity through. Country music can lift you up if you're feeling down, and get you into a mood where you realize to get over someone, or it can help comfort you with the lyrical arrangement meant to let you know that other people have been in your shoes, and are either better because of it, or dug themselves out of that whole. Of course other genres of music are meant to do the same, but if you have ever liked country music, no other genre stands a chance at the perfect remedy for a break up.