I remember last year my roommate telling me about the Rhetoric of Country Music class. I got so excited because it was the perfect rhetoric class for me to take. I have loved country music since childhood and knew that learning more about the genre would be meaningful. In the end, this class has really taught me so much more about country music than I had expected. Here are some activities I have participated in involving country music during the time I've taken this class!
Working at the Houston Livestock Show and Rodeo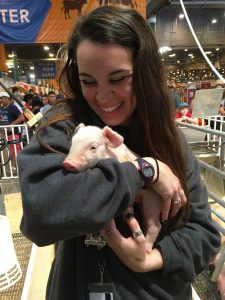 Over spring break I worked as a video studio intern for the Houston Rodeo. As an intern, I was assigned to film the various livestock shows, the birthing center, and other fun events that go on every day at the Rodeo. The Rodeo has so much to offer for example, nightly concerts by the biggest names in country music, a huge carnival where constant country music is being played and of course all that fried food! Being an intern I got to experience some of these things through a camera lens and record it for others to see. My favorite place to be assigned was the birthing center. Although I never actually witnessed a birth of a calf or piglet, I got to play with the baby animals and videotape them live onto a big screen for people passing by to see. My experience working at the Rodeo was one like no other. I can't wait to head back next year and do it all again!
Attending Kenny Chesney and Florida Georgia Line Concerts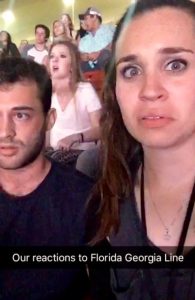 A perk of working for the Rodeo meant free concert tickets and entrance to the carnival. Most days I was too tired from work to attend the concerts but I had to make a special exception for Kenny Chesney. Sadly, the free tickets I received weren't for a specific assigned seat. So my friends and I had to hop around from seat to seat when people would come claim theirs. Finally, right before the concert started we found ourselves a good spot to watch. Kenny was so great! I was excited to see that I knew all of the song he performed. And, it turned out better not having seats because we got to dance around the whole night! A few evenings later it was one of my best friend's birthdays and he really wanted to go to the rodeo. Unfortunately for us, that was the night Florida Georgia Line was performing. My other friend ended up getting us really good seats for free so we all decided to go. As you can see on our faces, we were not impressed. Everything from their vocals to their outfits were just plain terrible. I was astonished to see people in the crowd actually enjoying the disturbingly bad concert.
Country themed date event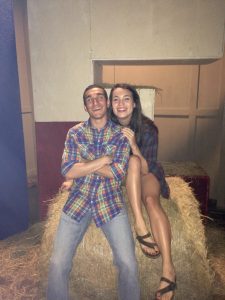 A few months ago I was asked by one of my best friends Ari to go to a country themed date for his fraternity AEPi. The event was to dress up in "country" attire and to come prepared to listen to country music and dance the night away. Lucky for me, Ari knows how to line dance so he showed me what to do. It was really fun seeing how people dressed up for the event; some went all out with a cowboy hat, boots and even a belt buckle. Also, the guys in the fraternity wanted the scenery to match the theme so they went ahead and put a very large haystack in the middle of the room, which ended up being a perfect place to take pictures!
In the end, this class has become such a great learning experience. It has made me listen to country radio with a new perspective and appreciate the artists who have made country music what it is today. I really do want to thank Dusty for being such an awesome professor and mentor and I am honored that I was in his last Rhetoric of Country Music class at the University of Texas!