Summertime has become a country song cliche. But it's no wonder there are so many songs about sunshine, sand and bikinis. Summer is great time of year! Country artists sing about reality and true feelings. Well, the joys of warm weather and vacation are real and worth singing about! This summer soak up the country music! Get your fill of country at a country music festival. I was surprised to see how few summer country music events are held in Texas. I found 3 Lone Star State festivals that sound awesome! For the Texas Country Crowd, Crudefest is in Midland may 14-16th. 3 full days of country! Audience members can set up camp on the grounds in a tent or RV. Lots of attendees bring 4 wheelers to sit in and watch the concert. Jason Boland, Josh Abbott, Whiskey Myers, Randy Rogers, Wade Bowen and Casey Donahew will be performing there.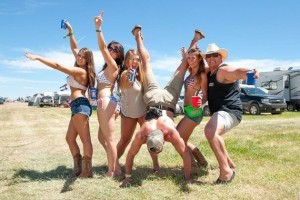 Another Texas Country Festival is Homer's Backyard Ball in Amarillo, Texas. It will be held May 16th. Performers include Granger Smith, Reckless Kelly, Randy Rogers Band, Hayes Carl and Kimberly Dunn. This festival also hosts a cook off and activities like mechanical bull riding. For those who like pop country The Texas Thunder Festival is August 21-23 on farmland in Glendale, Texas. Brad Paisley is the headliner! Some other the names playing are Florida Georgia Line, Big & Rich, Joe Nichols Thomas Rhett. This festival also gives the option of camping on the festival grounds. Another 3 full days of country.
If you can't make it to one of Texas's few festivals. I've come up with a few summer playlists that will do the trick. Hottest country songs for this summer for pop country listeners according to XM channel 56 and Vevo are:
Dierks Bentley- Say you do
Keith Urban- Raise em up
Tyler Farr- A guy walks into a Bar
Billy Currington- Don't do it
Kenny Chesney- Wild Child
Sam Hunt- Take your time
Florida Georgia Line- Sippin on Fire
For my personal summertime jams I'll be listening to something far less commercial. I love country songs that fly under the pop radar. They have to have a good beat, meaningful lyrics and more traditional country instruments. Absolutely no rapping. If a song has a bass, fiddle or even acoustic guitar, count me in! Here is a list of recent summer country song for listeners like me.
Kacey Musgraves- Biscuits
The Damn Quails- Fool's Gold
Whiskey Myers- Anna Marie
Randy Rogers and Wade Bowen- In the Next Life
Granger Smith- Silverado Bench Seat
Turnpike Troubadours- 7&7
Josh Abbott Band- Oh Tonight
Then there are the songs that are so precious because of the memories they carry. Songs that raised my generation during the summertime when school was out and so were the popsicles. A 2k summer playlist for those who love the memories from 5-10 years ago:
Alan Jackson- It's 5 o'clock somewhere
Kenny Chesney- When the Sun goes Down
Tim McGraw- Something Like That
Deana Carter- Strawberry Wine
Zac Brown Band- Toes
Brooks and Dunn- My Maria
Keith Urban- Days Go By
Brad Paisley- Mud on the Tires
The kindest blessing I can think to leave with you is this: I hope each day this summer is like a summertime country song.