After much discussion in class on how country music typically can be male dominated and slightly degrading towards women, I began to realize that it is important to highlight someone who has chosen to fight back against female stereotypes. I began this hunt by examining the top 20 songs in country music today. The song "Fly" by Maddie and Tae caught my eye because it seemed familiar, so I gave it a listen.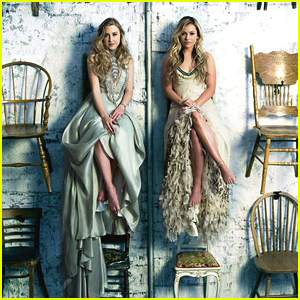 Maddie and Tae's single "Fly" offers a breathe of fresh air to country music. Amidst the ballads for lost lovers and tunes about trucks, Maddie and Tae offer some variety by showing off their beautiful melodies while uplifting the listeners. The young duet's unique style shines through the song's genuine lyrics. Unlike the typical style of country music that tells a story, this song does not specifically speak to one situation. It instead finds a way to reach out to each and every person wherever they are at in life.

So keep on climbing, though the ground might shake 
Just keep on reaching though the limb might break
We've come this far, don't you be scared now
'Cause you can learn to fly on the way down 
These words can comfort people in different stages of life: from someone who is overcoming heartbreak to someone who is struggling to find the motivation to continue living. This song outshines other top hits today because it chooses to address the human condition rather than the obvious topics that are easy to write about like love and drinking.
Fly is not the only song Maddie and Tae have stunned audiences with over the past few years. This duo debuted their career with Girl in a Country song in 2014 right after they both graduated high school. This all-too-catchy tune shoots daggers right into the heart of many country songs that stereotype women. Many artists today and throughout the decades pin women as sexual objects that are only good for one night. Maddie and Tae nail it when they argue that men think that "all [women are] good for is looking good for [them] and [their] friends on the weekend." It is truly encouraging to see these women fearlessly tell it like it is and uplift women in doing so.
Maddie and Tae have definitely set the bar for young men and women alike with their unique perspective on life and I personally look forward to seeing what they come up with next to stun the world of country music.