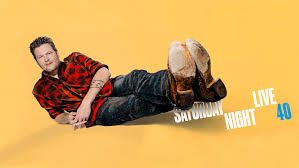 Blake Shelton's success continues to sky-rocket from his win on the Voice and his chart topper, "Neon Light", to his debut as host and musical guest on Saturday Night Live. Saturday Night Live got a jump start after a few sluggish weeks. The pop country star brought a smile to many faces with skits including "Farm Hunk", a parody of the Bachelor, and "Wishin' Boot", a satire of inspirational country ballads. Blake's humor and wit stole the show!
This year's SNL cast has definitely not been as strong as years past, but Blake's wonderful comedic and musical performances gave the show just what it needed. Shelton's humble roots shown through in his Hee Haw-themed opening monologue. While sitting on a bale of hay, Blake did a "little pickin' and grinnin'" as he tried to draw out laughter with good old country jokes. Blake killed it with country self-parody throughout the episode.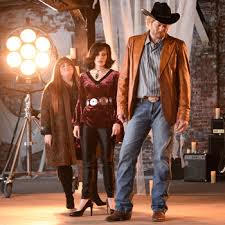 Although using stereotypes of the south and country music, you've got to love a man that can laugh at himself! The highlight of the night was "Wishin' Boot", a song that satirized typical inspirational country ballads. Blake was accompanied in this pre-recorded skit by the hilarious Kate McKinnon and Aidy Bryant. This terribly catchy (and I mean terrible), country song had the crowd laughing hysterically, and I was no exception. Although obviously a bad country song, "Wishin' Boot" was undeniably funny!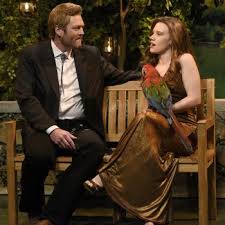 The episode's rendition of the Bachelor, "Farm Hunk", was hilarious as the female contestants tried to "steal him [Shelton] away for a sec". This skit gave the audience some good laughs even though the majority of the comedic lines came from the strong female cast. Still, even with a strong cast by your side the typically hilarious "Family Feud" skit was not as funny as expected from this reoccurring skit. "Family Feud" contestants were comprised of the coaches from the Voice and the judges from American Idol. Once again, Kate McKinnon stole the spotlight with an impersonation of Keith Urban. Blake, playing himself, had a few good lines mentioning his beautiful and talented wife, Miranda Lambert.
Blake Shelton's comedic versatility was refreshing and just what SNL needed; not to mention his phenomenal musical performances with songs like "Boys 'Round Here" and "Neon Light". In the words of Blake Shelton, he is "kind of like the Justin Bieber of country music — just a trouble-makin' cutie." Blake was welcomed with open arms to the SNL family, and hopefully, we will see him host again in the future.