Coming from Mexico, I was never really exposed to country music and simply dismissed it as a music genre I wasn't too interested in. The primary aspect I failed to grasp was what made country so special to some people. It wasn't until I began listening to much more variety of country music and engaging with the genre's background and themes that truly sparked my interest.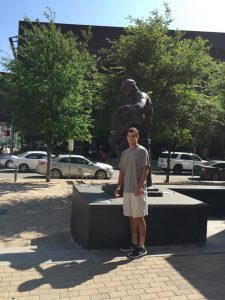 Take a picture with "Willie Nelson."
When I first came to the University of Texas, everywhere I went seemed to have something to do with Willie Nelson. Whether it was t-shirts in the airport when I first arrived or walking past the Willie Nelson exhibit in the North End Zone every day, his influence seemed to be everywhere. When I first found out about him, he seemed like just another artistic type who gave off the impression of being famous because of his expressiveness and ambiance more than anything else. I couldn't really imagine someone like Willie to be significant in defining any sort of movement, not just country music.
However, my entire perception changed when I started learning more about his personal background. He wasn't just a dirty old hippie who never did anything meaningful in his life, but rather a man who had worked as an auto mechanic, saddle maker, and oil field manager; you can't get much more "Texas" than those occupations. Yet he wasn't just a man for followed a specific stereotypical trope, openly supporting the legalization of marijuana and publicly opening up about his issues with alcohol abuse, it allows a certain reliability for the country star, not being detached unlike many celebrities. It's clear to see through Willie's personal narrative how he uniquely represented the cultural foundations of Texas as well as the growing counter-cultural Indie subculture within Austin, making him truly revered as more than just a musical icon. No doubt Nelson has earned the honor to have second street named after him.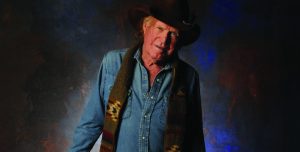 2. Read the Texas Music Magazine
When I was looking at the Texas Music Magazine, one article in particular caught my attention. Used to seeing album covers or posed shots of young artists, the mug shot of a 75-year-old cowboy certainly caught my attention. "As country as it gets," Billy Joe Shaver's life could be characterized as nothing less than badass, still touring in an old van just like how he did in 1970. His love for country, in my opinion, goes beyond many artists in all genres of music. Even the death of his mother and bandmate couldn't stop this tough-as-nails Texas native from performing the next day. I have newfound respect for artists such as these whose dedication to the craft and the life that comes with it many would think to be borderline absurd, a passion that seems to be relatively unique to country music.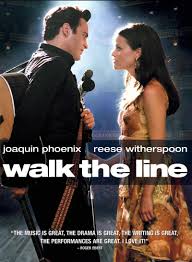 3. Watch a movie about country music
Having listened to a little Johnny Cash before, I decided to watch Walk The Line (2005), the biographical adaptation of the life of Cash. One of the most interesting aspects I found about this movie was how music was instrumental in nearly every aspect of his life. One of the clearest examples came when he was stationed in Germany for the US Air Force, leading him to find solace in writing music to help him cope with the chaos around him, developing some of his trademark blues songs such as "Folsom Prison Blues." Another instance came when he proposed to his wife, June, saying that he would be unable to sing "Jackson" anymore unless she said yes, showing that even in one of the most personally intimate moments of one's life, music still played a vital role for Cash. For country artists, it seems as if a circular effect is created, with their lives continuing to be influenced by their music while at the same time providing inspiration for future sounds.
In all of these instances, it is clear to see how country music is much more to the artists than just an occupation. To the singers, it affects their lives and livelihood, drawing not on the praise of others for fuel, but rather their own passion and pride for the craft. I believe it is this specific aspect that makes country music so much more special in comparison to other genres of music.