I would like to express an unpopular opinion, so hear me out before you tear me down please.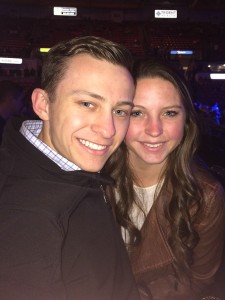 Two weekends ago I was blessed with the opportunity to travel to Charleston, South Carolina to meet up with my twin brother who goes to West Point and had a long weekend. He had three requirements for where we would meet: it had to be warm, it had to be easy to access from New York and it had to have a country music concert. As it turned out, that weekend was a pretty slow weekend country music wise and our options were Philadelphia, Boston, and Charleston. Since Philly and Boston were both blanketed in snow, it was off to South Carolina for us. The only drawback? We were going to see the endlessly-maligned (at least by our class) Jason Aldean.
Naturally, going into the concert I was skeptical, especially after everything we've said in class about how he's "not really country" or is a representation of what's wrong with country music these days. But I was moderately excited for the two opening acts, Tyler Farr and Cole Swindell, since I'd never seen them live before and had only heard them on the radio.
Admittedly Tyler Farr left something to be desired after his performance. While he has a few big hits and a decent voice, he isn't the performer that I expected on such a big tour. I think he has a long way to go performance wise before he has any chance of making it big in country music.
However, Cole Swindell made up in a big way for Farr's shortcomings. Swindell came on to the country music scene originally as a songwriter. He's written hits for several big stars like Luke Bryan with hits like "Roller Coaster" and Florida Georgia Line's "This is How We Roll." However, last year Swindell recorded his debut album which included radio-friendly "Chillin' It," "You Ain't Worth the Whiskey" and "Hope You Get Lonely Tonight." Not only is his sound complimentary to Jason Aldean's "bro-country," but his stage presence is also closer to that of a real performer. He played his big songs, including those he wrote but that were recorded by Luke Bryan, and it seemed like he was much more in tune with what the crowd wanted.
After Swindell left the stage, I anxiously awaited Jason Aldean. I wondered if I was going to be totally repulsed by his music as it seems so many die-hard country fans are these days. The lights went down, his band began to play, and the strangest thing happened—I didn't hate it. As a matter of fact, I actually rather enjoyed it. He may have come out to a back drop of flames and electric guitar, but I think a lot of people only see that side of Aldean and forget where he came from. They forget songs like "Amarillo Sky," "Laughed Until We Cried," and "Big Green Tractor," just to name a few. He's got tons of hits that have endlessly topped charts and, if you listen to the lyrics, hold very closely to traditional country values.
So yeah, I can't hate Jason Aldean because his music goes beyond what it seems on the surface. I actually rather like his music. AND I sang along. So sorry if that offends you.