For as long as I can remember, country music has been my genre of choice. My redneck dad grew up in Tennessee and I don't think he even knew other types of music existed outside of country. My mom grew up North of Dallas and constantly reminisces on her weekends tearing up the dance halls at country concerts. I grew up with country music embedded within me, but it wasn't until this semester that I really discovered how much I appreciate country music. Throughout the semester I gained knowledge about aspects of country music that I wasn't aware of previously, like it's history and the legends that paved the way for today's biggest country stars. Not only did I learn about country music during lecture, I also experienced country music in my life outside of the classroom. I saw a live country music show in Snook, went two stepping at Stubb's, and watched the 2016 ACM awards show.
Saw a live country music show (or ten)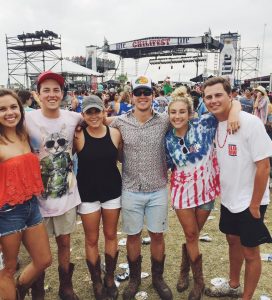 Snook, TX is a pretty plain place and Chilifest is actually the only thing the town is known for. Chilifest is a two-day music festival that brings in way too many Aggies wearing way-too-short denim cutoffs and cowboy boots that get covered in mud. The weekend is a complete mess, but ten or more of the most well known Texas Country artists perform on Friday and Saturday. I've actually been to Chilifest three other times, but this past year was the most memorable for me. The lineup this year consisted of some of my all time favorites, like Roger Creager, Shane Smith and the Saints, Pat Green, Turnpike Troubadours, William Clark Green, Whiskey Myers, Josh Abbott Band, and Gary Allan. I've heard many of these guys perform live in the past, but I really appreciated their performances at Chilifest this year. While we didn't rally discuss many of the artists in class this semester, I was able to recognize where the Texas Country artists might have gotten their musical inspiration.
Went two stepping at a dance hall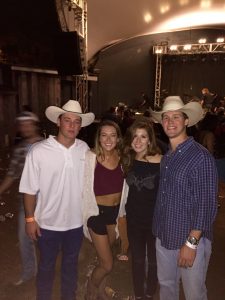 Another one of my favorite things I did this semester was dancing the night away to Cody Johnson live at Stubb's BBQ. From a previous post of mine its clear to see that I am obsessed with Cody Johnson and after learning about legends like Chris LeDoux, I have gone beyond just loving his music, but I now have a deep appreciation for it. Like LeDoux, Cody is a cowboy that has worked really hard in both rodeos and on his musical career. Before this class, I never made a connection with where Cody could have gotten his inspiration from, but now it is evident that LeDoux had much to do with Cody's style. Cody sings about his life, and as I two stepped to all of his catchy tunes I fell more in love with his music than ever before.
Watched an awards show on TV
I'm a huge fan of country music awards shows, party because I drool over all of the glamorous outfits worn by country royalty, but mainly because I'm interested to see who gets nominated/wins the awards. I recently watched the 51st ACM awards and had many mixed emotions all throughout the show. I was blown away by several performances, like Tim McGraw's inspirational debut of "Humble and Kind" and Carrie Underwood's jaw-dropping performance of "Church Bells." I really enjoyed the performances, but some of the nominations and awards were a bit surprising to me! I mean, Jason Aldean won Entertainer of the Year over Garth Brooks, and Florida Georgia Line Vocal Duo of the Year when Brothers Osborne was also in the running… Something just didn't really add up there. On the other hand, Chris Stapleton blew everyone out of the water and received awards in four different categories! This years ACM's were big for Stapleton, and I really loved seeing such a deserving singer/songwriter receive recognition as he should.