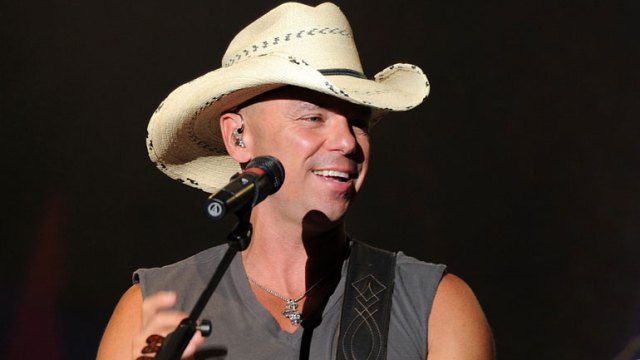 A proposal to induct Kenny Chesney into the Country Music Hall of Fame. Written by Annie Gondran, 30 November 2015.
Kenny Chesney. Loved by many, known by all. Chesney has managed to build a country music empire with his talent and charisma, obtaining countless awards and numerous gold or platinum records. Born on March 24, 1968 in Knoxville, Tennessee, Chesney has been making music since he was young man. He's been writing his own songs since college and even sang at bars to earn extra money during his time at East Tennessee State University, according to a biography written by A&E Television Network. Since 1994, Chesney has been cranking out records, and successful ones at that. His unique island sound sets him apart from other country artists, but his music still represents traditional country music. In fact he's been one of the few country artists that haven't fallen prey to the pop sounds of today while still managing to consistently sell out arenas. With all of this in mind, I firmly believe that Kenny Chesney deserves to be inducted into the Country Music Hall of Fame.
Chesney's first album was released in April of 1994 and was the only record of his not to fly off the shelves or the top charts. However, since 1995, every album he has released, aside from some collaboration or holiday albums, has hit gold or platinum. Not only have his songs hit number one or placed highly on American Country charts, but also on American top 50 charts, demonstrating his crossover power. His songs have even placed highly on the charts of foreign countries.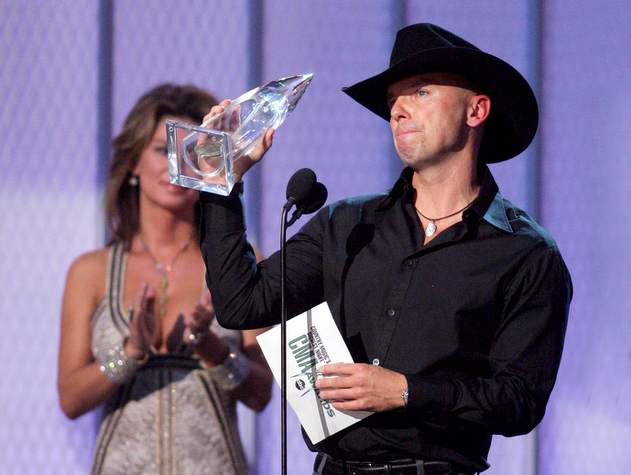 The number of awards and nominations Kenny Chesney has received is astronomical. Between the Country Music Awards, American Country Music, and Country Music Television, he has been named Entertainer of the Year nine times, as well as album of the year twice and several other impressive awards. He's won many of the same awards as other Hall of Fame inductees, such as Garth Brooks, demonstrating that his impressive resume is equal to other artists already in the Hall of Fame. But these awards and successful records aren't the only thing Kenny Chesney has going for him.
Today it seems like everyone is putting themselves in the spotlight in negative ways. Stars are making all of their beliefs public, from politics and religion, and it seems like no one believes in privacy anymore. Chesney is a refreshing break to this outspoken norm. He has managed to keep his personal views personal, unlike other performers such as the Dixie Chicks. When it comes to politics he's been quoted saying, "Politics is one of the few things I have left in my life to keep personal, so I really make an effort to do that", according to an article written by Caitlin Frye. Her article goes on to note that he hasn't explicitly expressed his views as a Christian, but his songs such as "There Goes My Life" hints at pro choice beliefs and "I Go Back" and "Baptism" talk about his Christian experiences. By not voicing his opinions in an outspoken and aggressive way, he has avoided alienating listeners and kept himself in a positive light. In addition to keeping his views to himself, Chesney is also known for his charity work, and is a supporter of seven different charities, including The Salvation Army and Kids Wish Network. This involvement in society and willingness to give back proves that Chesney is well rounded and committed to others.
Kenny Chesney has been famous for a fairly short amount of time compared to other artists, but that hasn't stopped him from accomplishing huge feats in this time. Some people may feel that he's too new to the scene to receive this prestigious award but I disagree. In fact, Kenney Chesney is only six years younger than Hall of Fame inductee Garth Brooks. If Chesney were to be inducted this year, he would only be three years than younger than Brooks when he was inducted, demonstrating that it is possible to be worthy of induction at a younger age. This award is not about seniority; it's about the influence you've had on country music.
Chesney has managed to achieve vast amounts in a small amount of time, while staying true to himself and to his sound. He hasn't succumbed to the pop country takeover and is still selling out arenas with his guitar and his talent. While his island sound may be different from other traditional country artists, such as George Jones, it is still distinctively country. His albums "talk about very relatable things" and he sings about "what's real to [him]", according to an interview between Chesney and Ray Waddell. This idea that his music will always be about what's relevant to him and will always be true to his beliefs is one of the main ideals of country music. His island sound may not be what you expect from a country artist, but its still country, through both sound and lyrics.
The most controversial event associated with Chesney is his short marriage to actress Renee Zellweger. But the most talked about aspect of this was the use of the word "fraud" in the marriage annulment, which both parties later clarified and changed. There was no fraud in the marriage, simply a lack of compatibility. Both Zellweger and Chesney kept their personal problems out of the media and handled the event with class and dignity, unlike many of today's celebrities, demonstrating that Chesney is a good example for both celebrities and everyday people alike.
More impressive than all of his awards and success, is Kenny Chesney's humility. During the same interview with Waddell mentioned before, Chesney was handed a print out of his chart history, which he had never actually seen before. He expressed surprise at the success of "Whatever It Takes" because he had a mullet at the time. He readily admits how blessed he has been to have been able to sing with accomplished artists such as George Jones or Jimmy Buffet. He has more than earned his success, but he doesn't let it define him. He doesn't have his chart history memorized or talk about his impressive album sales, he simply keeps writing and singing his songs because it's what he loves. His humility proves that he's in it for the love of music, and not for any other superficial reasons. This devotion to music is what makes country music so special, and he truly exemplifies the core values of the genre.
In order to keep his music real and relevant to his life, Chesney writes lyrics down without music and tries to "take moments from [his] life and [his] friends' lives and trie[s] to give them a pulse", which he also shared with Ray Waddell. They're not about who he wishes he were; they're about who he is and what he loves. This is obvious in his music and is what makes it so successful. He sings about what he experiences as a normal person, making his songs relatable and meaningful to all of his listeners.
Kenny Chesney's albums sales, awards, ability to keep his private life private, well rounded character, and, of course, his humility are more than enough reasons to induct him in the Country Music Hall of Fame. No matter his age or the amount of years he's been famous, his ability to write and sing songs that speak to a wide variety of people show how important he is to the genre of country music. It's his songs that you play loudly over your car radio, sing at the top of your lungs with your friends, or have stuck in your head all day. It's his songs that speak to you and your everyday life. For all the hard work he's put into his music purely out of love for it, Kenny Chesney deserves his place in the Hall of Fame.
---
Recommended Listening
"Me and You" (Skip Ewing, Ray Herndon; 1995)
While this song did not hit number one on US Hot Country Songs (it hit number two), it's a great example of a beginning artist making waves in country music. It may not be his biggest hit and most impressive song, but it shows his ability to produce good music since the very start of his career. It's also another one of his songs that is easily relatable, making it a perfect example of his approachability as an artist. "She's Got It All" (Craig Wiseman, Drew Womack; 1997) Just like all of the previous songs, "She's Got It All" hit number one on US Hot Country Songs. This song was Chesney's first number one, and marks the beginning of his amazingly successful career. Almost 20 years later, this song is still popular and known by music lovers of all genres.
"Beer in Mexico" (Kenny Chesney; 2005)
This song, like so many others of Chesney's songs, is the type of song that you would have stuck in your head all day and would sing along too. It also hit number one on US Country Songs, like so many other of his songs. "Beer in Mexico" was written by and recorded by Chesney, proving his talents as both a performer and songwriter.
"American Kids" (Rodney Clawson, Luke Laird, Shane McAnally; 2014)
This song exemplifies American culture and is an anthem to any listener. It's the type of song you would blast over the speakers of your car and that you would have stuck in your head all day long. The song hit number one on US Country Airplay and US Hot Country Songs, proving how well received it was by the public. "American Kids" fosters a love for America, and what could possibly be better than that?
"Wild Child" (Kenny Chesney, Shane McAnally, Josh Osbourne; 2014)
"Wild Child" shows Kenny Chesney's collaborative abilities, since it's a song with Grace Potter, as well as his ability to produce a slower song. It's important for artists to produce songs that are both fun, as well songs that are slower and more serious, and he accomplished this well. This song hit number one US Country Airplay (Billboard).
---
Works Cited
Frye, Caitlin. "Kenny Chesney's Religion and Political Views." Kenny Chesney's Religion and Political Views. N.p., 15 Oct. 2015. Web. 23 Nov. 2015.
"Kenny Chesney Biography." Bio.com. A&E Networks Television, n.d. Web. 23 Nov. 2015.
"Kenny Chesney Awards and Nominations." Kenny Chesney World. N.p., n.d. Web. 23 Nov. 2015.
"Kenny Chesney Gets Personal." Interview by Ray Waddell. Billboard 11 May 2013: n. pag. Web. 22 Nov. 2015.
"Kenny Chesney: Charity Work & Causes." Look to the Stars. Look to the Stars, n.d. Web. 29 Nov. 2015.