Written by Ginny Montalbano. 3 November 2015.
Taylor Swift's fourth album, Red, was released in 2012 to the excitement of millions. It was Taylor's true first attempt at crossing over in terms of musical genre.
Taylor's record label, Big Machine Records, was not overly enthusiastic about her desire to veer away from country music. The label company, co-owned by Toby Keith, gave Taylor some limitations. They allowed her to experiment on some tracks with pop, or even dubstep, but the album overall was to remain country at its core. Taylor had unintentional success on the pop charts throughout her career before Red. Many of her number one country hits, such as "Love Story", "You Belong With Me", and "Back to December" cracked the top ten on the US charts. Her artistic desires and confidence granted by her outrageous success on the charts most likely compelled her to pursue a different sound.
This was Taylor's chance to dip her toes in the water, if you will. Rock and subtle hints of pop certainly sporadically popped up on various songs in her massive catalogue. Red was different though. Taylor brought in new producers, such as Max Martin and Shellback, and stated that this album would be her chance to explore different genres musically. She has admitted recently Red wasn't exactly cohesive in terms of sound, but that is to be expected when you consider what her artistic intentions were in creating the album. Red allowed Taylor to venture wherever her musical and songwriting talents led her, and the success of this is evident by some of the most impressive songs in her career.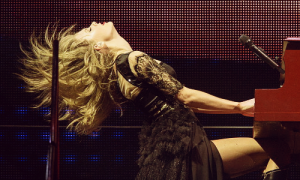 Red's unbelievable success spawned seven singles. However, the one song that has received the most critical acclaim and fan-based support was never released as a single. "All Too Well", the fifth and longest track on the album is a phenomenal song from every angle. The lyrics, story, instruments, and emotion are in perfect harmony and as a listener Taylor is able to evoke certain emotions from the listener that prove just how much of her own passion and pain she was able to translate into song effectively.
"All Too Well" actually charted immediately after Red was released, as were all of the songs of the album because of just how many digital purchases of the album that were made. The song started garnering some serious critical acclaim and fans were mesmerized with this powerful song. "All Too Well" peaked at #17 on the US Hot Country Songs (Billboard).
Taylor Swift wrote this song with the help of her frequent collaborator and fellow songwriter, Liz Rose. "All Too Well" is the only song on Red that Liz Rose is credited with co-writing. The explanation is simple. On an album that was straying away from country, Taylor was working with different people. However, it does show that "All Too Well" is the most country song on the entire album. The song is infused with country rock as well, which enables the seriously strong impact of the various crushing climaxes and crescendos that take the song to a different level in terms of emotion and passion.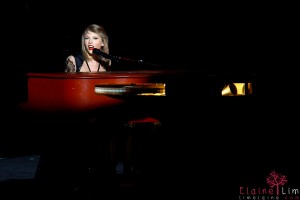 Slate Magazine's review of "All Too Well" summarizes how many critics felt about the song. They wrote that it is "arguably the finest song in Swift's entire catalogue: the arrangement slowly crescendos from coffeehouse folk to arena rock as Swift adds new details from a doomed relationship, until she unleashes one of her best-ever lines ("You call me up again just to break me like a promise, So causally cruel in the name of being honest")" the powerful phrase in the middle of one of the most intricate and powerful bridges Taylor has ever written.
It is fair to say that "All Too Well" was a way for Taylor Swift herself to heal. So often there are trivial comments or debates about Swift's reputation involving men, and it's easy to forget that she is a real human when one is reading an article on the Internet. This song was created as a result of a traumatic heartbreak; probably the worst one Taylor had ever gone through. As a result, Taylor noted that although this was the first song she wrote for Red, it was also the hardest.
Essentially, Jake Gyllenhaal was Taylor's first grown-up, major relationship when she was around 21. Details are sparse and rumors are rampant, but it is safe to surmise that the relationship imploded and the heartbreak and anger that followed was on a level unlike she any had ever experienced. Writing, as always, was a healing process for Taylor, but this song caused so much pain it ended up being first written as a song that was over ten minutes long. When Liz Rose came to help, they were able to work through it and get the song down to about 5:29- which is still the longest on the album.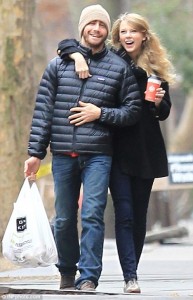 The lyrics on the track are some of Taylor Swift's finest work, which says a lot considering she is just as much a songwriter as a singer. It is her ability to express herself in a way that makes you feel like you have been cast in a movie inside of her head that makes the song's lyrics so tangible to the imagination. Taylor accomplishes something within this song that is rare. It is extraordinarily specific, especially in the verses. Her reference to the man's "sweet disposition" is a subtle but artistically skillful method to identify the man who is the inspiration behind the song.
Many people point to the lyrics in "All Too Well" as one of the main reasons it is seen as a country song. In Billboard's raving review, they wrote that with her skillful lyrics "Swift snaps back to her core demographic". Taylor's main demographic, young females, has been able to grow up alongside the superstar. As Taylor gets older and goes through more experiences, it seems that her demographic is widening, especially considering her massive social media influence and appeal. They go on in further detail, that "All Too Well" is "sumptuous country, with Swift "dancing 'round the kitchen in the refrigerator light" in the memory of a romance that has seemingly been buried in time. User comments support Billboard's observations. On YouTube, one of the most popular comments says, "I love how specific the lyrics in her songs are. Anyone can write something like "My heart was beating" but she writes about 'dancing 'round the kitchen in the refrigerator light' is another part of her music that makes it a masterpiece."
No one claims that Taylor Swift has the voice that Carrie Underwood does. Over time however, Taylor's voice has matured and strengthened. She shows true progress and a mastery of vocals throughout this passionate, intense ballad. The infusion of country rock empowers her vocals, creating even more emotion and drama. Her vocals carry the song to the next level. The Atlantic's Brad Nelson wrote enthusiastically about the album as a whole, and devoted a lot of time raving about "All Too Well", writing that the song "renders the relationship and its dissolution so delicately that I'm both surprised and unfazed to discover myself contemplating it as intensely as I might a Leonard Cohen song" – exactly what Taylor's goal was.
At the same time she utilizes the pre-choruses, choruses, and the crowning jewel of the song: the multi-layered bridge, to pounder universal themes and feelings in matters of heartbreak and feeling lost- something everyone can relate to. In many songs, either the verse or the chorus is the standout. Here, these two different aspects of the song are equally riveting.
"All Too Well" has unique song structure. Clearly, this is due to how much Taylor wanted to fit into the song, and how to best narrate such a hugely dramatic track. The unique pattern and slight deviations from the normal verse-bridge-chorus allow Taylor to make the song as contemplative and detail-oriented as possible. At certain points in the song Taylor switches title phrase, "I remember it all too well," to "you remember". She drops a reference about a scarf in the first verse, and later returns to it in one of the last verses. "You keep my old scarf, from that very first week, 'cause it reminds you innocence and it smells like me", and there she very satisfyingly ties up a lose end.
The power of the song is clear. The way critics and fans have both latched onto it certainly shows the range of impact it has had. It is a credit to Taylor's top-notch songwriting abilities that have the power to make you feel like you are in her mind as she tells a story filled with imagery and poetic lyrics. The most singular and obvious evidence is that Taylor actually performed this song at the 56th Grammy Awards in 2014. This is a big deal, and a nod to the song's influence.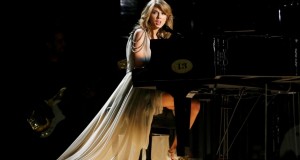 As a song that was not intended to be a single, and still has never been released as single, the response had to have been overwhelming for Taylor to decide to perform live at an awards show. Taylor channeled an obscene amount of pain and emotion into a piece of art, a wide audience responded, and that has cemented this song's special place in her career.
---
Time

Form

Listening Cues

Discussion

0:00
Intro
Instruments – lots of guitar playing
Sets the tone for the song- wistful, reflective, with potential for a build-up
0:20
Verse 1
"I walked through the door with you…"
Narrative is strong, imagery is vivid- reference to scarf (important for later). She emphasizes the word "cold", when talking about the temperature. Her voice is very innocent.
0:40
Instrumental
Piano
Raises the tempo of the song, this song is all about the build- up
0:50
Verse 2
"Oh your sweet-disposition and my wide-eyed gaze…"
More details into the flashback she's describing – notably louder as it goes on (Sweet Disposition is a reference to Jake Gyllenhaal- who the song is about). The drums are noticeably louder.
1:12
Pre-Chorus
"And I know it's long gone, and that magic's not here no more…"
Build up to the chorus, passionate, more self-reflective than explanatory (unlike verses)
1:27
Chorus
"Cause there we are again on that little town street…"
This song is unique: there are huge lyrical changes in every version of the chorus, to continue the story that's she's telling (song originally 10 minutes long*)
1:47
Verse 3
"Photo album on the counter, your cheeks were turning red…"
The dramatic buildup leading to the pre–bridge the impact of this song is all in the flawlessly dramatic crescendo. The electric guitar is heard.
2:08
Pre-Chorus
"And I know it's long gone…"
Louder, more emphasis on 'long gone', switches lyrics to "there was nothing else I could do…and I forget about you long enough to forget why I needed to". Swift's voice is more commanding.
2:25
Chorus
" 'Cause there we are again in the middle of the night.We dance around the kitchen in the refrigerator light…"
Once again, the chorus lyrics change every time in this song. Also, more male background singers are vocal during this version of the chorus, as well as more instruments.
2:46
Brief Instrumental Interlude
Strong piano and guitar
The dramatic buildup is leading to the pre–bridge. The impact of this song is all in the flawlessly dramatic crescendo.
2:59
Chorus
"Maybe we got lost in translation, maybe I asked for too much,

And maybe this thing was a masterpiece 'til you tore it all up…"

This chorus is even more unique. The rhythm matches the pace set by the previous choruses, but the tone and pace is noticeably stronger, faster, and higher.  It is louder and stronger vocally/instrumentally than anything previously in the song, building up towards the bridge.
3:20
Bridge
"Hey, you call me up again just to break me like a promise. So casually cruel in the name of being honest."
Climax of the instrumental and vocal buildup – the tempo starts and stops vocally while the instruments and sounds continue to escalate.
3:46
Brief Instrumental
Guitar transitions the song back down in sound and tempo.
3:55
Verse 4
"Time won't fly, it's like I'm paralyzed by it

I'd like to be my old self again, but I'm still trying to find it…"

Completely different tempo and tone than other verses- but lyrically and rhythm-wise follows the same pattern.
4:15
Verse 5
"But you keep my old scarf from that very first week, 'Cause it reminds you of innocence…"
Back to referencing the scarf, tempo starts increasing again, song is more upbeat
4:36
Chorus
"'Cause there we are again, when I loved you so, Back before you lost the one real thing you've ever known…"
Background singers are very prominent, lots of crescendo and drama
4:56
Refrain
"Wind in my hair, you were there, you remember it all, Down the stairs, you were there, you remember it all, It was rare, I was there, I remember it all too well"
Last line of the last version of the chorus "It was rare, I was there, I remember it all too well" is repeated back three times differently with different emphasis on the context, and who was remembering
5:14
Outro
Guitar
---
Work Cited
"All Too Well Taylor Swift Full Audio with Lyrics." YouTube. YouTube, n.d. Web. 27 Oct. 2015.
Keefe, Jonathan. "Taylor Swift Red | Album Review | Slant Magazine." Slant Magazine. N.p., 22 Oct. 2012. Web. 27 Oct. 2015.
Nelson, Brad. "If You Listen Closely, Taylor Swift Is Kind of Like Leonard Cohen." The Atlantic. Atlantic Media Company, 01 Nov. 2012. Web. 27 Oct. 2015.
"Taylor Swift Talks About Making "1989" Album on Grammy." YouTube. YouTube, 14 Oct. 2015. Web. 03 Nov. 2015.
"Taylor Swift, 'Red': Track-By-Track Review." Billboard. N.p., n.d. Web. 27 Oct. 2015.