Written by Minsu Kim. 21 October 2014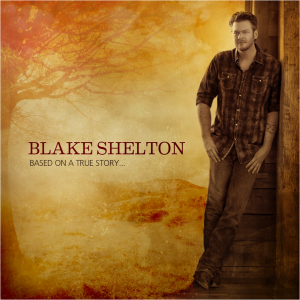 Blake Shelton is famous for constantly commenting on "how to be Southern" on the show The Voice, which makes the crowd want to think that he is a small town Oklahoma boy. He might be a small town country boy, but he is not so naïve after all; Shelton knows what can make him commercially successful, and he knows exactly what kind of crowds would buy his album. Even though he is out to prove that he is still country and "backwood legit" as he claims in his songs, he strongly believes that "grandpa country" needs to evolve and he makes sure it shows in Based On a True Story. A few years before the album came out, Shelton had gotten married to another country superstar Miranda Lambert, which maybe the reason why half of the album consists of love songs and Shelton's ideas about women he loves and how to be romantic. Shelton claimed to be "the happiest man" in the interviews when the album was released, and his happiness shows clearly in the album- the up-beat, the lyrics and just the general attitude.
Blake Shelton understands that not every single country music fan is on board of his idea of old, traditional country music style needing to progress. Shelton is aware that he has a lot of fans as well as people who have been attacking him online. He knows where his "haters" might have stemmed from- Shelton made a comment on a GAC special: "Nobody wants to listen to their grandpa's music. And I don't care how many of these old farts around Nashville (are) going, 'My God, that ain't country!' Well, that's because you don't buy records anymore, jackass. The kids do, and they don't want to buy the music you were buying." (Mansfield 2D) Shelton simply wanted to deliver his idea that he wants his country music to be more evolving than the old country music, but the way he said it brought him accusations. In addition, Shelton, in his earlier career, established himself as a "neo-traditionalist," but as he gained more fame and became more relevant to younger generations, he started to make statements like this, offending a lot of "traditionalists," or classic country fans. While he appreciates his fans that still listen to his songs, he knows how to brush off those depreciations on the Internet, and sings his songs his way.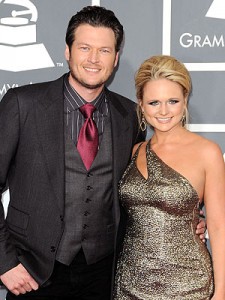 Shelton addresses his songs to the audience, which he assumes are mostly his fans, and some of his "haters" who might have decided to give him a second chance or happened to listen to it on the radio. To deliver the message clearly, Shelton starts off his album by shouting "red, red, red, red, redneck!" in his first track "Boys 'Round Here," which emphasizes his small town country boy aspect. Shelton repeatedly includes words like "redneck," "backwood legit," and "country boy," throughout this album, which shows his effort to stay relevant to old country song fans. His love songs in the album, "My Eyes" and "Doin' What She Likes" seems to aim those older crowd, as they have almost corny, very honest lyrics to the simple guitar sound. Maerz mentions in her article, "his idea of a romantic night on the '80s-guitar-fueled "Doing What She Likes"? Lighting watermelon-scented candles by her bed," which is the verse that keeps being repeated in the song. Those love songs also have a purpose of showing Shelton's constant love for his new wife, Miranda Lambert, as there have been some rumors about their marriage being unstable.
As previously mentioned, Shelton not only wants to stay relevant to the younger generation, but also wants to prove his "Southern-ness," or "country-ness" to the older crowd, and possibly stay connected with them as well. Shelton's old albums sound a lot more like the traditional country music, and as he became famous with those albums and some commericals, but mainly through the TV show The Voice, he gained a big chunk of younger fans. Shelton is well aware that those young audiences, or a kind of an audience who would watch a modern show like The Voice, rather than old country fans, are what he needs to aim for when he makes an album.
Shelton now keeps acting as "Nashville's cultural ambassador to Hollywood," (Maerz) while still wanting to maintain his "country-ness."  He shows this effort by incorporating the auto-tune sound in a few parts of his songs, which ended up attracting tons of criticism. One example goes- "Shelton's just not a gravitas kind of guy, and the outdated production only makes it harder to take his songs seriously, especially with the talk-box-style guitar effects and the ill-advised use of AutoTune." (Maerz) An upbeat song such as "Small Town Big Time" also seems to be aiming for the young audience as they enjoy the dance-y fast beat music, and "My Eyes" as well as it states way more modern idea of romance and dating than their other two love songs ("Doin' What She Likes" and "My Eyes") mentioned previously.
Despite of all the criticism Based On a True Story had received, it immediately hit the top chart. Just as Shelton aimed it to be, listeners of all generations find the songs in this album relatable and easy to enjoy and "jam out" to. While I am not sure of where Shelton got the idea that "grandpa country" must evolve, that is how Shelton wanted this album to show and how he probably will make his future albums. Based On A True Story is a good example of a commercially successful album because it focuses on the right audience, even though some might say it is not really "country" enough, or should even be called a country album at all. It lets everyone see that Shelton is a happy man, regardless of the rumors and accusations, and lets the listeners to be lighthearted, which is the essence of country music and might even be the reason why this album was so successful, in spite of some "bad" songs.
---
Track List:
"Boys 'Round Here" (R. Akins, D. Davidson, C. Wiseman)
"Sure Be Cool If You Did" (R. Clawson, J. Robbins, C. Tompkins)
"Do You Remember" (M. Dulaney, W. Gray, I. Kirkpatrick)
"Small Town Big Time" (C. Lagerberg, C. Wiseman)
"Country on the Radio" (R. Clawson, C. Tompkins, C. Wiseman)
"My Eyes" (A. Dorff, T. James, J. Osbourne)
"Doin' What She Likes" (W. Kirby, P. O'Donnell)
"I Still Got a Finger" (G. Hannan, C. Wiseman)
"Mine Would Be You" (J. Alexander, C. Harrington, D. Ruttan)
"Lay Low" (D. Dillon, T. Nichols, D. Turnbull)
"Ten Times Crazier" (R. Akins, M. Green, B. Hayslip)
"Granddaddy's Gun" (R. Akins, D. Davidson, B. Pinson)
---
Works Cited:
Maerz, Melissa. "Based On a True Story (2013) – Blake Shelton." Entertainment Weekly. N.p., 27 Mar. 2013. Web.
Mansfield, Brian. "Shelton Is Unafraid to Raise His Voice; New, 'light Album' and New TV Season Have Outspoken Star in a Blissful State." USA TODAY 25 Mar. 2013, FINAL EDITION ed., LIFE sec.: 2D. Print.