Written by Sierra Smith. 3 November 2015.
Garth Brooks once said, "The greatest conflicts are not between two people, but between one person and himself," which is the underlying argument of his not so commonly known song "Belleau Wood." This song, performed by Brooks, and co-written by Joe Henry, poetically depicts factual events of what happened between 1914 and 1918 on the front lines during Christmas in World War I. It is a song that discusses both triumph and tragedy as it highlights the brilliance of the human spirit in the darkest of times and elicits the heartbreaking cost of war on the human soul. Even under the most dire circumstances, Brooks' "Belleau Wood" reminds us that we can find peace and unity if we choose to rise above our fear and embrace our commonality rather than fight over our differences.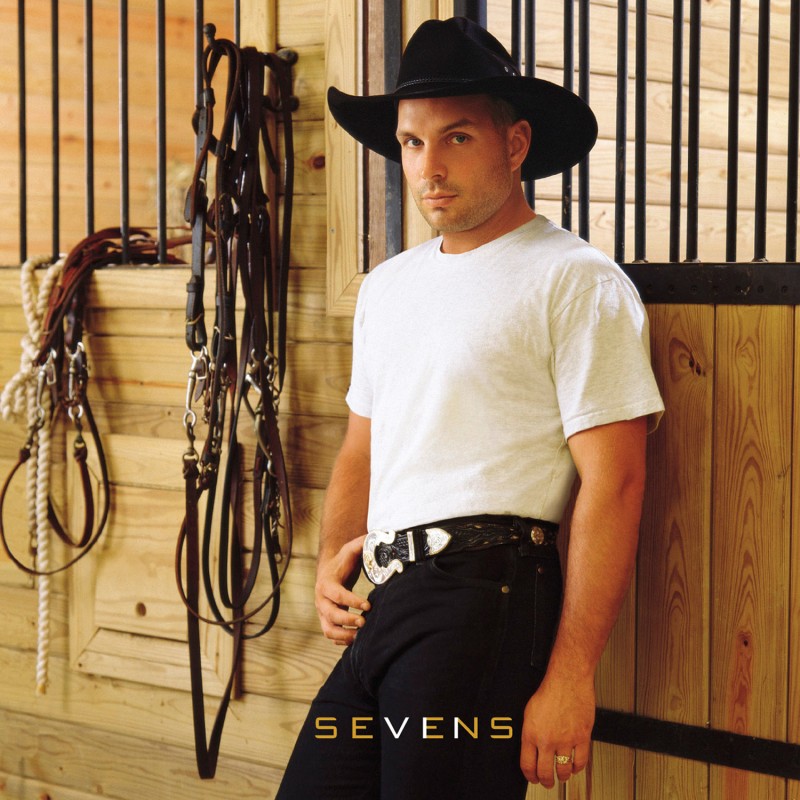 The song "Belleau Wood" was released in 1997 as part of Brooks' album Sevens. When this album was released, Garth was making significant increases in his career, soaring to new heights with having constant number 1 hits in the Country music charts, and Sevens was no different. This album debuted at #1 on the Billboard 200 as well as on the Top Country Albums chart immediately after its release, and was nominated for the Best Country Album in the following years. Although this song is not Garth's most popular, Sorrel, a commenter on Amazon, explains that "even people who [say] that they hate country music can't find anything bad to say about it."
Most people who first listen to this song ultimately think that it was written about the Battle of Belleau Wood, considering that that is basically the title of the song. But, this song is technically based on the Christmas truce phenomenon in 1914 where German and British soldiers ventured into no man's land to exchange seasonal greetings that lead to a widespread unofficial ceasefire. This event took place in the midst of Word War I where the Allied and Axis powers were fighting against each other in areas surrounding Paris, France. As one can only assume with such a large-scale war, this battle at Belleau Wood was said to be a deadly rifle fire that resulted in heavy casualties from both the Allied and Axis powers.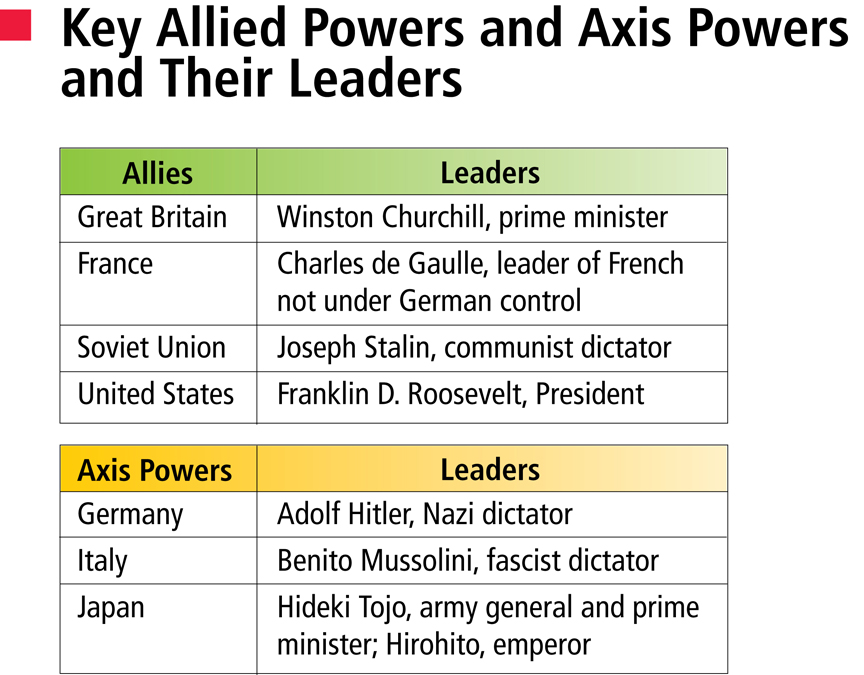 With that said, Brooks decided to take this topic and form it into a life lesson that ultimately answers the problems of this world. Usually songs have target audiences to whom the song is directed toward, but "Belleau Wood" can speak to more than just one audience. Although its message is intended to speak to all of mankind, Brooks intentionally targets those who don't normally listen to country music, and to those who are specifically Christian. Here, Brooks speaks to the non-country music listeners by basing this song off of Billy Joel's "Goodnight Saigon." Because these two songs are so similar when it comes to their topics, Brooks has expanded his audience into the rock genre just as Billy Joel has.
Many can even argue that due to Billy Joel's song, it has inspired Brooks to write "Belleau Wood" as it was recorded several years after "Goodnight Saigon," and after Garth's tribute to Billy at the Kennedy Center Honors. However, Brooks also specifically speaks to Christians because he knows that they believe in Christ, and that they would understand the notable events that take place in the song as well as their underlying message. Garth has always been known to be a very spiritual man as he routinely thanks Jesus Christ for his success: "For without Him, nothing is possible." Even in "Belleau Wood," it is evident that Brooks is turning to God in order to find hope.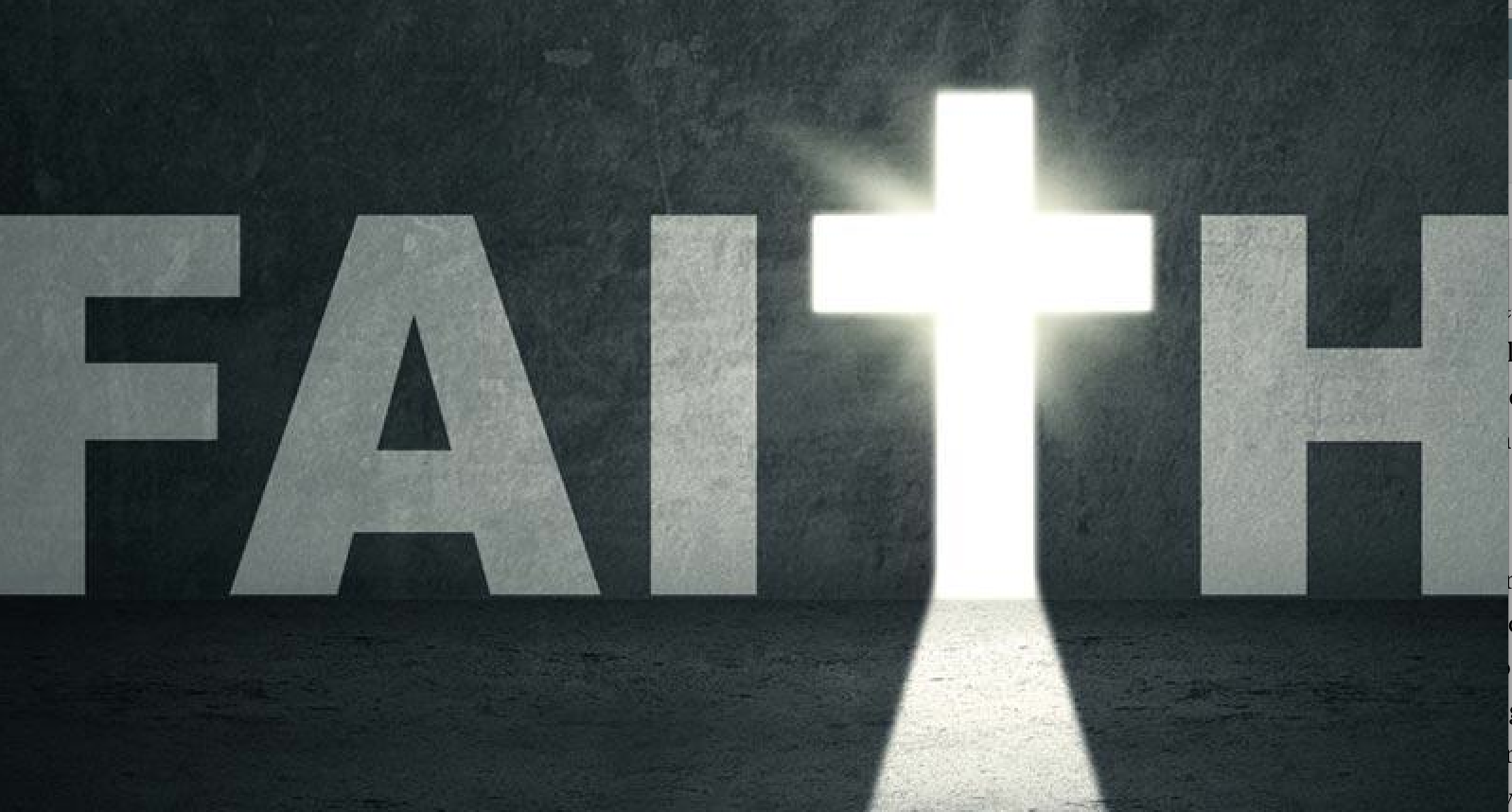 Brooks uses several rhetorical strategies to help covey his overall message. Over the course of the entire song, Brooks describes a scenario based on a true account where soldiers are able to find peace on earth, which is extremely similar to Royal Guardsmen's "Snoopy's Christmas" that was released 30 years prior to "Belleau Wood." Within each verse Brooks uses particular words that help further his argument, and aid in the song's progression. Within the first verse, the lyrics establish the setting, time of year, and particular day in which the story is taking place. Within just the first four lines, the audience is aware that this song is about a war between Germany and Britain, and that both sides have decided to call a truce on Christmas Day.
Here, Brooks intentionally states that the "snowflakes fell in silence," which indicates that there is no fighting happening at the moment. It is also worth noting the ironic choice in words when it comes to the word "snowflakes." Usually the word "snowflakes" is associated with things of beauty, calmness, and peacefulness, not associated with war. Additionally, Brooks points out that it is Christmas Day; the day that Christians and the soldiers that day celebrate God entering the earth. Therefore, these snowflakes could ultimately represent God coming down and creating peace on earth that day.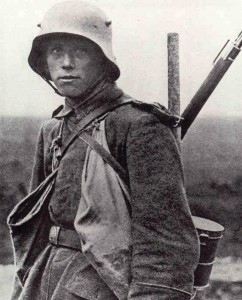 Furthermore, within verses two and three, the lyrics explain that, "the silence was broken in two/by a German solider singing/a song that we all knew." This illustrates that the German soldier was influenced to go beyond his fears in breaking the silence. Only something so powerful as God could have influenced a man to forget about his differences and risk his life to create unity for the common good. Within a couple lines after that, the audience is aware that the German solider is singing the song "Stille Nacht," or what we know as "Silent Night." The British soldier did not comprehend the language, but recognized the song, which shows that these soldiers are from opposing sides, yet the song is universally understood.
When another soldier begins to whisper, "All is calm and all is bright," the British soldiers start climbing out of their trenches and begin to sing along. The singer states that he is aware that "[he] could die if [he] is wrong," which shows that he was willing to stand up for what he thinks is right at the risk of losing it all. When this scene plays out for the audience, it alludes to the fact that bravery and tranquility are present on the battlefield. This also describes how the main character is bold enough to come out of his trench at the risk of getting shot as he began to sing along.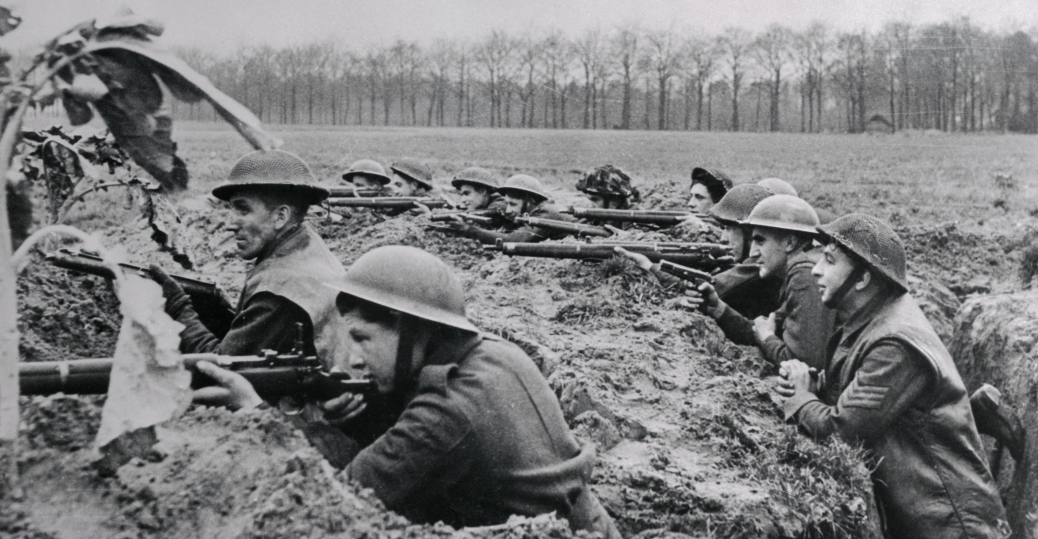 Brooks utilizes one of the most famous Christmas songs as the bridge for both sides to realize they have things in common. It is through this song and the soldiers' braveness that peace and unity are established. Therefore, despite being from different places, we all share similarities. There should be no territorial, political, religious, or socioeconomic lines that separate mankind; we are all equal under God. The listener can also sense that this is a significant event in the song by listening to the change in melody, and by having the arrangement of the song become more dramatic.
Lastly, towards the end of the song, we see the first encounter between the soldiers from either side of the battlefield. The lyrics describe the German soldier crossing the battlefield, raising his hand, and genuinely smiling to the British soldier.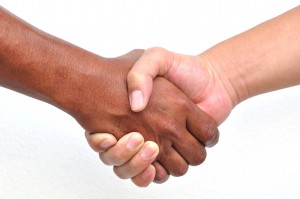 The German soldier resorts to these actions instead of using language so that both can understand that they come in peace, and that they agree that war is not the answer. Language is a man made thing that acts as a barrier for people to effectively communicate. But, by finding this alternative way, it implies that two people from opposing sides can still communicate as brothers because we are all part of the same family under God.
However, despite the temporary truce, Brooks sings of the inevitable return of violence with the most poignant lyrics of the song. The lyrics state that "The devil's clock struck midnight / and the skies lit up again, / and the battlefield where heaven stood, / was blown to hell again," which shows Brooks is equating war to hell and equating peace to heaven. By the clock striking midnight, this implies that Christmas Day is over, and that mankind must resort back to its evil ways.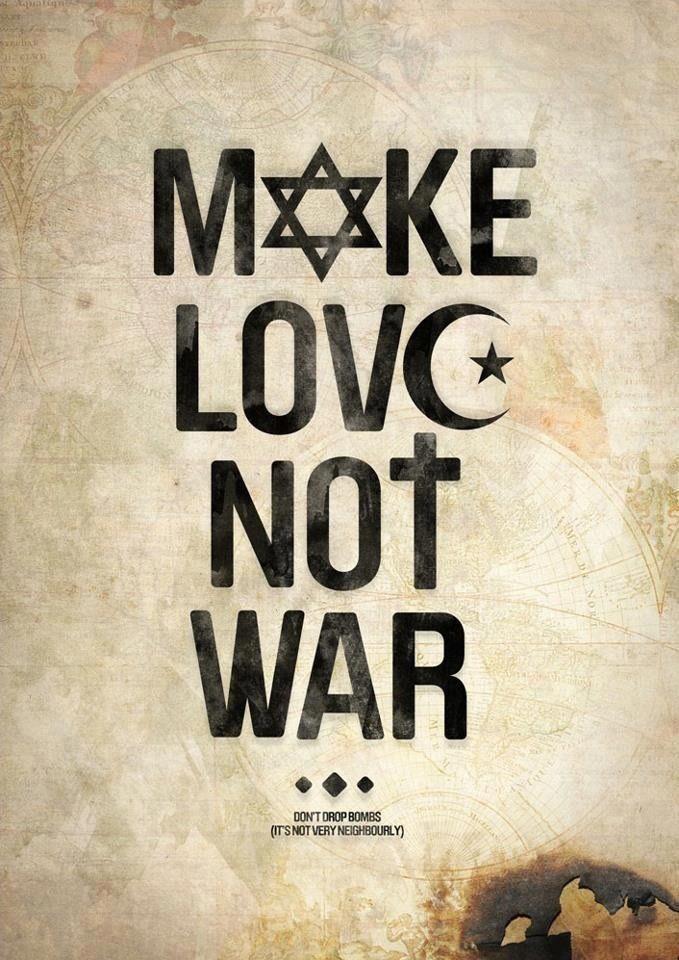 It is clear that peace, or heaven, once stood at the battlefield before the day concluded, but without faith in God, we are ultimately destined for destruction. It is clear that these soldiers were drafted by politicians, hence why they ended up in a war. But if we were to follow God instead of governments, we would be more peaceful and aware of our commonalities. The song finally wraps up with the very last lines stating, "Heaven's not beyond the clouds/it's for us to find it here." This line of the song is noteworthy because for the first time in the entire song, Brooks finally reveals what his main point is.
Unlike most songs where the artist tries to repeat their point in the chorus two, three, or even four times, Brooks chooses to wait until the very last verse to give the answer in order to reach maximum impact, and to let the audience know that this song isn't just a story about a war – it has a deeper message for us to understand. Brooks changes the perspective from that of a single soldier retelling a miracle he witnessed to "us." These last lines act as a wake-up call directed at all of mankind to do the same by taking a stand, and that it is possible, and within our control, for all of us to also experience. Krista Henderson, on YouTube, also agrees with Garth's message by commenting, "If more people understood that sentence, we'd have a whole lot less blood shed."
In conclusion, wars are not created by God; they are often a result of religious, political, socioeconomic, or territorial differences created by mankind. The problem at stake is that people are destroying each other over these miniscule differences, leading to negative and costly outcomes. Brooks provides an answer to this problem by stating that "heaven" can be achieved on earth, if you just celebrate the similarities between you and others. See, people commonly think that heaven is found beyond the clouds, but actually it is achievable right here, right now, and we can experience this by changing our character, focusing on our integrity, and trusting in our faith. Although "Belleau Wood" was never a huge hit, the message it portrays is remarkably inspirational, and is especially pertinent in today's day and age with the enormous amounts of political and socioeconomic unrest everywhere in the world.
---
| | | | |
| --- | --- | --- | --- |
| Time | Form | Listening Cues | Discussion |
| 0:00 | Intro | Picking at the guitar, piano keys, minimal drums | Establishes the pace, the tone, and the mood of the song. |
| 0:11 | Verse 1 | Oh, the snowflakes fell in silence… | Establishes the setting/location, time of year, and the particular day. Voice sounds deep and dragged out. Implies that this song starts out sad. |
| 0:42 | Verse 2 | Though I did not know the language… | The German soldier was singing "Silent Night." This particular song lets the audience know that there is peace on the battlefield. The main character is bold enough to come out of his trench at the risk of getting shot as he began to sing along. Brooks drags out "Night" to emphasize its importance. |
| 1:15 | Bridge 1 | Then across the frozen battlefield… | Everyone on both sides of the battlefield began to sing along in unison, which shows they can come together for the common good. It shows we can find peace through celebrating our similarities. Brooks' voice becomes higher establishing a different pace of the song. |
| 1:33 | Verse 3 | Then I thought that I was dreaming… | This is the first encounter of men from either side of the battlefield. They exchange words and hope to live in peace with each other one day. Establishes that peace is possible when your forget about your differences. |
| 2:07 | Bridge 2 | Then the devil's clock struck midnight… | This verse shows that he is equating war to hell and equating peace to heaven. Because Christmas Day is over, people automatically go back to their evil ways. Brooks' voice gets higher here again, which indicates a change of pace in the song. |
| 2:27 | Verse 4 | But for just one fleeting moment… | Although wars are often a result of religious, political, or territorial differences, they are not of God… they are of mankind. |
| 2:46 | Tag | No, heaven's not beyond the clouds… | People are able to find heaven on earth, but you have to find it by celebrating your similarities. Emphasizes this line at the end of the song to make his point to the audience. |
| 2:59 | Outro | Picking at the guitar, whispering "Silent Night" lyrics | Tells us that the song is coming to a close. Ends with a verse from "Silent Night" to illustrate that everyone and everything is at peace as it should be. |
---
Works Cited
"Battle of Belleau Wood." Wikipedia. Wikimedia Foundation, n.d. Web. 28 Oct. 2015. <https://en.wikipedia.org/wiki/Battle_of_Belleau_Wood>.
"Belleau Wood [Garth Brooks]." YouTube. YouTube, 11 Dec. 2012. Web. 28 Oct. 2015. <https://www.youtube.com/watch?v=kjXa7DnaGjQ>.
"Billboard 200 – 1998 Archive." Billboard. N.p., 2015. Web. 1 Nov. 2015. <http://www.billboard.com/archive/charts/1998/billboard-200>.
"Garth Brooks Quotes." Garth Brooks Quotes (Author of Scott Joplin. N.p., n.d. Web. 28 Oct. 2015. <https://www.goodreads.com/author/quotes/129907.Garth_Brooks>.
"Grammy Award for Best Country Album." Wikipedia. Wikimedia Foundation, n.d. Web. 01 Nov. 2015. <https://en.wikipedia.org/wiki/Grammy_Award_for_Best_Country_Album>.
Kershaw, Tom. "Garth Brooks' Religion and Political Views." Garth Brooks' Religion and Political Views. N.p., 23 Nov. 2012. Web. 28 Oct. 2015. <http://hollowverse.com/garth-brooks/#footnote_2_6625>.
"Sevens (album)." Wikipedia. Wikimedia Foundation, n.d. Web. 28 Oct. 2015. <https://en.wikipedia.org/wiki/Sevens_(album)>.
"Sevens." Amazon. Amazon, n.d. Web. 28 Oct. 2015. <http://www.amazon.com/Sevens-Garth-Brooks/dp/B000002ULQ/ref=sr_1_7?ie=UTF8&qid=1446013604&sr=8-7&keywords=belleau%2Bwood%2Bgarth%2Bbrooks>.
"Top Country Albums – 1998 Archive." Billboard. N.p., n.d. Web. 1 Nov. 2015. <http://www.billboard.com/archive/charts/1998/country-albums>.