Written by Tyler Dial, 3 November 2015.
The Zac Brown Band's Jekyll + Hyde, released in early 2015, has caused much controversy with many critics arguing that it isn't a country album. One critic on PopMatters goes far enough to say, "The album is terrible, with insidious politics, awkward writing, wild stylistic variations and an unsettled quality throughout, but they don't half-ass, which kind of makes the whole thing worse." Sure, the songs on Jekyll + Hyde may be all over the place stylistically, but that allows non-country listeners to enjoy music from a band that they might never listen to. Jekyll + Hyde features a song called "Heavy is the Head" which reached #1 on Billboard's Mainstream Rock Songs Chart. Zac Brown is one of the few artists in today's country format that has soul in his music. Whether or not it is considered a country song, Zac Brown's fan base will love the hidden gem on Jekyll + Hyde, "Bittersweet," because it might be his most powerful song yet.
Written by Zac Brown, Niko Moon, and Wyatt Durrette, "Bittersweet" is about losing a loved-one but being able to find beauty in their memory. Wyatt Durrette brought the song idea to Zac Brown when his mother was battling cancer. Durrette has had his hand in co-writing many other Zac Brown Band songs such as "Highway 20 Ride," "Colder Weather," "Sweet Annie," and "Goodbye in Her Eyes." With all of these being very touching and powerful songs, it's no surprise that the Durrette-Brown team has delivered again. In an interview about the song on his YouTube channel, Zac Brown reveals "I wanted to write a song that could be vague enough to not be just about someone losing his mother, but about someone losing someone they care about." Careful production matched with touching lyrics perfectly delivers this emotion that Brown wants the listener to experience.
The song starts off with a long and beautifully mournful twenty-second violin intro with waves breaking in the background. Without words, this builds the setting of a beach for the listeners; however, they will quickly find out that this isn't just another Zac Brown island song. A short guitar and drum instrumental seamlessly transitions the violin intro to the first verse when Brown starts singing twenty-five seconds in. Immediately he describes the setting when he sings, "Can't tell where the sky begins and the water ends." In the first verse, Brown paints a picture of a beautiful day on the beach with a bottle in his hand. The simple production of just a guitar, drums, and crashing waves in the background does an excellent job of providing appropriate music behind the lyrics.
In the second verse, the listener learns more about Zac Brown's predicament when he sings, "Something about this place had a way to make you smile. You always loved this island breeze." At this moment, it is clear that the boardwalk holds a lot of memories for the narrator. A poignant electric guitar enters here that sounds like stars in the sky, which adds movement and emotion to this cinematic moment.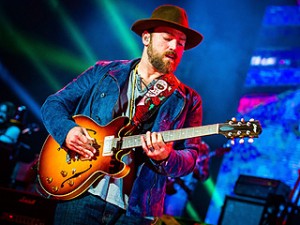 The signature Zac Brown Band harmonies join the arrangement in the pre-chorus when he sings, "The wind whistling 'cross my bottle still can't blow away the sorrow that tomorrow you won't be here with me," providing emphasis to the lyrics. In the interview on his YouTube channel, Brown recites this whole verse, thus demonstrating its importance to him. The alcohol can't mask the pain he's going through so he raises his bottle and toasts to the loved-one's memory, providing the first example of something that's bittersweet.
One of the most significant and recurring lines in the song is the end of the pre-chorus when he sings, "I won't forget the way you love me. Amazing ways you love me." This is a bittersweet moment because although the loved-one gone, he is able to fondly appreciate the love that this person gave him.
The chorus brings the harmonies back when Brown sings, "It's bittersweet you see, you're not here but I can feel you." This moment sums up all the pain and happy reminiscing that he is going through. He is so overwhelmed by the presence of his loved-one's memories that you can hear the pain in his voice when he and his band mates eloquently finish the chorus by singing, "It's bittersweet." There is a little bit of an instrumental build here but it quickly drops off when the third verse begins.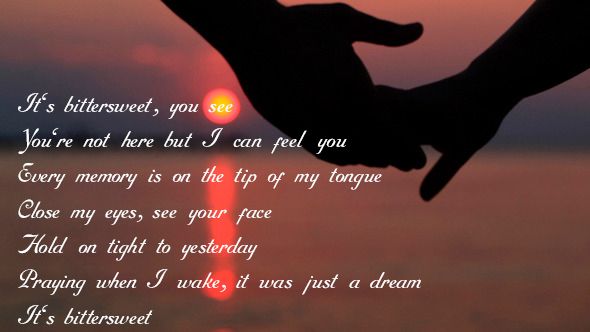 Your heart will drop every time you hear the first line of the third verse, "Doctor said there's nothing we can do." The sick loved-one then requests to go with Brown to the only place that will make him/her feel at peace before he/she dies, the beach that Zac Brown currently sits at. It is important to remember that he is consciously keeping his relation to the loved-one unknown to make the song more universal for his listeners.
According to Zac Brown in his YouTube interview, the second pre-chorus is really significant because it is sung from the dying loved-one's perspective. The lyrics are changed to provide the listener with his/her dying wishes. At the end of the pre-chorus, loved-one tells Brown, "Go and live your life with no regrets and don't forget how much I love you." In his explanation of the song, Zac Brown basks in the beauty of being able to tell someone how much you love them when he says, "It's a song that hopefully helps people grieve if they're gonna lose somebody and also remind them while you're there to tell them that you love them." The beauty of telling someone how much you love him or her, knowing you won't be there tomorrow, is another example of something that's incredibly bittersweet.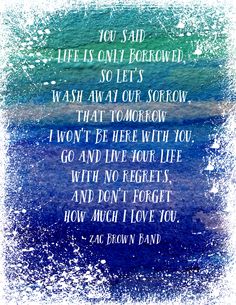 The following chorus is the same as the first chorus but this time it has more of an impact on the listeners because now they have more information on the story, thus, making them feel more emotionally connected to the song. Zac Brown has the listeners right where he wants them going into the emotional peak of the song.
As Brown finishes the second chorus by singing, "It's bittersweet," an electric guitar builds up and a full-on drum set is finally introduced. As multiple heavily distorted electric guitars pound the listeners' ears and sends goosebumps down their spines, Zac Brown wails, "I brought you back just like you wanted so you don't ever have to leave. When I poured you 'cross the southern sky, I couldn't help but to cry. I know you finally got your wings." This violent, dynamic change takes the song from being breezy and islandy to a whole new level that represents the loved-one going to heaven. The moment he scatters her ashes is the third and most powerful bittersweet moment of the song. As he is grieving and mourning for this loss, he is able to find beauty in the loved-one going to heaven when he/she finally gets his/her wings. Just as this transition from the real world to the divine world occurs, there is a huge instrumental that allows Zac Brown to let his vocals fly (like his angel he just said goodbye to) when he sings, "Bitter, bittersweet bittersweet, oh."
At the end of the bridge, the production is brought back down to its original simplicity. When he sings the pre-chorus lyrics, the listener is taken back to Zac Brown sitting on the boardwalk with a bottle in his hand. He toasts the loved-one's memory then his voice purposefully trembles when he sings the word "you" on the penultimate line, "the amazing way you love me." Right after this line, a minor chord is introduced that hasn't been played yet and Zac Brown sings, "It's bittersweet." The song ends on a final strum. All the other instruments fade out while the background waves and a faint organ remain for a brief moment until they fade out as well.
Whether it's Brown's vocal stylization, the dropping in-and-out of background harmonies, or the addition of distorted instruments during the bridge, "Bittersweet" is the perfect example of production matching lyrics. In an age where country music lacks integrity and artistry, the Zac Brown Band's Jekyll + Hyde provides hope for those still clinging on. However, this song isn't just for country music listeners. "Bittersweet" can inspire anyone to find beauty and peace in the memory of a lost loved-one as it reminds us to make the most of our time with our loved-ones while they are still with us.
| | | | |
| --- | --- | --- | --- |
| Time | Section | Listening Cues | Discussion |
| 0:00 | Violin Intro | Violin | Notice the beautiful violin introduction with waves in the background. |
| 0:19 | Instrumental | Guitar and Drums | Very short. Transitions violin to singing. |
| 0:25 | Verse 1 | "Can't tell where the sky…" | Paints a beautiful picture of the narrator on a beach with a bottle. |
| 0:49 | Verse 2 | "Sat down on the boardwalk…" | A poignant guitar enters. The narrator starts reminiscing about someone and the way he/she loved the place. |
| 1:12 | Pre-Chorus | "The wind whistling 'cross my bottle…" | Background vocals enter. The narrator says he's no longer with his loved-one and toasts to her memory. |
| 1:38 | Chorus 1 | "It's bittersweet you see…" | Here, he talks about how the setting and her memory are bittersweet. No change in production. Beautiful harmonies. |
| 2:14 | Verse 3 | "Doctor said there's nothing we could do…" | Here, he's talking about his wife who doesn't have long to live and all she wants to do is go to her favorite place. |
| 2:36 | Pre-Chorus 2 | "You said live is only borrowed…" | In this section, the wife is telling the narrator to live life with no regrets and not to forget her love for him. Similar to the first pre-chorus. |
| 3:02 | Chorus 2 | "It's bittersweet you see…" | Faint organ introduced. Other than that, it's the same chorus. |
| 3:33 | Bridge | "I brought you back just like you wanted…" | Very heavy and powerful. Electric guitar introduced along with full drums. This is when he scatters her ashes and she goes to heaven. |
| 3:58 | Instrumental | "Bitter, bittersweet" | Beautifully tragic instrumentation and vocalization. Full on orchestra introduced. |
| 4:28 | Pre-chorus 3 | "The wind whistlin' 'cross my bottle…" | Same as the first pre-chorus but notice the falsetto on "you love me." Also, notice the minor chord introduced. |
Works Cited
Behind the Song: "Bittersweet" Perf. Zac Brown. YouTube. N.p., 1 June 2015. Web. 25 Oct. 2015.
Easton, Anthony. "Zac Brown Band: Jekyll and Hyde." PopMatters. N.p., n.d. Web. 27 Oct. 2015.
Gray, Mark. "Songwriter Spotlight: Wyatt Durrette." Rolling Stone. N.p., 10 Nov. 2014. Web. 27 Oct. 2015.
Trust, Gary. "Zac Brown Band Earns Rare Crossover Chart Coronation." Billboard. N.p., 28 Apr. 2015. Web. 03 Nov. 2015.