Written by Will Glass. 21 Oct 2014.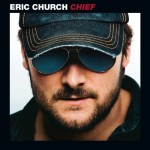 In July 2011, Eric Church released his sophomore album Chief. While teaming up with EMI Records, Church's focus was to create an album that would be different from other artists and producers at the time. With this in mind, Church fused his North Carolina country roots with his rock'n'roll sensibilities. According to Alan Cackett, in his article "Eric Church: Bridging The Gap Between Twang and Rock", "Chief is arguably the most adventurous, mainstream country record to come out of Nashville in 2011" (Cackett). Chief led to a Grammy nomination, turned out to be his second gold disc, and kicked off his first headlining tour, titled, Blood, Sweat & Beers tour.
In the 1970's, Willie Nelson, Waylon Jennings, Kris Kristofferson and some others started the original "Outlaw" movement in country music. Their goal was to record the songs they wanted without harassment from record labels and to be true to themselves. The term "Outlaw" was used to refer to the movement they inspired and also to their lifestyles. I see Eric Church's Chief as a more recent Outlaw album compared to what some other artists are doing today. The mix of rock'n'roll and country genres helped Church's achievements in Chief. For one, as Daryl Addison writes in his review, "Eric's approach and delivery is rooted in outlaw country tradition as he incorporates aspects of different genres with country melodies" (Addison).
Church also creates a newer "Outlaw" movement by straying away from the path of how other artists promote themselves using different forms of media. Church states in Cackett's article that nowadays it's artists going into the studio and making something that fits the formula, and he says that's not his way of doing things. Church felt this was a great time to develop something different. He states in Rob Harvilla's article, "Eric Church Marks His Territory", "I don't like everybody. I think that's normal. I think that's real" (Harvilla). Being real to himself is the key factor of what separates him from other artists.
He says he's been honest to his fans that he doesn't abide by Twitter, Facebook, or any social media. He later notes, "The music is what you're gonna get, and the show. We're gonna focus on it. It's all I think about. It's all I do" (Harvilla). Church does not like the idea of musical reality shows as we found out after there was some beef between him, Blake Shelton and Miranda Lambert. He believes many artists get caught up with the media rather than focusing on creating albums from the heart. Church is a southern boy to the core that's true to himself, and figured it was time for a switch up of pace for country music whether the country listeners realized it or not. In Carlton Fletcher's article, "Church's instincts paid off on 'Chief'", Church says: "I came into the studio and gave the guys in the band a little speech…I told them we were going to make the most creative album we'd ever made, and if that led us off the cliff, then so be it" (Fletcher).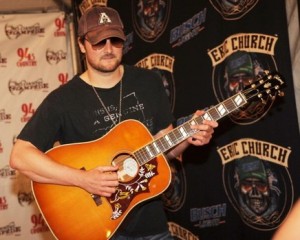 Church is trying to get a good response from the fans by doing it his own way. Church can reach out to a much broader audience by combining different genres of music in his album. Cackett notes that Church's voice has matured since the beginning of his career, and has found a way to emotionally use his voice to connect to the audience. The songs for Chief were written in an old log cabin way back in the woods in North Carolina. "People probably think it was bad that I locked myself away to just write songs, but the other thing is it helped me to really hammer down the whole sound and really take that we wanted" (Cackett). When talking about Chief, Church says: "We really let the creativity flow. And not one time did we worry or analyze, or think what would people think or the fans or anything" (Cackett). His main goal was to have fun, and just to let the music roll. Church opens his album with the single "Creepin'". Addison says, "It's ambitious. It's artistic. It's a sonic challenge to the listener to keep up" (Addison). Some songs are slower than others in the album, but all speak out to the listener. Whether Church is accompanied solely by an acoustic guitar or by heavy rock'n'roll electric guitars, the album draws the audience closer and closer as Church gets deeper into the playlist.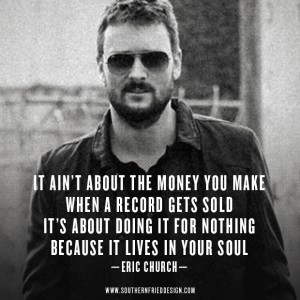 It's true that country listeners love to hear a good story, and Church makes sure they hear plenty in Chief. For a long time most record labels have been telling artists what they can and cannot record. EMI records, which produced Chief, let Church have his freedom when creating this album. Thom Jurek of AllMusic.com notes, "Church is having it both ways: he scores consistently enough to keep his label interested, but also maintains his independence to a degree, which turns on his fans." While Church wanted to release something different, the audience did not care what they heard as long as it was in some form of country. Church states: "Country is the coolest format, it's where the true singer-songwriter lives. It's where the true troubadour lives" (Cackett).
Church conveyed his "Outlaw" approach to music by targeting an audience that was not the norm. He says, "When I first came out, everybody was marketing to the soccer mom…I had nothin' for 'em. I'm not a soccer mom, my wife's not a soccer mom…So we focused on the males" (Harvilla). Since EMI Records lets Church create his music with freedom, they don't care who hears it as long as there's an audience. Being a part of the audience myself, I can vouch that we want to be able to relate our own lives to the stories in the songs. Country music doesn't cater to a certain race or gender, but rather to the people that understand the artist's stories and can put themselves in their positions.
By using his country roots and desiring to perform something different in today's era, Eric Church creatively develops this album to where listeners can relate. From the beginning with 'Creepin', to the end with 'Over When It's Over', Church takes the audience on a roller coaster ride by interlacing different instruments and lyrics to start his own "Outlaw" movement of the 21st century. Similar to what Willie and Waylon did back in the day, Church uses the development and release of Chief to get across his thoughts to the fans of country music.
---
 Tracks:
"Creepin'" (E. Church)
"Drink in My Hand" (E. Church)
"Keep On" (E. Church)
"Like Jesus Does" (E. Church)
"Hungover & Hard Up" (E. Church)
"Homeboy" (E. Church)
"Country Music Jesus" (E. Church)
"Jack Daniels" (E. Church)
"Springsteen" (E. Church)
"I'm Gettin' Stoned" (E. Church)
"Over When It's Over" (E. Church)
Bonus Track: "Lovin' Me Anyway" (E. Church)
---
 Works Cited
Addison, Daryl. "GAC Album Review: Eric Church's Chief." Great American Country. n.p., 25 July. 2011. Web. 12 Oct 2014. <http://blog.gactv.com/blog/2011/07/25/gac-album-review-eric-churchs-chief/>.
Cackett, Alan. "Eric Church." Maverick 114 (2012): 42-44. Music Index. Web. 6 Oct. 2014. <connection.ebscohost.com/c/articles/77978132/eric-church>.
Fletcher, Carlton. "Church's instincts paid off on 'Chief.'" Albany Herald. 4 Mar. 2012. Web. 12 Oct 2014. <http://www.albanyherald.com/news/2012/mar/03/churchs-instincts-paid-chief/>.
Harvilla, Rob. "Eric Church Marks His Territory." Spin. n.p., 4 Feb. 2014. Web. 19 Oct 2014. <http://www.spin.com/featured/eric-church-marks-his-territory-february-cover-story/>.
Jurek, Thom. Rev. of Chief, by Eric Church. All Music 26 July 2011. Web. 12 Oct 2014. <http://www.allmusic.com/album/chief-mw0002165105>.