Written by Erin McAtee. 23 March 2015.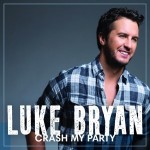 In country music's recent history, a new subgenre "bro-country" has surged to the top of the country charts, much to the dismay of many more traditional artists. Jody Rosen officially coined the term "bro-country" in her article in New York Magazine. In her analysis of the subgenre, she details how Florida-Georgia Line epitomizes the term with their lyrics, aggressive melodies, and all-around attitude. However, Rosen names the "king of the genre" as Luke Bryan, the first to make the shift from the honky-tonk to a "spring-break" style atmosphere.
Bryan released his fourth studio album Crash My Party on August 13, 2013, days after Rosen officially named the bro-country genre. In addition, the release came towards the end of his first headlining tour "Dirt Road Diaries" that premiered Florida-Georgia Line on their first full-length tour. Since the album's 2013 release, Bryan has passed off the "king of bro-country" torch to Florida-Georgia Line, allowing the genre to proliferate and gain more popularity (Rosen). However, Bryan is still credited with priming the country music industry for bro-country.
Luke Bryan was born in July of 1976 as the son of a peanut farmer in the small town of Leesburg, Georgia. His mom discovered his gift for music when "he was a sickly child" and she would rock him to sleep humming "Rock of Ages", which he hummed before he even spoke ("Luke Bryan Discusses His Two Family Tragedies"). The Bryan family grew up with country music and the "CMA awards were an event for the family", where they would all stop working to sit down and enjoy the music. Luke performed in theater and a band in high school, and after graduation he was ready to pack his bags and move to Nashville to pursue his dream of being a musician at age 19.
Days before he had planned to leave, his brother was killed in a car accident, causing Bryan to re-think his decision, saying he "was never convinced [he'd] get back to Nashville". Instead of leaving home, he earned a degree in business at Georgia Southern University where he met his future wife Caroline. He went back to working on his dad's farm, but after a year Tommy threatened to fire his son in order to push him out of the nest to pursue his dream.
Bryan finally moved to Nashville in 2001 at age 25, six years later than he initially planned. He began his career as a songwriter for Travis Tritt and Billy Currington, and was signed to a recording contract with Capitol Records. He released his first album in 2007 writing or co-writing most of its songs, and it peaked at 33. Bryan released "Do I" after his Spring Break album in 2009, which reached number two on the country chart. Major audiences recognized his hard work in 2010 as the Academy of Country Music Awards honored him with Top New Artist. Tailgates and Tanlines served as his first number one album in 2011, producing three number one singles.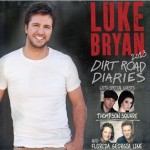 Starting in 2012, audiences were looking for something different than the standard country style. The "bro" personality was getting hot in the United States, due to the stardom of Matthew McConnaghuey and success of films like The Hangover. Luke Bryan used his new-found momentum and clout in the country realm, and he announced his first headlining tour in October of 2012. The "Dirt Road Diaries Tour" premiered the title track to Crash My Party at the 2013 ACM Awards, reaching number one three months later. "That's My Kind of Night" also debuted on tour, and reached number one in the same month as its release in August of 2013.
His stardom helped to provide success for his opening act Florida-Georgia Line, and he guest sang on their single "This Is How We Roll", which hit number one in 2014. The tour allowed him to test the waters for the release of Crash My Party by sneaking in some of his new songs into his set-list. The positive audience response to his new music caused Bryan to release his new album while he was on tour; here he could continue playing his new music and gain more momentum from the release of his album.
Crash My Party, although very successful, lacks the central storyline that many successful albums contain. Crash My Party has been Bryan's most successful album thus far, debuting at number one, reaching Platinum status less than two months after its release, and producing six different chart-topping singles. While critics gave the album mediocre reviews, Bryan's subsequent tour "That's My Kind of Night" has currently sold out 99% of its tickets in the United States with performances in Europe still to come.
USA Today's Brian Mansfield described the album as having a "slightly more generic-sounding" tone compared to Tailgates and Tanlines. However, Bryan's influence on country is evident with the success of this album. His introduction of Florida-Georgia Line into country music stardom has led to them defining bro-country and while many artists may dislike the sub-genre, it has people talking. Bryan uses his tour's success to produce more songs with this hip-hop style, while simultaneously including slower more traditional songs to continue holding the interests of a more traditional audience.
Like many country artists, Bryan's lyrics describe his lifestyle and significant events. Ironically, his mature lifestyle and age make it surprising for his success as a bro-country singer, which generally appeals to college-aged crowd. Bryan's song "Crash My Party" describes his desire to be with one woman, and the music video stars his wife as this girl he sings about. What seems like a typical "bro" song off the album is "That's My Kind of Night", which includes an upbeat tempo and lots of bass, while also featuring some subtle auto-tune. However, the lyrics describe how Bryan's ideal night is spending time with one girl in a rural venue. Bryan's reference to catfish in this song connects directly with his appearance on Ellen, when he discusses his automatic catfish feeder and a truck accident. While many artists tend to sell-out and sing about things they are unfamiliar with solely to appeal to their audience, Bryan tends to sing about things that are very typical of his lifestyle, but manipulates his instrumentation and quick tempos to appeal to the bro-country audience.
Bryan's "Drink A Beer" drew very positive reviews from critics, who found the vocals to "give an air of authenticity to the lyrics" (Mansfield). This song takes a significant contrast in tone from the connotations of the rest of the party album. Bryan uses this song to communicate his coping with loss without trying too hard to solicit an emotional response from the listener. "Drink A Beer" serves as another great example of Bryan clearly being himself in his lyrics and continuing to be authentic.
The timing of Crash My Party during his tour with up-and-coming Florida-Georgia Line was great enough to solicit a reaction from the media by truly defining what this new style of country was. Bryan's fan base expands with his linkage to Florida-Georgia Line, but he does a great job of his production and song-writing ability in order to appeal to young country listeners with his fast-paced fun music while also keeping the lyrics authentic to himself. Fans agree with the success of the album, as indicated by their reviews through Amazon. Sunshine commented that many of Bryan's songs have "a catchy rift" and "perfect for a concert". This reviewer also noted that the album is "much…deeper in meaning" in comparison to Tailgates and Tanlines, confirming the success of the lyrics being able to solicit an emotional response from its listeners.
Bryan's Crash My Party has helped to solidify the existence of bro-country in a genre that has remained so traditional for so long. The music appealing to a youthful audience helps to keep the 38-year-old young. This youthful attitude, combined with the success of both Crash My Party and the "Dirt Road Diaries" tour, helped Bryan to win the 2013 Academy of Country Music award for Entertainer of the Year. Bryan best summarizes his success in bro-country by saying, "As time goes on, I don't want to be an old man trying to do party songs. The music will change. But right now I'm having fun" (Finan).
---
Tracks
1. "That's My Kind of Night" (D. Davidson, C. DeStefano, A. Gorley)
2. "Beer in the Headlights" (M. Carter, B. Kinney, C. Swindell)
3. "Crash My Party" (R. Clawson, A. Gorley)
4. "Roller Coaster" (M. Carter, C. Swindell)
5. "We Run This Town" (A. Gorley, D. Davidson, K. Lovelace)
6. "Drink a Beer" (J. Beavers, C. Stapleton)
7. "I See You" (L. Bryan, A. Gorley, L. Laird)
8. "Goodbye Girl" (S. McAnally, J. Osborne, M. Ramsey)
9. "Play It Again" (D. Davidson, A. Gorley)
10. "Blood Brothers" (B. James, B. Pinson)
11. "Out Like That" (A. Goodvin, A. Sanders, C. Swindell)
12. "Shut It Down" (T. Martin, W. Mobley, N. Thrasher)
13. "Dirt Road Diary" (R. Atkins, B. Davidson, B. Hayslip)
---
Works Cited 
Finan, Eileen. "At Home with Luke Bryan." People 06 Nov. 2013: 44-50. Print.
"Hayden Panettiere/Luke Bryan." Interview by Ellen DeGeneres. The Ellen DeGeneres Show. ABC. KVUE, Austin, Texas, 27 Nov. 2013. Television.
"Luke Bryan Discusses His Two Family Tragedies." Interview by Robin Roberts. In The Spotlight with Robin Roberts. ABC. KVUE, Austin, Texas, 5 Nov. 2013. Television.
Mansfield, Brian. "Luke Bryan Has Only One Place to Go." USA Today. Gannett, 11 Aug. 2013. Web. 08 Mar. 2015.
Rosen, Jody. "Jody Rosen on the Rise of Bro-Country." New York Magazine 19 Aug. 2013: n. pag. Vulture. New York Magazine, 11 Aug. 2013. Web. 8 Mar. 2015.
sunshine. "A deeper side to Luke Bryan!" Amazon. Amazon, 13 Aug. 2013. Web. 8 Mar. 2015.