Written by Olivia English. 1 March 2016.
Patsy Cline wasn't always the legend she is today. True, she had made a name for herself in the music industry earlier in the '50s, but in 1961 her career really took off. "Crazy", the biggest hit of Cline's career, was released this year. Followed by other hits such as "She's Got You", "Crazy" caught huge attention from the public, furthering her career as a country music superstar. Originally written by Willie Nelson and his friend, Oliver English, this song was titled "Stupid" and was to be performed by country singer Billy Walker. Luckily for Cline, Walker turned the opportunity down because it was "a girl's song" — a hopeless love ballad.
"Crazy"'s lyrics whole-heartedly profess the love of one person for their significant other, who has since left for someone new. Reaching number two on the U.S. Billboard Hot Country Singles in 1961, Cline's version of "Crazy" perfectly showcased her vocal talent and became one of her signature songs after spending 21 weeks on the charts. Before writing "Crazy" and striking gold in having Cline record and perform it, Nelson was only a struggling artist wishing for a miracle to jumpstart his career.Luckily for Nelson, this also became one of his most legendary songs, especially after he made his own cover a year later and put it on his debut album, …And Then I Wrote.
Patsy Cline, just as most every other celebrity, had a regular life before stardom, but singing had been her passion since an early age. Her birth name was Virginia Patterson Hensley, and she started singing when she was just a teenager. Sadly, her father had a drinking problem that put a strain on her parents' marriage, and they decided to split up when she was only fifteen years old. Her father's absence caused some financial issues for Cline and her mother, so she dropped out of high school and started singing in local clubs and working odd jobs during the day to help pay the bills. At the age of sixteen, Cline was already entering herself into singing contests and performing on local radio stations.
In 1948, Wally Fowler, a gospel and country singer-songwriter who was a regular on the Grand Ole Opry at the time, came to Cline's hometown for a show. She managed to get backstage and sing for Fowler, and made such an impression that he brought her to an audition to be a member of the Grand Ole Opry herself (Patay). Unfortunately, the representatives didn't yet believe in her ability to make it in the big leagues.
Cline returned home and continued to sing locally, where she met Bill Peer in 1952. Peer was a disc jockey and musician and was in the business of running bands. He decided to hire Cline as lead vocalist of his band, the Melody Boys and Girls. This was huge for Cline, but Peer had his rules and regulations. Peer wasn't a fan of her name, and after mistakenly believing that her middle name was Patricia, convinced her to begin going by Patsy Hensley. A year later, she married a man by the name of Gerald Cline whom she had met at one of her shows. She took her husband's last name and became Patsy Cline, which grew to be the widely known name recognized across the world today.
Peer lead Cline into national exposure by signing her with Four-Star records. Unfortunately, Four-Star's current president was a man rather disliked in the world of music. President of Four-Star, William A. McCall, had slyly roped Cline into a two year contract. Under this contract, she was required to record any material chosen by McCall, and was only allowed to record songs published by him (biography.com). During her time with Four-Star, though, Cline came out with her first huge hit, "Walkin' After Midnight". The song made it onto the top ten charts for both pop and country, and was even released as a single (Patay).
"Walkin' After Midnight" was undoubtedly along the lines of the popular honky tonk sound of the early 1950s, but Cline's sound was ever changing. The '50s was a decade of change for country music, phasing from early honky tonk, through rockabilly and easing into the all too well known Nashville Sound. Throughout the '50s, Cline dabbled in rockabilly with "I Love You, Honey" and a few others, but found little success. It wasn't until the near end of her career that she found her way to her jazzier Nashville sound smashing success, "Crazy".
Cline's career began to take off after "Walkin' After Midnight", but her busy schedule and her determination to further her success put a strain on her marriage and ultimately led to her decision to divorce her first husband four years after the marriage began. Things would not come to a halt for long, though, for Cline's romantic life. Only two months later, she wed Charlie Dick on September 15, 1957 and chose to slow down for a short period of time and back away from her career while she had children. Little did she know, her new husband would end up playing a key role in her huge musical success when she returned to the music business.
One unsuspecting evening, Willie Nelson actually met Cline's husband, Charlie Dick, at a bar and gave him a recording of "Crazy" to take home to his wife. Ironically, the lovesick lyrics of the single are nearly the opposite of Cline's own love life. In fact, the chorus, "Crazy for thinking that my love could hold you/I'm crazy for trying/And crazy for crying/And I'm crazy for loving/You" could be used to describe her first husband's feelings toward the divorce. When her current husband brought the song home to her, Cline initially hated the song because of the way it was sort of spoken, rather than sung, on the particular tape. Cline argued that she "couldn't sing like that". Her producer, however, had a vision for the song.
This period in time was the height of the Nashville sound era, where many producers were looking for ways to make music that would appeal to more than one audience such as ballads accompanied by strings. In fact, "Hello Walls" performed by Faron Young had a very similar jazzy, Nashville sound to "Crazy", and was one of the top hits that same year. Even more interestingly, Willie Nelson himself actually wrote "Hello Walls" as well. Cline's producer pitched "Crazy" to her in ballad form, and she agreed to record this version. The song had a complex melody that worked beautifully with Cline's unmistakable voice and became the biggest hit of her career. More than thirty years later, Nelson explained that her version of the song was his favorite song of his that anyone had ever recorded because "it was a lot of magic."
Cline finally made it big and joined the Grand Ole Opry in 1960 after releasing her song "I Fall to Pieces". She performed the single on the show, and to this day it is considered a song that set the stage for commercial Nashville country (Patay). The following year, she would finally record "Crazy".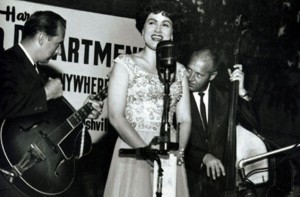 As we've learned, Cline's life was far from being free of hardship, but she never let anything stop her. Only two months before she was set to record "Crazy", she was involved in a horrible car wreck and was thrown through the windshield of the car. She survived, but came away from the crash with a broken rib. She arrived at the first recording session unable to sing the highest notes of the song due to her injury, and had to return two weeks later to try again – on crutches (Songfacts). Cline even performed this song at the Grande Ole Opry on the same crutches!
Cline has gone down in history as one of the most successful artists to create the crossover between country and pop, especially as a woman. She received huge recognition in both genres, but to some extent was not able to fully commit to one. She dabbled in true rockabilly and even "churchy tear-weepers", but due to her extraordinarily strict contract with Four-Star, Cline was pretty stuck in her current sound until after the contract expired (CMT). Over the years, there has even been some controversy over the recognition she's received as a pop artist. Some believe that Cline should not have been so much in the pop spotlight in comparison to other artists of the time. Brenda Lee had more success than Cline in the pop market, but unlike Cline whose target was a more adult or mature audience, Lee's music was aimed toward a younger crowd. Regardless, the final four of Cline's top ten country singles did not even crack the pop Top 40 chart, further backing the notion that her music was continuously more popular and more successful when aimed toward country listeners (CMT).
Tragically, Cline passed away at age 30 only two years after releasing "Crazy" in a tragic plane crash. In August of 2012, The Country Music Hall of Fame held a ten month exhibit for Cline and her song specifically: Patsy Cline: Crazy For Loving You. The exhibit featured her costumes, photos and videos, as well as showing her personal story as a wife, mother and performer through her own words (Country Music Hall of Fame). CMT describes her as having the most legendary aura of any female singer. This is, in part, due to her early passing, but above all, the legend of Patsy Cline and her huge success from "Crazy" after powering through all of her hardships in life will live on forever in the world of country music.
---
Works Cited
"Crazy by patsy Cline Songfacts." Crazy by Patsy Cline Songfacts. 2016 Songfacts, LLC. Web. 24 Feb. 2016.
Editors, Biography.com. "Patsy Cline Biography." Bio.com. A&E Networks Television. Web. 24 Feb. 2016.
"Patsy Cline Bio | Patsy Cline Career." CMT Artists. Web. 24 Feb. 2016.
"Patsy Cline: Crazy for Loving You." Country Music Hall of Fame. Web. 24 Feb. 2016.
Patay, Matthew. "Biography." IMDb. IMDb.com. Web. 24 Feb. 2016.