Written by Shannon Smith

Martina McBride is a country music artist that has been able to stand the test of time. Martina's country pop career started in the 90's and began to hit its peak in 2003. Martina McBride's songs have always resonated with the older female country music fans and made a strong appearance in the adult contemporary charts. Everyone knows that this female artist has one of the most amazing voices that country music has ever heard, but what they don't know is that Martina has more recently been developing into a successful songwriter. On Martina McBride's album Eleven she co-wrote 7 of the 11 songs. Even though she has stepped out of her prime she has still been able to remain relevant and prove that she is a forced to be reckoned with when in comes to country music.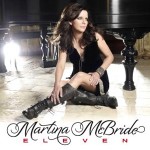 Martina Mariea Schiff was born on July 29, 1966 in Sharon, Kansas. She married John McBride in 1988, and moved to Nashville to work for Garth Brooks in 1990. Martina performed odd jobs like selling Garth Brooks T-shirts, while her husband was a part of his sound crew. Her career started with RCA records in 1992 after she released her first album, The Time Has Come. The '90s is where many female artists like Faith Hill and Shania Twain began to gain popularity with their new independent sound. Martina McBride has been a part of the country music scene for over twenty years and has become known as a respected veteran in country music industry. Martina McBride's powerful ballads "inspire hope, empower the voiceless and make a positive impact on the world" (McClellan). Throughout her career she has generated more than 18 million dollars in album sales and is a three-time ACM Female Vocalist of the Year and a four-time CMA Female Vocalist of the Year. In the '90s Martina helped develop the popular Country-Pop genre that is so famous today.
Martina McBride remained at RCA records until 2011 and then after her contract ran out she decided to go in a different direction and sign with Republic Nashville. Martina was looking for a record label that "they think very out of the box and they are very music centered" (Cackett). Eleven was the first album she produced with Republic Nashville and it was her 11th album that contained 11 tracks and was released on 11/11/2011. Needless to say the title of this album was no coincidence. The hottest songs from the Eleven album included "I'm Gonna Love You Through It," "Teenage Daughters," and "Marry Me." Martina was able to break Train's "Marry Me" into the Country Music charts at number 45. Fans on Amazon believe that this duet arrangement with Pat Monahan is "better than the original," and "leaves you with the perfect wedding song" (Amazon Customer). Martina McBride has always expressed that family will always come before the music and her greatest hits often reveal the emotional connection she has with her daughters. "Teenage Daughters" was written by Martina McBride and does a great job of letting her audience into her personal life in a comical way. In her 2003 album Martina, a more emotional song called "In My Daughter's Eyes" hits number four on the Country Music charts and the Adult Music charts. It is great to see that Martina's "Teenage Daughters" song reflects where she is at in her own personal life and is portrayed in a way that many of her fans can relate to.
The most successful song on the country music charts was Eleven's "I'm Gonna Love You Through It." This song depicts the emotional struggles that women face while undergoing breast cancer and the support from their husbands. This song touched many people and was nominated for a Grammy Award for Best Country Solo Performance. Martina McBride has always done an amazing job empowering women and this song is a great example of that. At this time America had more than double the number of Susan G Komen races in the United States and began to increase awareness in other countries across the world. It is safe to say that this song has become a popular anthem amongst may breast cancer survivors and their families. Brad Paisley released a song called "This is Country Music" in May 2011. His song talks about how country music gets criticized for talking about cancer in a song, so it was only a coincidence that Martina releases her song about cancer two months later in July.
Eleven placed fourth on both the US and UK Country Music Charts. Other country music albums that hit the top of the country music charts in 2011 include Here for a Good Time by George Strait, My Kinda Party by Jason Aldean, and This is Country Music by Brad Paisley. Other things that were going on in the country music scene during 2011 were Reba McEntire's induction into the Country Music Hall of Fame. In one of the Amazon reviews by Timothy Yap he states that Martina McBride is "imitating her peer Reba McEntire" when she released the "Marry Me" cover. Earlier that year Reba McEntire released her own version of Beyonce's "If I Was a Boy" that penetrated into the country music top 20. While Reba is acclaimed for her New Country sound and Martina is more Country Pop, it is clear that Martina was showing great respect for her fellow female artist by following in Reba's footsteps. While most of today's country pop artists are young, Martina's fans remain loyal because they are typically around her same age. Other fan favorites on the album include in the retro sounding "Broken Umbrella" and "Always Be This Way." Martina continues to remind everyone that she was one of the original initiators of this country pop genre and that her music only gets more powerful over time. Her songs may not be hitting the number one anymore, but it is clear that her fans are more loyal than ever. Her songs resonate really well with her listeners because her songs are relatable with large audiences.
It is clear that Martina McBride has no intention of stepping out of the spotlight, especially now that her daughters are in school and are no longer dependent on her. While family will always remain her number one priority it is obvious that music is a big part of who Martina McBride is. When she does give up the singing career it looks like she will want to continue as a producer or songwriter. Eleven was a powerful album that should not be measured by it radio success because even her fans believe that "this album's weakest moments are those when McBride makes concession to radio" (Yap). None of her fans seem to complain about the record switch, because they are too busy raving about Martina's new career as a songwriter. If this album is any indication of what Martina McBride's career will be like at Republic Records it looks like a positive one.
---
Tracks
"One Night" (Martina McBride,Tommy Lee James, Claude Kelly)
"Always Be This Way" (Martina McBride, Brett James, Hillary Lindsey)
"I'm Gonna Love You Through It" (Ben Hayslip,Sonya Isaacs,Jimmy Yeary)
 "Marry Me" (Pat Monahan)
 "Broken Umbrella" (Josh Kear, Mark Irwin, Chris Tompkins)
"You Can Get Your Lovin' Right Here" (Martina McBride, Rachel Thibodeau, Leslie Satcher)
"Whatcha Gonna Do" (Thibodeau,Rebecca Lynn Howard, Jason Sever)
"Teenage Daughters" (Martina McBride, Brad Warren, Brett Warren)
 "Summer of Love" (Martina McBride, James, Lindsey)
"When You Love A Sinner" (Kacey Musgraves, Jay Clementi, Chip Boyd)
"Long Distance Lullaby" (Martina McBride, Irwin, Kear)
---
Works Cited
Cackett, Alan. "Martina Mcbride." Maverick 113 (2012): 42-44. Music Index. Web. 7 Mar. 2015.
"Martina McBride." Bio. A&E Television Networks, 2015. Web. 7 Mar. 2015.
Fabian, Shelly. "Martina McBride – Biography of Country Music Star Martina McBride." About.com. N.p., n.d. Web. 7 Mar. 2015.
Amazon Customer. "Martina is back!" Amazon. Amazon, 13 Oct. 2011. Web. 7 Mar. 2015.
Timothy Yap. " Safety Not in Numbers But in Her Songs" Amazon. Amazon, 11 Oct. 2011. Web. 7 Mar. 2015.