Written by Marissa Gallardo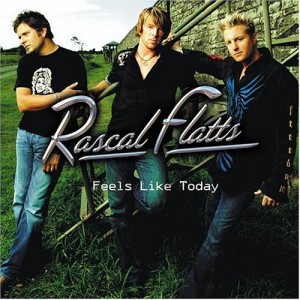 You walk into a music shop and begin to browse in the country music section. You see album covers with strong-jawed men wearing cowboy hats, a dashing Tim McGraw type with his shirt unbuttoned, smiling men and women draped over guitars, blondes in sundresses, guys leaning against trucks, barns, cars and about everything else. Then you come across an album with three men dressed fairly casually, no boots, trucks or cowboy hats in sight. Each guy has a slightly personalized look, hair, personality or otherwise, although they all seem to fit together well. Then you begin to question, "Is this in the right section?" In Rascal Flatts' case, it is.
Rascal Flatts, pop-country "boy-band", dominated the stage in the 2000s primarily beginning with the huge success of their album Feels Like Today (2004). Their sky rocket to fame was fueled by factors ranging from the changing scene of country music to the national boy-band craze including performers such as *NSYNC and the Backstreet Boys to the eclectic influences of the band members Gary LeVox, Jay DeMarcus, and Joe Don Rooney. Although criticized by many people associated with country music, Rascal Flatts music has reached out to new audiences and country music listeners alike as seen by the 5x Platinum status of Feels Like Today (2004).
After sending a three song demo, Rascal Flatts was signed by Lyric Street Records in 1999. For fear of another county-singing male trio to pop up, Lyric Street was quick to record their self-titled first album with catchy, light-hearted songs including "Prayin' for Daylight" and "Everyday Love". Although including a ballad, "I'm Moving On", as a single off of their first album, Rascal Flatts was pegged by country music critics as the "country version of a boy band, a young pop group singing light songs for women".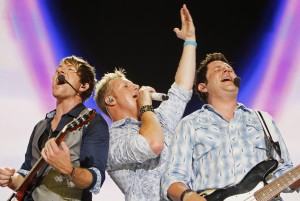 Much of the band's initial criticism stemmed from their non-traditional country sound. Gary LeVox, influenced by performers including Stevie Wonder and George Jones, has a higher pitched, slightly nasally voice that is uncommon for a country singer of this day and age; whereas, older, more traditional singers had higher pitched voices. The juxtaposition of Gary's pop-influenced voice and the voices of the major country artists of the time, including Kenny Chesney, Toby Keith, Keith Urban and Brooks and Dunn, led to an immediate isolation of the group as something "other" than country. Although Rascal Flatts was seemingly ostracized by the country music industry, the band continued to expand its popularity by including audiences that were not the typical fan of country music. The build up of criticisms against the band made the success of the album and the explosion of the band's popularity even more powerful.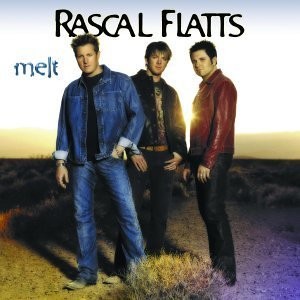 The release of their second album, Melt (2002), gave the band an opportunity to do a CMT sponsored tour. The increase in face-name recognition was directly connected to the tour as well as a recent Billboard review commenting that Melt (2002) was an improvement from the first album featuring "stronger song quality, good arrangements and impressive harmonies". The release of a steamy music video for "I Melt", featuring a brief shot from behind of Rooney's nude buttocks, even further added to the notoriety and publicity of the band's name in country music. The music video definitely got some talk time as it was not played on Great American Country, and Rooney's behind had to be blurred out while being played on CMT, Country Music Television. Rascal Flatts continued to push their name in the country music industry as they performed as openers on Toby Keith's, Kenny Chesney's and Brooks and Dunn's tours. By connecting themselves with the big names of country music, Rascal Flatts was able to gain a stronger footing as a country music band instead of a boy-band singing cheesy, faux-country songs.
Their 2004 album Feels Like Today generated many successes for the band including four singles that would all peak in the top ten. One of the singles "Bless the Broken Road", a ballad about the struggles of life and lost love leading a man to eventually meet his one true love, topped the charts at No. 1 for a total of five weeks. The 3x Platinum single eventually went on to win Rascal Flatts a Grammy Award for Best Country Song. After country-influenced stars on American Idol, including Carrie Underwood and Josh Gracin, sang Rascal Flatts songs, the band proceeded to record a live performance with Carrie Underwood of "Bless the Broken Road" that received enough radio airplay to enter the country music charts at No. 50.
"Feels Like Today" and "Fast Cars and Freedom" represent the band's upbeat, uplifting singles that came off of Feels Like Today (2004). "Feels Like
Today" talks about taking chances in small moments to pursue what you want or who you want to become; whereas, "Fast Cars and Freedom" talks about appreciating small moments of joy and reminiscing on times of happiness featuring a fun-loving tempo making it an obvious summer-time anthem. The motif of appreciating the little things and taking the time to make yourself a better person, in one way or another, continues throughout the album in songs such as "Then I Did", "When the Sand Runs Out", and "Break Away". Although all of these songs have slightly different sounds and stories they all speak to, essentially, taking a chance, something that may have resonated with Rascal Flatts as they tried to break into the stardom of country music.
"Skin (Sarabeth)", featured on the album as a bonus track, was also released as a single in August of 2005. The song is about a little girl that is learning that she has cancer, the hard times that she has to overcome, and the strength that can come with a moment or even just the thought of happiness. The song peaked on the country music charts at No. 2 after receiving increased country music radio air time during the Saint Jude Children's Research Hospital Telethon. In a review of the song Sherrie Shown was quoted saying, "I have always been able to relate to this song on a personal level. Now that I am fighting breast cancer for the third time, I knew I had to download this song again. A big THANK YOU to Rascal Flatts for bringing these emotions to light, on how those of us with cancer, feel." The song was seen by many as a moment to advocate for children's cancer and to inspire those who are struggling with cancer.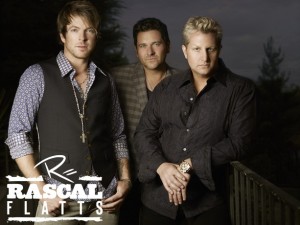 Rascal Flatts ability to connect with their audience on so many different levels in their Feels Like Today (2004) album, from fun and light hearted to passionate to deeply emotional, is a major factor in the success of the album as a whole. The album itself peaked at No. 1 on the Billboard 200 Charts and at No. 1 on the Top Country Albums Charts.
Rascal Flatts hit the ground running as a country music began to take a new form. Their ability to introduce their own eclectic influences, including other genres than just country, increased their fan base while also reconnecting with country music fans. Their pop-influenced, upbeat country music has been criticized, yet with the huge success of the band in the 2000s beginning with Feels Like Today (2004), Rascal Flatts has proved that country music can take many forms.
---
Tracks
"Where You Are" (J. LeBlanc, C. Gravitt)
"Bless the Broken Road" (M. Hummon, B. Boyd, J. Hanna)
"Then I Did" (S. Robson, J. Steele)
"Feels Like Today" (W. Hector, S. Robson)
"Fast Cars and Freedom" (G. LeVox, N. Thrasher, W. Mobley)
"When the Sand Runs Out" (J. LeBlanc, B. Crisler)
"Here's to You" (J. DeMarcus, W. Mobley, N. Thrasher)
"The Day Before You" (M. West)
"Break Away" (J.D. Rooney, D. Matkosky, R. Cantor)
"Holes" (G. Becker, J.P. White)
"Oklahoma-Texas Line" (J. DeMarcus, G. LeVox, J.D. Rooney)
"Skin (Sarabeth)" [Bonus Track] (D. Johnson, J. Henry)
---
Works Cited
Cooper, Peter. Will the Circle Be Unbroken: Country Music in America. New York: DK Publishing, Inc., 2006. Print.
Shown, Sherrie. "Skin (Sarabeth) by Rascal Flatts". Amazon. Amazon, 23 April 2014. Web. 7 March 2014.
Trickey, Erick. "Flatts, Rascal." Newsmakers 2007 Cumulation. Ed. Laura Avery. Detroit: Gale, 367-370. Gale Virtual Reference Library. Web. 20 Oct. 2014.