Written by Reid Thompson. 23 March 2015.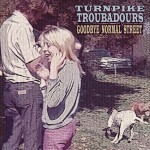 While The Turnpike Troubadours may be a new band on the country music scene for most Nashville Country and even Texas Country fans, their sound and entertainment has been a mainstay in their home state of Oklahoma for the last few years. While their first two albums, Bossier City and Diamonds & Gasoline, put the group on the Red Dirt country music map, their most recent album from 2012, Goodbye Normal Street, has propelled them onto the national stage. The album has received praise from country music listeners on websites like Amazon as well as earning numerous awards at programs such as the Lonestar Music Awards.
Made up of all Oklahoma natives, the Turnpike Troubadours group got together in 2005. Named after an Indian reservation near their homes, led by Evan Felker, and accompanied by R.C. Edwards, Kyle Nix, Ryan Engelman, and Gabe Pearson, the band has made a name for itself by singing about modern rural life and the tough times that go with it backed up by a Red Dirt sound. After an interview with the entire band, Laurie Barker James, a writer for the Lonestar Music Magazine, remarked that the group is "bonded primarily by rural Oklahoma geography, and secondarily by music."
United in this brotherhood, their songs usually resemble the real life tough times of places like their hometown of Tahlequah, Oklahoma. Targeted at those experiencing harsh times in the "Flyover States" of the United States, the forgotten citizens experiencing the roughest of times, Turnpike Troubadours' songs connect with their fan base on an incredibly real and authentic level. While many of their songs are authentically Oklahoman, this rural lifestyle appears across countless states and therefore the music appeals to a larger population of people.
Goodbye Normal Street's tracks are written for the most part by lead vocalist Evan Felker. However, the emotions of all members of the quintet influence the always-passionate lyrics and musical accompaniment of the songs. The album is highlighted by two twists on classic country love songs. According to Trigger, the creator, editor, and head writer for "Saving Country Music", "The Turnpike Troubadours make songs about love cool to listen to again." Unlike many more pop country songs, "Good Lord Lorrie" and " Gone Gone Gone" reference real-life experiences with witty, self-reflecting lyrics. Free of cliché love lyrics, these songs redefine heartbreak songs.
While pop stars, like Taylor Swift, do in fact sing of their own experiences with love and heartbreak, the emotions conveyed in the Turnpike Troubadours songs are easier to connect with and understand for the every day listener. While Swift might be singing about her very real relationships with other Hollywood stars, Turnpike Troubadours sing about every day people like you and me which brings them down closer to the level of the audience. Felker is famous for writing about his own experiences and real people he has encountered through the years, making his stories of love and despair that much more authentic. In "Good Lord Lorrie", the male character is set-up to be an underdog, but unlike a Hollywood fairytale, he ends as an underdog still. Felker keeps his songs incredibly realistic, because according to him, the underdog does not always win and is sometimes forbidden from winning for a reason.
Turnpike Troubadours tackles another topic close to many Middle Americans' hearts. Two-soldier themed songs on the album, "Southeastern Son" and "Blue Star", seem to reflect the stories of every day Americans caught up in the conflicts in the Middle East that have dominated our country's history for the last few decades. Singing of his cousins in the first and his uncle in the second, who have all been deployed, Felker uses his raw emotions to deliver powerfully authentic songs. Just like for Felker, these songs come at a time when many Americans can relate to their own loved ones being deployed and the pain of waiting for their own blue star to be taken out of their window. With over 7,500 members, the Blue Star Mothers Club, a group of women supporting each other while their loved ones are at war, is a perfect example of the every day Americans experiencing tough times that the Turnpike Troubadours are trying to reach in this album.
While the album is clearly categorized as Americana Country or Folk, on a few occasions, the album takes on more of a rock and roll feel. In the album's first two songs, "Gin, Smoke, Lies" and "Before the Devil Knows We're Dead", Turnpike Troubadours' sound is aggressive and much harsher than most of their other songs. Trigger from "Saving Country Music" describes the latter as "a tribute to mortality". Once again, Turnpike Troubadours' lyrics sing of harsh realities and acceptance of an imperfect life.
With a 4.8 out of 5 star rating on Amazon.com, Goodbye Normal Street clearly connects with its audience. While many Turnpike Troubadour fans were careful to get too excited for the release of Goodbye Normal Street due to the fear of a let down after how much they enjoyed the Diamonds and Gasoline album, the 2012 album pleasantly surprised most fans. Although some of their crowd favorites are still off of previous albums, according to comments on Amazon, Goodbye Normal Street is a more thorough album from top to bottom. Matthew from Atlanta said on Amazon, "Turnpike Troubadours has picked up where they left off on Diamonds and Gasoline" and later says they have "a simultaneously unique but comfortable sound that stands out." While a few people preferred the older sound of Turnpike Troubadours, no one gave less than three stars and the album was unanimously voted as worth it to purchase.
The success of Goodbye Normal Street does not stop with supportive comments from fans and selling out musical venues across the United States. While neither of their first two albums ever scratched the charts, the Turnpike Troubadours rose to a new level of success with their third album. Rising as high as fourteenth on the US Country Music chart and third on the US Folk Music chart, Goodbye Normal Street reached and connected with more people than any of their music ever had before. At the 2013 Lone Star Music Awards, Goodbye Normal Street took home the title of Album of the year. At the same awards show, Turnpike Troubadours was also awarded Best Song of the Year for "Good Lord Lorrie".
With a chance to break into bigger country music audiences after their first couple of albums, Turnpike Troubadours did what most of their fans had hoped they would with their third album: they stayed true to themselves. Accepting of and motivated by their roots, Evan Felker and the men of the Turnpike Troubadours stayed true to where they came from and continued to sing about their very own authentic lives and experiences. Determined to continue pleasing the bar-goers and music hall dancers of the "Red Dirt Circuit", Goodbye Normal Street hits all of the bases from heartbreak, to soldiers at war, to songs about drinking beer and raising hell.
---
Tracks:
"Gin Smoke & Lies" (E. Felker)
"Before the Devil Knows We're Dead" (R.C. Edwards/E. Felker)
"Southeastern Son" (E. Felker)
"Blue Star" (E. Felker)
"Call a Spade a Spade" (E. Felker/J. Wilson)
"Morgan Street" (R.C. Edwards)
"Gone, Gone, Gone" (E. Felker)
"Good Lord Lorrie" (E. Felker)
"Empty as a Drum" (E. Felker)
"Wrecked" (R.C. Edwards/E. Felker)
"Quit While I'm Ahead" (E. Felker)
---
Works Cited
Trigger. "Review – Turnpike Troubadours "Goodbye Normal Street"." Saving Country Music Review Turnpike Troubadours Goodbye Normal Street Comments. 15 May 2012. Web. 9 Mar. 2015. http://www.savingcountrymusic.com/review-turnpike-troubadours-goodbye-normal-street.
"Lone Star Music Awards Past Winners." Lone Star Music. Web. 9 Mar. 2015. <https://www.lonestarmusic.com/index.php?file=aw-lsmawards&PageMode=pastwinners>.
James, Laurie Barker. "Turnpike Troubadours." Lone Star Music. 1 Aug. 2011. Web. 9 Mar. 2015. <http://www.lonestarmusic.com/magazine/mag_html/julyaug11/turnpike.html>.
Matthew. "Worthy Effort" Amazon. Amazon May 9, 2012. Web March 9, 2015.