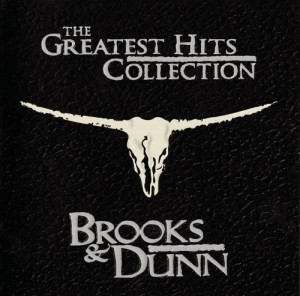 Brooks & Dunn were unlike most duos in the sense that the two were put together rather than forming on their own and were not siblings. Both, at the time, were dwindling as solo artists and only playing local venues. It was when the former head of record label Arista Nashville, Tim DuBois, introduced the two to each other and signed them as a duo that their careers began to take off. And even though both were excellent songwriters and wrote "Brand New Man" as their first number one together, they did not write several of their songs together. Rather, they both collaborated separately with other songwriters the majority of the time. It was a mixture of their separate but together songwriting and their exciting performances that later led them to become the highest selling duo in country music for years to come. (Great American Country)
The year 1997 was dominated primarily by solo artists. Of course there were bands such as Alabama, Lonestar, and Diamond Rio that hit the charts. However, as far as successful duos, the only competition was The Kinleys and The Raybon Brothers. The Kinleys were twin sisters who won Top New Vocal Duo or Group the same year Brooks & Dunn won Top Vocal Duo or Group from the Academy of Country Music. Brooks & Dunn also won Vocal Duo of the Year from the Country Music Association for the sixth year in a row after The Judds win in 1991. The other duo to compete with was The Raybon Brothers who won the Grammy for Best Country Song for their cover of "Butterfly Kisses". Both of these competing duos had an obvious similarity: they were siblings. One issue that sibling bands and duos face is not having enough vocal range and sounding too similar to one another. Whereas The Raybon Brothers and The Kinleys formed on their own, Kix Brooks and Ronnie Dunn were put together with the thought that they would work well together as songwriters and as a duo. Of the three duos mentioned, only Brooks & Dunn would remain consistent in producing number one hits and in winning Vocal Duo of the Year. Their perseverance in touring with well- known artists and making a name for themselves as a dynamic duo of honky-tonk, country- rock music made Brooks & Dunn a household name in country music fans' homes.
By the time "The Greatest Hits Collections" was released in September 1997, Brooks and Dunn had won five Vocal Duo of the Year awards and were about to win their sixth less than ten days later. They had released four studio albums, three of which peaked number one on the US Country charts. It is safe to say that at this point, Brooks & Dunn were established as a dynamic duo not to be messed with. The album itself contains 19 songs, of which 10 hit number one on the country charts. Of the three songs not previously released, two went on to become hits. If you had never heard of Brooks & Dunn at this time, this album would have been a wise purchase, because it not only introduces new songs, it also shows the variety of songs the duo had success with their audience and on the charts.
Another reason, the duo could have decided to release The Greatest Hits Collection was that this was a chance to bounce back from "Mama Don't Get Dressed Up for Nothing" from Borderline not making top ten on the country charts. The song did not do as well as they would have hoped, and putting it on The Greatest Hits Collection gave new and old fans a chance to listen again or to hear it again. It would give listeners a chance to view the song how Brooks & Dunn saw the song; a song belonging on a greatest hits album. In a sense, it was a way to keep the duo's momentum jumpstarted after the song only reached thirteen on the country charts. After the album was released, the song did gain more attention. The only song on the album that did not become a hit was "Days of Thunder".
Brooks & Dunn came at a point in country music known as "New Country" which was quickly gaining popularity in the 90s. Beginning in the early 90s, "New Country" artists such as Reba McEntire (who Brooks & Dunn toured with in 1997) and Garth Brooks had "ushered contemporary country into the arena age" (Circle 325) incorporating showy performances with pop infused country music. While Brooks & Dunn did not necessarily head for the pop direction their music typically had a lively beat to dance to, because in the words of Ronnie Dunn, "if cowgirls dance, everyone stays happy (McKenzie). Ronnie Dunn used his experience with Tulsa honky-tonk gigs to realize "that hard-working people go out on weekends to listen to music and have a good time" (McKenzie). "Boot Scootin Boogie", "Little Country Girl", and "My Maria" (originally performed by B.W. Stevenson as a more pop-sounding song) all performed well on the pop charts, even considering  Brooks & Dunn focused on making music that fused "equal parts blue collar honky-tonk and cranked- up country rock" (Circle 333). Brooks & Dunn were not afraid to play the electric guitar along with an acoustic guitar. They also made use of bright, colored lights in their concerts and music videos such as using Las Vegas lights as their background in the music video for "Honky-Tonk Truth". One reason the duo was extremely popular at this time was the fact that they blossomed with "New Country" and the move towards a more pop-infused country sound. They would most-likely not do as well today, just taking into consideration the fact that their sound is not what mainstream country music sounds like today, which is leaning more towards a bro-country versus female power ballads sound.
An effort to be consistent can also be attributed as a reason to release a greatest hits album. Greatest hits albums allow an artist time to work on new songs while still being relevant in the music business. The Greatest Hits Collection was released in September of 1997. The next album the duo released was in June 1998. And while the album, If You See Her, reached number four on the country charts it had three number ones.
In simple terms, it was Brooks & Dunn's consistency, uniqueness from other duos, and general remarkable songs both lyrically and sound-wise that led to the numerous number one hits and overall legacy which is visible in The Greatest Hits Collection.
___________________________________________________________________________________________
Track listing
"Honky Tonk Truth" (Ronnie Dunn, Lonnie Wilson, Kim Williams)
"You're Gonna Miss Me When I'm Gone" (Kix Brooks, Don Cook, Dunn)
"Boot Scootin' Boogie" (Dunn)
"He's Got You" (Dunn, Terry McBride)
"Hard Workin' Man" (Dunn)
"That Ain't No Way to Go" (Brooks, Dunn, Cook)
"Rock My World (Little Country Girl)" (Steve O'Brien, Bill LaBounty)
"Neon Moon" (Dunn)
"Lost and Found" (Brooks, Cook)
"She's Not the Cheatin' Kind" (Dunn)
"Brand New Man" (Brooks, Dunn, Cook)
"Days of Thunder" (Brooks, Paul Nelson)
"We'll Burn That Bridge" (Dunn, Cook)
"She Used to Be Mine"
"Mama Don't Get Dressed Up for Nothing" (Brooks, Dunn, Cook)
"My Next Broken Heart" (Brooks, Dunn, Cook)
"Whiskey Under the Bridge" (Brooks, Dunn, Cook)
"Little Miss Honky Tonk" (Dunn)
---
Sources
"Artists : Brooks & Dunn : Brooks & Dunn Biography : Great American Country." Great American Country. Scripps Networks, n.d. Web. 02 Mar. 2015.
"Brooks & Dunn: The Greatest Hits Collection." http://ecx.images-amazon.com/images/I/51yoNAcOA8L.jpg com. N.p., n.d. Web. 23 Mar. 2015.
Kingsbury, Paul, and Alanna Nash. Will the Circle Be Unbroken: Country Music in America. London: DK, 2006. Print.
McKenzie, Caroline. "Paper Napkin Interview: Dishing with Ronnie Dunn." Southern Living. N.p., n.d. Web. 23 Mar. 2015. <http://www.southernliving.com/community/interview-with-ronnie-dunn>. N.p., n.d. Web. 23 Mar. 2015. <http://i.usatoday.net/life/gallery/day/l080519_acm_reba.jpg>.