Written by Amy Burt. 21 October 2014.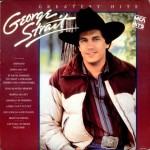 Although rockabilly was a groundbreaking success in the 1960's and was a huge advancement for the music industry because of record sales, it put traditional country at a setback because it seemed as if most country albums being produced had an overbearing mainstream pop sound around this time.
It wasn't until the early 1980's when traditional country sound came back into the spotlight. This was largely credited to George Strait, who is an amazing and well-known country artist that is still famous to this day. Calling him the "great Honky-Tonk revivalist", country music fans found his strictly country sound refreshing while staying true to his roots. Strait found huge success starting in the early 1980's when he first got signed by MCA records, and consistently stayed popular for three decades after that. The rate of Strait's success was so astounding that he even came out with a Greatest Hits album only four years after he was initially signed. Produced by Ray Baker and Blake Mevis, Greatest Hits of George Strait was released in 1985 and contained all of his breakthrough hits that had a hint of pop sound that listeners were attracted to and yet thoroughly maintained his traditional country theme that fans appreciated.
The rapid success that Strait's traditional country music attained in his career is remarkable considering country music had been heavily influenced by pop and rock during decades prior. During the 1970's Outlaw Country (such as Willie Nelson) was played a prominent role in country music and before that, Rockabilly (Elvis Presley and Wanda Jackson) was hugely famous. " [Strait] is famous for being true to traditional country music while developing his own unique style of bar-room ballads, western swing and honky-tonk style music" ("George Strait Biography"). Traditional Texas Honky Tonk music was refurbished by Strait by adding his catchy lyrics and story-telling ballads that captivated the fans. The country music world hadn't seen any successful traditional Honky Tonk acts in a long time before Strait. Country fans most likely had such an affinity to Strait because they found his loyalty to his Texas roots touching and his ability to reference his southern living appealing.
With Strait playing such an influential role in the country music industry, the record label used this to their advantage and released a Greatest Hits CD very early on in his career to make him into a more established artist and to keep his popularity soaring. Having a Greatest Hits CD so early on in a musical career is almost unheard of, but MCA records made it possible because they knew how popular Strait was and how loyal his fans were going to be when it comes to buying his albums.
Once Strait started becoming popular, the fan base for country music grew vastly. Unlike many country artists that Strait was up against, Strait wasn't having any problems selling his traditional country albums that weren't pop ridden. "His sound recalled Hank Thompson, Ray Price and Faron Young before they became buried in the Nashville sound of the late fifties and early sixties"(Carlin 447). This quote shows that Strait stayed afloat singing strictly traditional country whereas a lot of the other Nashville artists that he worked with didn't. Carlin also goes onto explain how Strait is one of the only "New Country" performing artists that didn't cross the line into pop-country like a majority of his competitors did. Some famous tracks on the album that clearly show his traditional sound are "Amarillo by Morning", "Right or Wrong" and "Marina del Ray" because of the incorporation of the steel guitar, violin and the country "twang" in his voice. A few of the tracks such as "Unwound" and "Food Hearted Memory" have a more upbeat tone to them which adds the touch of pop that the fans love to hear on Greatest Hits albums while still producing a Honky Tonk sound.
Having grown up in Texas listening to country music around his cattle-raising family, Strait began performing for the US Army Troops while he was stationed in Hawaii as a form of entertainment and also to remind him of home. He put together a band while he was overseas serving the country called "Ace in the Hole" which found quite a lot of local success when they returned home to Texas. A few short years later, he was signed over to MCA Records bringing the traditional country honky-tonk sounds back in a way in which people loved. Producers Mevin and Baker were on the hunt for country songs for Strait to debut his career with, so they went over to the writer's house of Johnny Paycheck who was in the jail at the time and asked if they could have any of the songs they had written for Paycheck knowing he wouldn't be able to record them from jail. This is where they got Strait's first hit single "Unwound" (which features in the album) was released in 1981 and found its way to number six on Billboard's singles chart ("George Strait"). Ironic to Strait's resistance to mainstream pop sound, he made it onto most of the pop radio stations during his album's success.
You would think that the year an artist had a Greatest Hits album released for them would be one of the best years of their life, however; this was quite the opposite for Strait. The year of 1985 was an extremely successful year for his career, but his family not so much. Tragedy struck the Strait family when their thirteen-year old daughter passed away in a car accident. Luckily, Strait was able to utilize his success to start up the Jennifer Lynn Strait Foundation, which raised money for children's charities. While this tragic event left the Strait family grieving, it pulled the heartstrings of music listeners everywhere and potentially was a reason for how many of his albums were sold. Later on in his career he released a song called "Baby Blue" that was about his daughter Jennie that appeared on the album If You Ain't Lovin' You Ain't Livin'.
Despite the hardships that the Strait family was enduring around the time of the release of this album, Greatest Hits of George Strait was a monumental advancement in not only Strait's career, but also the country music genre. For how early this album came out in his career just shows how rapidly Strait attained his success and what strides he made for country music. The songs that were placed on this album were carefully chosen by MCA records to incorporate his unique loyalty to his honky-tonk roots and also his hit singles.
---
Featured Tracks
---
Works Cited
Carlin, Richard. "Strait, George." The Big Book of Country Music: A Biographical Encyclopedia. New York: Penguin, 1995. 446-447. Print.
"George Strait Biography." The Famous People- Society for Recognition of FamousPeople. Web. 14 Oct. 2014
"George Strait." Bio.com. A&E Networks Television. Web. 14 Oct. 2014.