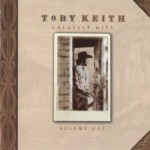 Toby Keith. Most people know who that is immediately. An Oklahoma native who is known for his aggressive patriotism and catchy country songs. Back in 1993, this man was just making his way on the radar as a country artist. He released his first self titled album and it was received with open arms from country music lovers. At a time when New Country was dominating the scene, Keith was finding his place on the charts. Keith produced three more albums in the next five years followed by his Greatest Hits Volume One. This album is a compilation of songs from his first four albums and introduced two new songs as well.
Toby Keith's life included music at an early age. His musical influences at the time were those who played at the bar his grandmother owned. He worked in the oil industry for a while and also played football for the United Stated Football League. He and some of his friends formed a small band and performed in local bars. He then decided to pursue his career in music. He moved to Nashville in 1990 and tried distributing his demo, but with no luck. However, a copy of his demo ended up in the hands of  an executive of Mercury Records and that was the kickoff for Keith's career (Fabian).
Keith started out as part of the "Triple Play" promotion in 1993 by Mercury Records. This group also included newcomers Shania Twain and John Brannen. The three traveled on tour in order to gain a following and promote their new music. Keith soon left the group and achieved great heights on his own. In an interview in 1994, Keith recounts his first two years of success and the release of two albums. He was pretty confident about releasing a second album saying that he told himself  "You felt like these were hits all along. Just take the best stuff and tune it up, and let's go do it" (Morris). The competition in the country music industry was fierce. The stars of New Country, such as Garth Brooks and Alan Jackson, were releasing No. 1 albums. As a relatively new face, Keith had to reach out and get the publicity his music deserved. The promotion of his honky-tonk sound at the time was very heavy, filled with satellite interviews, radio specials, and world premieres. This high promotion made Keith a well known artist and set the stage for his career in the years following (Morris).
Keith went through multiple record label changes. In 1994, he switched to Mercury's country label, Polydor. This was when his second album was set to be released. The transition was an easy one for Keith and the label promoted him proudly. However, in 1998, after the Greatest Hits Album was produced, he left Polydor for Dreamworks. Had Keith left before the Greatest Hits album was produced, he would have lost the rights to those use those previously recorded songs in the future.
Toby Keith's greatest hits, released in 1998, featured four songs from his first album. It was a bold move to include "Volume One" as part of the title seeing as it was so early in Keith's career and there as no telling where he would end up in the future. His confidence never faltered and he released volume two in 2004.
The most prominent single in his career at that point was "Should've Been a Cowboy." The single from his first studio album reached number 1 on the Billboard Hot Country Singles and Tracks chart and No. 93 on the Billboard Hot 100. The song romanticizes the life lived by cowboys and men in Westerns. Keith makes references to prominent figures such as Jesse James and the Texas Rangers. It is the most played country song of the 1990s.
Another song included is "You Ain't Much Fun" from his second album, Boomtown. The song was mostly inspired by a conversation Keith held with Carl Goff Jr., the cowriter, one night.   Goff gave up drinking for his wife and she had since made him make use of his time working around the house. Keith was instantly inspired and they wrote it on the spot. The point of view is of a husband telling his wife that she "ain't much fun" since he quit drinking. The song made its debut at No. 2 on the Billboard Hot Country songs chart. The upbeat tempo makes it an enjoyable song for audiences and once again deals with relationships but in a fun, joking manner.
Other songs on the album include singles from his Boomtown (1994), Dream Walkin' (1996), and Blue Moon (1997) albums. One of the songs introduced on the album is "Getcha Some." It has spoken-word verses but features an upbeat tempo. Keith pokes fun at a guy trying to get a girl saying he needs love, money, and once they are together, babies. "Getcha Some" was the lead single from the greatest hits album but only reached No. 18.
Purchasers of the album via Amazon had a lot to say about Keith's compilation album. Jim Bagley's comment was from 1999, right around when the album was released. He mentions Keith's use of relationship songs in various forms such as "humorous, reflective, or wishful." He also mentions that the two new tracks add a fresh sound to Keith's album. All of the reviewers of the album mention Keith's ability to produce hit songs, which is reflected in this album.
Keith appeals to a wide variety of audiences. He sings love songs that people can relate to, but instead of just dwelling on "happy times" he also sings about the truth of heartache. Sure there are plenty of breakup songs, but Keith gives them a realistic point of view. From topics of divorce to when a past love moves on with another person, Keith's music is very emotional and real. Not all of his songs dwell on the bad, but he provides a mix of both which gives him well rounded options for listeners.
Most of his songs are about love and heartbreak. He gives a man's perspective on divorce in "I'm So Happy I Can't Stop Crying" a collaboration with Sting, which earned the team a Grammy nomination. "If a Man Answers" tells the story of a man who has lost someone he loves and she has moved on. The themes of the songs that make up his greatest hits follow similar ideas. Toby Keith's politics were kept to himself at this time. He stuck to singing about life and relationships. This was obviously something his audience related to. His songwriting earned him number 1 singles. He went from being an unknown kid playing in bars to having the most played country song of the 1990s. Toby Keith's Greatest Hits Volume One was a giant landmark for his career and he has continued to see success in the years following.
---
 Featured Tracks
"Getcha Some" (Toby Keith, Chuck Cannon)
"If a Man Answers" (Keith, Cannon)
"Should've Been a Cowboy" (Keith)
"Dream Walkin'" (Keith, Cannon)
"A Little Less Talk and a Lot More Action" (Keith Hinton, Jimmy Alan Stewart)
"Does That Blue Moon Ever Shine on You" (Keith)
"

I'm So Happy I Can't Stop Crying

" (Sting)
"We Were in Love" (Cannon, Allen Shamblin)
"

You Ain't Much Fun

" (Keith, Carl Goff Jr.)
"Who's That Man" (Keith)
"

Wish I Didn't Know Now

" (Keith)
"Big Ol' Truck" (Keith)
"Me Too" (Keith, Cannon)
"

He Ain't Worth Missing

" (Keith)
---
Works Cited
Fabian, Shelly. "Toby Keith – Biography and Discography." About Entertainment. N.p., n.d. Web. 01 Mar. 2015.
Jim Bagley. "Getcha Some of Toby Keith's very best" Amazon. Amazon, 16 Jan. 1999. Web. 01 Mar. 2015.
Morris, Edward. "Toby Keith Sees Career "Boom"" Billboard 27 Aug. 1994: n. pag. Academic Search Complete. Web. 01 Mar. 2015.