Written by Brent Borman.  21 October 2014.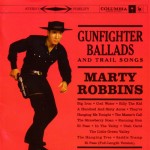 Released in 1959, Marty Robbins' album Gunfighter Ballads and Trail Songs is considered one of the most influential country music albums of all time.  During an interview in October 1981, Robbins offered an explanation behind the album's title, "What is a gunfighter ballad? You see, that's not country-and-western. That's cowboy music, or western music" (Nash 446).  Indeed, Gunfighter Ballads and Trail Songs consists of cowboy music, both original tales and folk legends.  Robbins' childhood fascination with cowboy stories and his lifelong pursuit of high-spirited interests allowed him to both eloquently and meaningfully narrate these cowboy stories to a post-World War II American audience.
Robbins "endured a hardscrabble childhood on the desert outside of Glendale" as one of nine children in an itinerant Arizona family (Nash 436).  Life in the desert was hard and money was tight, but Robbins found inspiration in his grandfather, Texas Bob Heckle, whom he would visit in town every 3 or 4 months.  Heckle, who was a former Texas Ranger and medicine-show barker, would enchant young Robbins with cowboy stories that he had heard from the campfires across his travels.  Robbins recalled, "That's how the stories were related back in the early days of the American West, just like in England, you know. Stories were told by different people. News went around by word of mouth, and that's the way the early American cowboy songs were done" (Nash 447).
Robbin's love for his grandfather's cowboy stories would eventually lead him to become a storyteller of his own. While Robbins was not exceptional in school, he "demonstrated a flair for storytelling, rooted in the tales his maternal grandfather, a medicine-show barker, shared from his travels" and began to translate his stories onto paper and into song with the help of his English teacher (Nash 437).  Robbins attributes his talent and love for cowboy stories to Texas Bob Heckle, saying that  "the talent that I do have came from my grandfather, because he was able to write… my grandfather only inspired me to be a cowboy, I guess… Because I thought a lot of him, and he was a cowboy, you know" (Nash 447).
Robbins spent his teen years "getting into minor scrapes with the law and pursuing a variety of romantic, high-spirited interests— amateur boxing, herding wild horses, and hanging out at the stock car races " (Nash 436).  He finally began to shape up when he discovered that the townsfolk were organizing a petition to have him and two other troublemakers sent off to reform school.  At age 17 he enlisted as a coxswain (navigator) in the United States Navy.  His service took him to the Pacific Ocean during World War II, where he became involved in the Bougainville campaign.  It was during the war that Robbins taught himself how to play guitar, if not simply as a way to pass the time and entertain his fellow soldiers.
The Bougainville campaign (also known as Operation Cherry Blossom), a siege waged on the Japanese-controlled island of Bougainville, spanned across nearly two years from November 1, 1943 to August 21, 1945 and consisted of two distinct phases.  The first phase involved a year of bitter fighting between American and Japanese forces, before around 70,000 Americans were relieved by the Australian II Corps.  The Japanese forces under the command of Lieutenant General Kanda held out for another 9 months before succumbing to the Australian assault.  It was never truly determined how many Japanese forces occupied the island, but Australia II Corps estimated that 8,200 were killed during the American phase and twice that amount died of disease or malnutrition.
The Japanese proved to be a "shrewd and able" adversary during their occupation of Bougainville.  They showed little tolerance for their sick or wounded, and suffered casualties that ran "20 to 1 over Australian losses" (Curthoys).  They were surprisingly full of fight and bitterly defended the island by booby-trapping jungles, laying tank mines, and burning bridges.  Despite being isolated from aid or reinforcements, many Japanese soldiers were able to cultivate their own farms to keep themselves unusually well-fed.  These factors, along with the "density of the jungle, the unending mud and the hole-to-hole existence for weeks make the unspectacular fighting on Bougainville among the hardest of the Pacific war" for the Allied forces (Curthoys).  Robbins and many other Americans eventually left these hostile foreign battlefields and returned home.
Upon his discharge from the service in 1945, Robbins took jobs as truck driver and electrician's assistant while playing guitar at social clubs at night.  He ended up getting a job as a disc jockey in Phoenix, where he was eventually recognized for his commanding voice by Little Jimmy Dickens.  With his help, Robbins landed a recording contract with Columbia Records in 1951.  Gunfighter Ballads, a collection of cowboy stories and legends, became Robbins' most successful album to date when it was released in 1959.
Gunfighter Ballads became most well-known for the #1 single "El Paso", a tale of love, murder, and justice narrated by Robbins and a Spanish guitar.  Although "El Paso" won the Grammy Award for Best Country & Western Recording in 1961, Robbins admitted, "I don't consider "El Paso" a country-and-western song. It's a cowboy song, early American folk music from the western United States. It's not an old song— I wrote the song— but it's the type of song that you would have heard eighty years ago" (Nash 446).
It is pertinent to our discussion of Gunfighter Ballads and Trail Songs that we understand Robbins' distinction between modern country and western music at the time and Robbins' own cowboy songs.  Comparing it more closely to folk music than typical country music, Robbins bluntly stated that, "Folk music is songs about what happened in this country …  And your cowboy songs … that's American folk music" (Nash 446).  Robbins seemed to have considered folk music, or cowboy music in particular, to be the most appropriate format for telling stories of America's rich cultural history.  Released to post-World War II America, the songs of Gunfighter Ballads weave a tale of love, loss, crime, justice, peace, and war that remains relevant to Americans to this very day.  Robbins seemed most comfortable sharing his experiences within the context of a western tale.
The listener can truly appreciate Marty Robbins as the narrator of his various cowboy stories.  Not only was his childhood fueled by his grandfather's tales of cowboys, but he also lived the life of a farm-hand, soldier, musician, racer, and actor.  He was a larger-than-life individual who was fueled by larger-than-life dreams of cowboy legends.  Marty made the music that he made because his life naturally led him to do so.  He learned how to tell stories during his childhood, and he learned how to play guitar during his service in World War II.  Telling cowboy stories by song was the truest form of expression that he knew.  His emphasis on the western aspect of country music still influences music to this day.  During Robbins' eulogy, veteran country disc jockey Ralph Emery called his death "the most devastating blow to country music since Hank Williams died" (Nash 436).
---
Side 1:
"Big Iron" (Robbins)
"Cool Water" (Nolan)
"Billy the Kid" (traditional)
"A Hundred and Sixty Acres" (Kapp)
"They're Hanging Me Tonight" (Low, Wolpert)
"The Strawberry Roan" (traditional)
Side 2:
"El Paso" (Robbins)
"In The Valley" (Robbins)
"The Master's Call" (Robbins)
"Running Gun" (Glaser, Glaser)
"The Little Green Valley" (Robison)
"Utah Carol" (traditional)
1999 reissue bonus tracks:
"The Hanging Tree" (Livingston, David)
"Saddle Tramp" (Robbins)
"El Paso" (full length version) (Robbins)
---
Works Cited:
Curthoys, Roy L. "BOUGAINVILLE PUSH SEES VICTORY NEAR: Australians' Final Battle to Be in Buin Area After About Two Years of Struggle 13,000 Bombing Sorties Japanese Full of Fight." The New York Times 26 July 1945: 2. Print.
Nash, Alanna. "Marty Robbins." Behind Closed Doors: Talking with the Legends of Country Music. New York: A. Knopf, 1988. 436-54. Print.