Written by Tori Horvath. 21 October 2014.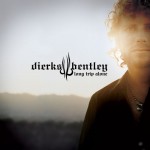 Anyone who has listened to country music in the past few years has probably run across the name "Dierks Bentley." Bentley's music can best be described as delving into the roots of honky tonk, and sticking to the classic country instruments, such as the steel guitar and fiddle, although his music has a much more modern sound to it. The combination of the country sounds allows him to appeal to a wide variety of people, both lovers of older and newer styles of the genre. He hit the country music scene in 2003 with his first album, the self-titled Dierks Bentley, and has since become one of the most popular and well-known artists in the country genre. More recently, in 2006, he released one of his most successful albums, Long Trip Alone, which received a great amount of fan praise for really connecting with his listeners through sharing his stories, memories, and feelings from touring throughout the year of 2005.
Dierks Bentley was born in 1975 in Phoenix, Arizona with no family background in music. When he was 13, his friend showed him how to play the electric guitar, and he was completely dedicated to it from then on. He tried getting in to rock music, but soon found that it was not the genre for him. At the age of 17, another friend brought him to listen to Hank Williams Jr., which encouraged him to branch out from rock to country. Eventually he moved to Nashville in 1994 to pursue a career in country music, where he played in small, local venues. Additionally, he worked as a researcher for The Nashville Network (TNN), which gave him the chance to watch many legendary performers and learn as much as possible about the music business before writing and releasing Dierks Bentley in 2003. The year of his first album was certainly his breakout year, as his album sold one million copies, and he won the Academy of Country Music's Top New Artist Award.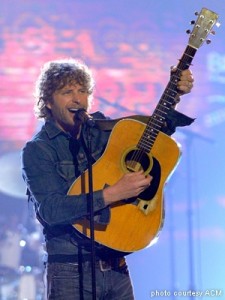 On top of the songwriting and awards, Bentley toured for two years with George Strait, and another three years with Kenny Chesney. Finally, he gained enough momentum in his career to headline his own tour, and traveled the country constantly throughout 2005, even playing 41 shows in just 45 nights. Bentley has been known to tour excessively in order to gain more fans, as he refuses to give in to "glitzy" commercial promotion, and would rather work harder to strengthen his fan base one show at a time. In fact, he performed more than 300 times in the year 2005, sometimes playing two shows a day. In an interview with online digital media company Starpulse, he explained that, "When you're in country music and you're trying to make it, my philosophy is that you've got to tour non-stop to separate yourself from everybody else and lay a foundation." Yet somehow, during the touring, he found time to write and record his next album, Long Trip Alone,which featured songs that highlight the importance of relationships in life and the memories he made on the road.
Long Trip Alone is undoubtedly an album with a significant storyline and message behind it. The album features 11 songs that describe the journey of a man (presumably Bentley) who has to balance his love for the road and his music with his loved ones back home, especially his wife. This all ties together, as previously mentioned, because after touring for 5 years with George Strait and Kenny Chesney, he spent almost every day of 2005 touring the country on his own. In his interview with Starpulse, Bentley confirms this as he was quoted as saying, "My past four years have been spent on the road. I've traveled a lot of miles and made a lot of memories, so that's a good way to kick off the album, talking about where things have been and where they are going."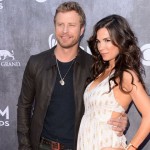 It was only fitting to write about what he knew, which at that point was the road, the longing for his loved ones, and how thankful he was for his band mates. Songs such as "Every Mile A Memory," "Long Trip Alone," "Soon As You Can," and "Hope For Me Yet" highlight the absence of his wife Cassidy, and how much he missed her throughout the year. In fact, Bentley mentioned in the interview with Starpulse, "…I got married last year. Certainly that's reflected in this record – the idea of missing someone back home, and starting a life a little bit. Songs like 'Long Trip Alone' and 'Soon As You Can' are all about the relationships in your life and how important they are." It seems to have worked out for Bentley though; the time he sacrificed being on the road has allowed him to gain acknowledgement as being one of the hardest working artists in the country music business.
From a rhetorical perspective, Long Trip Alone utilizes the brilliant timing of Bentley's constant touring to broaden the meaning of his songs and of the album in general. He allows his fans to get an inside look into his life on the road and the sacrifices he makes in order to gain new fans and to satisfy and keep the interest of his long-time fans. By doing so, he creates even more of a down-to-earth image of himself, which gives his listeners and fans a stronger connection with him.
Fans have shown that they understand and enjoy this connection, as they often comment on Amazon about his music. J. Moreau commented, "Whenever I am listening to Long Trip Alone, I feel like I can relate to the lyrics and 'adapt' them to my life… I can really feel Dierks on the cd lyrically." Not only does he appear to be likable through his songs about his experiences on the road, but he also tugs on the heartstrings of his listeners as he showcases the heavy heart he holds as he is away from his loving wife and family. One fan, DanD mentioned, "These are songs that you and Bentley can both relate to… [he] bemoans the life he's found on the road, while honoring his heroes, friends, and family who help support him."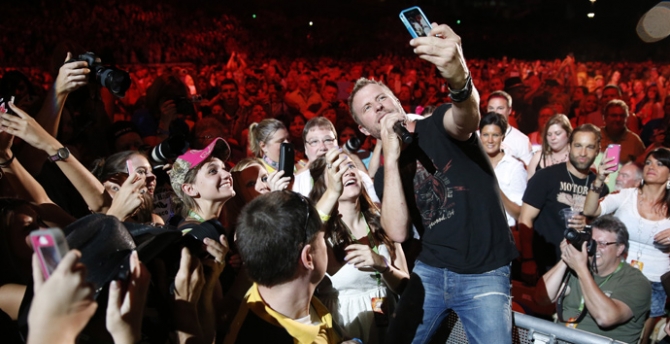 In the minds of most music fans, it is believed that artists tour and give extravagant shows simply to promote themselves and reach new levels of fame. But the fans of Dierks Bentley know that he truly appreciates them and believe that he aims every show to bring them the best performance he possibly can. In fact, his strategies appear to be successful, as his fan Don Watzel commented on Amazon, "He puts so much energy and passion into his music and his shows that it's almost mind-boggling!"
In response to his ever-loving fans, Bentley often comments that he does not want to settle and just be a musician; he hopes one day to be a "legendary performer," similar to the likes of George Strait and Kenny Chesney. He never wants to disappoint his fans, so he strives to be "one of the best live acts in any genre of music," and he certainly did not disappoint when he released his album, Long Trip Alone.
---
Tracks
"Every Mile A Memory" (B. Beavers, S. Bogard, D. Bentley)
"Can't Live It Down" (B. Beavers, D. Bentley, T. Martin)
"Long Trip Alone" (B. Beavers, S. Bogard, D. Bentley)
"That Don't Make It Easy Loving Me" (B. Beavers, D. Ruttan, D. Bentley)
"Soon As You Can" (B. Beavers, D. Bentley, T. Martin)
"Trying To Stop My Leaving" (B. Beavers, J. Beavers, D. Bentley)
"Hope For Me Yet" (B. Beavers, D. Bentley, T. Martin)
"The Heaven I'm Headed To" (P. Nelson, B. Beavers, D. Bentley)
"Free And Easy (Down The Road I Go)" (B. Beavers, D. Bentley, R. Harrington, R. Janzen)
"Band of Brothers" (B. Beavers, J. Beavers, D. Bentley)
"Prodigal Son's Prayer" (feat. The Grascals) (B. Beavers, D. Ruttan, D. Bentley)
---
Works Cited
DanD. "Another great country effort from Dierks Bentley." Amazon. Amazon, 17 Oct. 2006. Web. 18 Oct. 2014.
"Dierks Bentley." Encyclopedia of World Biography. N.p., n.d. Web. 6 Oct. 2014.
"Dierks Bentley's Third Album 'Long Trip Alone,' Hits Stores Oct. 17." Starpulse.com. Starpulse, 12 Oct. 2006. Web. 12 Oct. 2014.
Don Watzel. "Dierks does it again!!" Amazon. Amazon, 7 Nov. 2006. Web. 18 Oct. 2014.
J. Moreau. "Dierks at his best!" Amazon. Amazon, 26 Jun. 2008. Web. 18 Oct. 2014.