Written by Shira Yoram. 1 March 2016.
Over time, country music has clearly evolved. Musicians, reviewers and fans around the world agree upon this fact. Whether the change has been positive or negative is entirely a different matter.  The controversy came to light in a Country Music Association (CMA) award winning song recorded by two country music legends. The song asks the question, did traditional country music die 17 years ago?  At the 2000 Academy of Country Music (ACM) awards, George Strait and Alan Jackson performed "Murder on Music Row."  The lyrics of the tune energized traditional fans and stirred up record executives; "Someone killed country music, cut out its heart and soul." This controversial song is all about how authentic country music has been replaced with country influenced "pop."
Although country music started changing in the 60's to a more popular style, by 1999, the new sound of country pop had clearly taken over. For example, that year songs like "Breathe" by Faith Hill and "I Love You" by Martina McBride were both number 1 country singles at some point in the year. Also, Shania Twain "Queen of Country Pop," won a Grammy in '99 for best female country vocal performance, a CMA award for entertainer of the year and an ACM award for entertainer of the year. These artists and their producers are examples of the metaphorical murderers of country music. Larry Cordle and Larry Shell wrote, "Murder on Music Row." The songwriters wanted to vocalize their beliefs about the way country music has been shifting away from traditional tunes towards the superficial Billboard hits.  At the time, both George Strait and Alan Jackson were already well known, established country artists who stayed true to their time-honored style of music.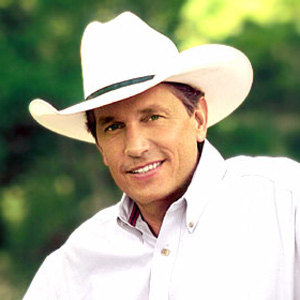 George Strait, the "King of Country" had heard this song through one of his producers and asked Alan Jackson to record it with him. Strait is one of, if not the most influential, successful and admired Country and Western (C&W) artists of all time. He is known for his traditional country style of music and rugged cowboy good looks. George is also one of the first country artists to stray away from the pop country era of the 1980s and bring country music back to its roots. He has sold over 160 million records worldwide which makes him one of the best-selling artists of all time. By the age of 60 he had made 59 #1 hit singles. So it's safe to say that George Strait deserves his title "King of Country." Given his earned respect, Strait is arguably the best artist to make the case for classic country music.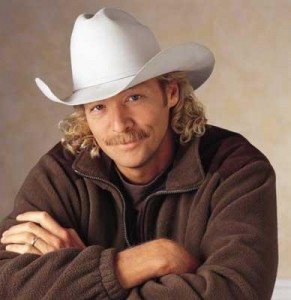 Alan Jackson is also a huge name in the country music industry, although he does have some differences with the Country Music Association and the Academy of Country Music. In 1994, the Academy of Country Music had asked Alan to perform his song "Gone Country" with a pre-recorded track of his band. Jackson believed this was untruthful to his fans and didn't want to comply. He ended up performing the song like they asked. However, in order to clue the audience into the reality of the situation, he asked his drummer to play the drums without using sticks. Five years later at the CMA awards, the Country Music Association had only allotted singer George Jones, a friend of Jackson's, one minute to perform his song. When Jones didn't show up to the award show in outrage over this request, Jackson performed George's song "Choices" (that ended up winning a Grammy in 1999) instead of the song he had intended on singing (Vince, "The Stories Behind Alan Jackson's…"). Alan's 'bad boy' reputation is most likely the reason that he has yet to be inducted into the Country Music Hall of Fame. However, because he had the guts to stand up to for what he believed in and 'stuck it to the man,' he is perhaps the most fitting artist George Strait could have asked to join him in recording "Murder on Music Row".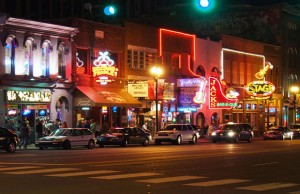 Music Row is an area in downtown Nashville that has hundreds of country music recording studios and related businesses. Music Row is considered Nashville's heart of the entertainment industry. Roy Acuff, the first "king of country" was one of the founders of Music Row. He co-founded the first major Nashville based country music publishing company, Acuff-Rose Music. (Erlewine, "Roy Acuff Bio | Roy Acuff Career") Acuff brought ample amounts of success to the area. This accomplishment proved that country music could survive on its own and was popular enough to exist separately from the music industry, located in New York and LA. The lyrics "Murder was committed down on Music Row" are symbolic of the death of traditional country music in the place that historically has produced the most country artists and songs in the entire industry.  Music Row was founded as a point of pride for country music, so singing about the death of this genre happening in its birthplace is especially powerful. However, everything evolves, things change and so has Music Row. It is still the most influential place in country music. It is also the place where big businesses control what songs are recorded and released to the public.
The unfortunate truth about the current CEOs' controlling these huge companies is that they have one thought in mind; how to make the most profit out of the music being produced. This issue is addressed in the song when Alan Jackson sings, " The almighty dollar, and the lust for worldwide fame, slowly killed tradition, and for that, someone should hang." This issue of money over substance directly affects the future of country music. It is difficult to break into any competitive entertainment field. Whether the artist is the first violin of the Houston Symphony or a guitar playing singer songwriter in Nashville, it is challenging to effectively fight the establishment. Therefore, many new artists often do what they are told. Rather than staying true to authentic C&W, they gravitate towards the cushy, glitzy lifestyle of popular, Billboard bullets. Standing up for tradition in this era is limited to those who either have enough success to be bold or to those who are willing to risk their potential fame and fortune.
The amount of pressure put on artists to release catchy tunes as quickly as possible is what has caused the descending quality of songs. Larry Cordle said in a Country Music Television (CMT) interview with Edward Morris, "Everybody's strained today in country music. I don't think it's meant to be that way. I don't think you can make great music when you're under that kind of pressure. I don't think you can make lasting music. You'll make disposable music, and that's basically what's being made here now since big business took over country music" (Morris, "It's Still 'Murder on Music Row…").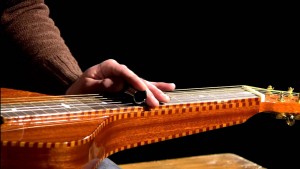 At the end of the day, the conflict that has been brewing for decades basically boils down to a single question. What makes country music country? This question leads to a decades old debate with numerous opinions and few answers.  As we can hear in the song, "For the steel guitars no longer cry, and fiddles barely play" Strait and Jackson have said that the absence of these instruments result in the loss of the authentic sound needed to be considered country. "Murder on Music Row" emphasizes the use of classic country instruments to prove that it is, without a doubt, a country song. Newer music being released these days typically lacks the above mentioned instruments and is obviously contentious and upsetting to the duo; "Drums and rock 'n' roll guitars are mixed up in your face."  "Murder on Music Row" might just be one of the most classical country sounding songs in contemporary times.  It was written and recorded that way to express both the writers and performers points of view.
This all brings us back to that performance by George Strait and Alan Jackson at the 2000 ACM awards. "That evening, Strait and Jackson came not to praise country music, but to bury it" (Gray, "Murder on Music Row").  The evolvement of country music had come to a point where two of the industries top artists felt the needed to go live on national television in an attempt to bring attention to the crisis in traditional country music. Unfortunately, in spite of the spotlight on the controversy, country style pop is still a mainstay. The industry has become dependent on country light pop songs to sell music and fill stadiums. At the same time, the songwriters, George Strait and Alan Jackson have reminded us of the importance of remembering the roots of country music.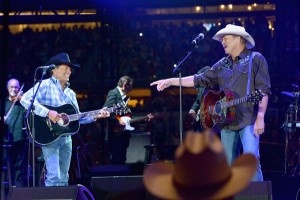 ---
Work Cited
Vinson, Christina. "The Stories Behind Alan Jackson's ACM + CMA Awards Protests." The Boot. N.p., 15 Feb. 2015. Web. 23 Feb. 2016. http://theboot.com/alan-jackson-awards-show-protests/
Erlewine, Stephen Thomas. "Roy Acuff Bio | Roy Acuff Career." CMT Artists. CMT, n.d. Web. 01 Mar. 2016. http://www.cmt.com/artists/roy-acuff/biography/
Maness, Jessi. "The History of Music Row: 60 Years of Greatness." Sports and Entertainment Nashville. Entertainment Magazine, 13 Oct. 2015. Web. 23 Feb. 2016. http://sportsandentertainmentnashville.com/the-history-of-music-row-60-years-of-greatness/
Morris, Edward. "It's Still 'Murder on Music Row,' Songwriters Complain Shell, Cordle Unfazed by Award Nominations." News. CMT, 6 Nov. 2003. Web. 24 Feb. 2016. http://www.cmt.com/news/1472512/its-still-murder-on-music-row-songwriters-complain-shell-cordle-unfazed-by-award-nominations/
Gray, Christopher. "It Don't Matter Who's in Nashville, George Strait Is Still the King." Murder on Music Row. Austin Chronicle, 1 Sept. 2000. Web. 23 Feb. 2016. http://www.austinchronicle.com/music/2000-09-01/78457/