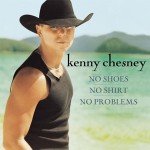 Emerging onto the country music scene originally as a songwriter in the mid-1990's, Kenny Chesney took the country music industry by storm as a performer during the early 2000's, and has not turned back since. Chesney has gone on to win numerous Academy of Country Music and Country Music Association awards, selling more than 30 million albums and producing 22 number one singles along the way. Today, Kenny Chesney is widely considered one of the most popular entertainers in the music business, primarily because of his ability to theatrically energize audiences while still connect with them on a personal level. His music can best be described as it is as much classic rock as it is classic country; possessing themes that are relatable to average Americans like the importance of relationships, family, and milestone moments that make up everyday life. In 2002, Kenny Chesney released No Shoes, No Shirt, No Problems, an album that would go on to be the most successful of his illustrious career, winning him two Academy of Country Music Awards-  Best Single ("The Good Stuff") and Male Artist of the Year.
Kenny Chesney was born in 1968, in Corryton, Tennessee- a small town in Knox County. Throughout his childhood Chesney's life revolved around family, friends, and playing sports, all of which can be seen in the themes of his songs. Kenny Chesney went on to attend college and receive a degree from East Tennessee State University in December of 1990. Although he participated in a bluegrass program in college, making music did not become a central goal for Chesney until after graduation when he moved to Nashville. He began his career as a songwriter, but in 1994 made the transition over to becoming an entertainer, with his first album In My Wildest Dreams. While his early albums did not experience much success within country music- primarily because he was overshadowed by stars such as Garth Brooks, Alan Jackson and Brooks & Dunn- they laid the framework for his career to take off in the early 2000's.
For various reasons was the No Shoes, No Shirt, No Problems album successful, but one key element would be the island or "Jimmy Buffett" influence. In 2001, a year before the release of No Shoes, No Shirt, No Problem, Chesney visited the island of St. John for the first time to film a music video. It was then that he fell in love with the Virgin Islands, and his continual success allowed him to eventually buy a house on St. John, where he spends several months out of each year. The island influence does more than make for popular music videos, it allows listeners to temporarily escape their troubles envisioning a more peaceful place and time.
Kenny Chesney, while speaking about the message behind his No Shoes, No Shirt, No Problems tour to Anderson Cooper during a 60 Minutes interview said, "I know we've all got problems. Whatever is going on in your world, don't think about it…  just have some fun, and let's listen to music." The island influence to No Shoes, No Shirt, No Problems can be seen in the title track "No Shoes, No Shirt, No Problems", along with other songs such as "On the Coast of Somewhere Beautiful" and "I Can't Go There".
The "island influence" did not just become a popular theme in Kenny Chesney's music following the No Shoes album, but it became increasingly popular in the country music industry. Prior to 2002, artists such as Jimmy Buffet had minimal success within country music, as the country industry really was not receptive to the laid back, Hawaiian shirt style of so-called "island music". The release of No Shoes, No Shirt, No Problems paved the way for Buffet to collaborate with Alan Jackson, and later the Zac Brown Band, bringing such music to the top of country music charts. Kenny Chesney, by no means, was the first to sing about beaches and escaping the troubles of everyday life, but after he did so in the No Shoes album, the country music industry became more accepting of such ideas. A good example today would be the Zac Brown Band, who has had success in basing their music largely on a sort of "life in paradise". Their hit single "Toes" even reached number one on the country music charts, selling almost 3,000,000 copies.
The success of the island influence in country music can possibly be attributed to the expansion of United States cruise lines, which made it more possible for ordinary people to travel to the Bahamas and Virgin Islands. Essentially, these cruise lines brought the dreams of ordinary people to reality, making music pertaining to island vacations more tangible to the country music audience. Some may also say the success of the island influence in country music should be attributed to the message it promotes. During its increase in popularity (around 2002), America was in the beginnings of the Iraq War. As previously mentioned, the island-country music aimed to make listeners aware that it was all right to escape reality for a little while, temporarily leaving hardships behind. While country singers like Toby Keith and Alan Jackson made songs directly relating to the Iraq War, others like Kenny Chesney went the indirect route in producing music that enticed listeners to metaphorically take themselves to a better palce. Either way it is viewed, the increasing popularity of the island influence in country music became apparent after Chesney released No Shoes, No Shirt, No Problems in 2002.
Another aspect critical to the success of Chesney's album would have to be his music's authenticity to himself, singing songs that accurately represent a kid who grew up in small-town Tennessee. When listening to No Shoes, tracks such as "Never Gonna Feel Like That Again" and "Young" stand out as songs that highlight relatable life events- like a first kiss or going to prom- and resonate with Chesney's listeners. One album reviewer on Amazon.com described No Shoes by saying, "I can relate to just about every song on this CD and it's musically phenomenal." Another went on to say "What I like the most about Kenny Chesney is the honesty that comes through in all his songs. You can really feel what he is saying and believe that he really means it.There is something very appealing about Kenny. He is just a regular guy. It just seems like he could be your buddy, sitting around shooting the breeze. This CD is full of fun songs, like most of Kenny's work, but it also has its share of thoughtful songs too." With dedicated fans supporting him, Kenny Chesney has been able to continually be successful over several decades.
A final aspect that correlates with the popularity of No Shoes, No Shirt, No Problems is the musical combination of country, rock, and pop elements. Through incorporating different styles of music, Chesney is able to attract listeners from diverse fan bases while simultaneously distinguishing himself from other country music artists. The latter may even be more important as in the early 2000's Chesney had to compete with established artists such as Alan Jackson, Brad Paisley, and Brooks & Dunn. Kenny Chesney was able to find his niche within country music by blending elements of the music he grew up with to formulate his own unique sound. "The Good Stuff", the fourth track on No Shoes and the most popular country song of 2002, has the sentimental feel of a traditional country song fused with the stereotypical "rock-beat". Similar to popular artists such as Brad Paisley and Tim McGraw, Kenny Chesney has had to blend musical elements from different backgrounds to evolve with the changing industry trends, thus leading to the music he makes today.
Finally, when looking at the puzzle pieces together to form the big picture, one is able to see why No Shoes, No Shirt, No Problems was such a big hit in 2002. Kenny Chesney succeeded in distinguishing himself from other country music artists, largely increasing his fan base. Also, he created an album full of songs that average Americans could relate to, essentially easing them through various problems. Importantly, the album left a lasting impression on the country music industry, as it made popular the "island" influence heard in some modern country songs. A combination of these things was directly succeeded by Kenny Chesney's large-scale success, which paved the way for his career to follow. While No Shoes, No Shirt, No Problems may not be the first album of Chesney's career, it was the one that can most directly be attributed to the prosperity he has enjoyed for the past 15 years.
---
Featured Tracks
"Young" (Wiseman, Sheridan, McEwan)
"I Remember" (Crisler, LeBlanc)
"A Lot of Things Different" (Anderson, Dillon)
"The Good Stuff" (Wiseman, Collins)
"Big Star" (Smith)
"On the Coast of Somewhere Beautiful" (Reid, Luther, Simpson)
"Never Gonna Feel Like That Again" (Overstreet, Coleman)
"Dreams" (Ewing, Chesney)
"No Shoes, No Shirt, No Problems" (Beathard)
"Live Those Songs" (Bain, Deggs, Lowe)
"One Step Up" (Springsteen)
"I Can't Go There" (Ewing, Chesney)
---
Works Cited
Gorlinksi, Virginia. "Kenny Chesney." Britannica. N.p., 10 June 2014. Web. 1 Mar. 2015.
"Kenny Chesney Biography." Ace Showbiz. N.p., n.d. Web. 10 Mar. 2015. <http://www.aceshowbiz.com/      celebrity/kenny_chesney/biography.html>.
"Meet Hillbilly Rock Star Kenny Chesney." CBS News. N.p., 15 Feb. 2007. Web. 10 Mar. 2015. <http://www.cbsnews.com/news/meet-hillbilly-rock-star-kenny-chesney/2/>.
"No Shoes, No Shirt, No Problems." Amazon. N.p., n.d. Web. 10 Mar. 2015. <http://www.amazon.com/No-Shoes-Shirt-Problems/dp/B000063TDS/ ref=sr_1_1?ie=UTF8&qid=1426035623&sr=8-1&keywords=no+shoes+no+shirt+no+problem>.