Written by Emma Morgan. 22 March 2015.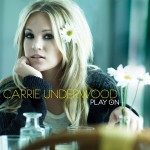 From winning over America on American Idol in 2005 to producing chart topping hits year after year, everyone can agree that Carrie Underwood is immensely talented and a natural born star. She is easily one of country music's leading ladies, with her catchy and relatable tunes and beautiful ballads. No matter the song, Carrie Underwood relays themes that anyone can relate to and therefore enjoy. Even though Underwood hones in on subjects and scenarios that are easily recognizable from her previous albums, Some Hearts and Carnival Ride, she never seizes to gain praise for her consistency. Over the past decade, Underwood has created a wildly successful career for herself and has also managed to broaden the awareness of country music everywhere.
Underwood is different than other country artists given the fact that when she stepped into the music scene she already had a huge following from American Idol. They transitioned with her from the show to country music, which was huge for her as well as the industry. Her music shows she has not given up on her immediate fan base and wants to please them just as much as anyone. Her third album, Play On, is no exception to this even after years since her big win. Underwood continues to make music that appeals to those loyal fans, while also attempting to capture the attention of country music listeners as well as listeners of other genres. Play On in particular has appealed to pop listeners with top songs like "Cowboy Casanova" and "Undo It" topping both pop and country charts. Nonetheless, she still relays a definite country vibe that pleases country enthusiasts.
Having grown up on a farm in Oklahoma, Carrie is a country girl at heart. She definitely reflects her love for the simple life in her previous two albums and Play On is no exception. Play On incorporates many themes and ideas that are important to her or that relate to her life in some way. She expresses a wide range of emotions in this album including anger, joy, and nostalgia. Underwood shows aggression and sass in her singles "Cowboy Casanova" and "Undo It" and is sentimental and reflective in her trademark ballads "Temporary Home" and "Mama's Song". She sticks to her usual subjects, "[honing] a series of familiar poses — faithful girlfriend, scorned girlfriend, all-American girlfriend — each as technically well executed as the last" (Caramanica) while still keeping things fresh and interesting. Like in previous albums, Underwood discusses themes of women empowerment. This is always a huge part of her music and contributes to the continuous dedication she gets from her female fans. In addition, Underwood co-wrote more songs than ever before for Play On. Known for her booming and harmonious vocals, she definitely showcases her tremendous talent and growth as a singer and songwriter.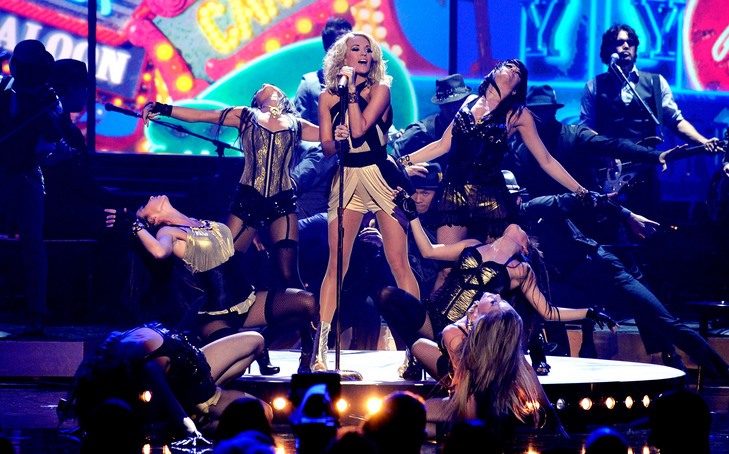 Play On was released on November 3, 2009 and debuted at number one on the Billboard 200. It also topped the Billboard Top Country Albums chart for the third time following her previous two albums, Some Hearts and Carnival Ride. Play On was certified 2x Platinum by the RIAA, as well as Platinum by the CRIA and Gold by the ARIA (Wikipedia). The hottest singles from the album include first hit "Cowboy Casanova" along with "Temporary Home", "Undo It", and "Mama's Song". Another chart topper was "Change" which she performed on an American Idol special "Idol Gives Back". Underwood also received praise for her cover of Alan Jackson's "Look at Me". Being on the country pop side of country music, this album is definitely a little different than the other country albums released around the same time, with the exception of a few. Tim McGraw's Southern Voice and Toby Keith's American Ride to name a few show a different side of country music than Underwood's while Miranda Lambert's Revolution is much more similar in sound. The success Underwood had with this album was no surprise given her success on her first two albums and her rising stardom definitely didn't hurt either.
Many different scenarios and feelings contributed to the songs in Play On as well as the album as a whole. In an interview with CMT, Underwood explains that she had a better understanding of what her fans wanted in this album than in her others. She knew how to please them and wanted to create another album that they would enjoy. She shares that she was more confident in her music and what she was putting out there. The first single released off of the album was "Cowboy Casanova". Centered on warning your girlfriends about the "bad boy" hitting on you in the bar, this song takes a fun and powerful approach to not letting guys like this get the best of you. Underwood wanted to give her fans an exciting and catchy song that was relatable on many levels. A similar song, "Undo It", is a girl power anthem based off of past relationships that weren't good for you and that you wish could take back and forget. Given her blossoming romance with now husband Mike Fisher, she had finally realized how hurtful some of her past relationships were. Previous boyfriends such as Tony Romo were clearly not "right" as it is evident through the lyrics.
Another song that touches on her relationship with Fisher, is a slow and sweet heartfelt ballad titled "Mama's Song". Underwood and Fisher were more serious than ever when she wrote this song about a mother having to let go of her daughter on her wedding day and trusting that the man is worthy of her approval. Powerful and moving ballad, "Temporary Home", was inspired by a book that Underwood had read titled "The Purpose Driven Life". She sings about the importance of our everlasting home with God as opposed to our "temporary home" here on Earth. From anger to gratitude to statements about spirituality, the tracks on Play On appeal to a wide range of emotions and feelings that speak to many different kinds of listeners.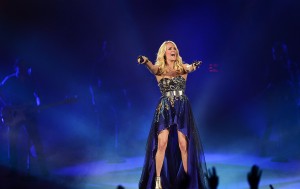 While each song reflects on different experiences Underwood has undergone, the album itself is situated in a time where women were becoming more prevalent and successful in country music as well as in other areas. More women like Underwood, Miranda Lambert, and Martina McBride were at the top of the charts and staying more than ever before. Underwood even states herself that she "definitely [sees] more women in country music and more women doing well" (CMT). On the other hand, politicians such as Sara Palin and Hillary Clinton were just beginning to change the face of women in politics forever. Play On  rose to the top just as other albums had previously, however this album in particular was made successful due in part by this increase in popularity of women country singers. Underwood strives to speak to women everywhere, empowering them to think for themselves and be independent. She tries to identify with relatable situations that a lot of women encounter. She definitely did just this with Play On and she will continue to be a voice of empowerment throughout her career.
---
Tracks
1. "Cowboy Casanova" (M. Elizondo, B. James, C. Underwood)
2. "Quitter" (S. Kotecha, M. Martin, Shellback)
3. "Mama's Song" (K. DioGuardi, M. Frederiksen, L. Laird, C. Underwood)
4. "Change" (K. Elam, J. Kear, C. Tompkins)
5. "Undo It" (K. DioGuardi, M. Fredriksen, L. Laird, C. Underwood)
6. "Someday When I Stop Loving You" (H. Lindsey, S. McEwan, G. Sampson)
7. "Songs Like This" (J. Flowers, T. Shapiro)
8. "Temporary Home" (L. Laird, Z. Maloy, C. Underwood)
9. "This Time" (S. McEwan)
10. "Look At Me" (P. Overstreet)
11. "Unapologize" (C. Kreviazuk, R. Maida, C. Underwood)
12. "What Can I Say" (D. Hodges, S. McEwan, C. Underwood)
13. "Play On" (N. Hemby, L. Laird, C. Underwood)
---
Works Cited
Caramanica, Jon. "New CD's: Carrie Underwood." The New York Times. N.p., 1 Nov. 2009. Web. 22 Mar. 2015.
"Carrie Underwood." Wikipedia. N.p., n.d. Web. 22 Mar. 2015.
Lewis, Randy. "The L.A Times Music Blog." Los Angeles Times. N.p., 2 Nov. 2009. Web. 22 Mar. 2015.
Mansfield, Brian. "Carrie Underwood's 'Play On': Track-by-track." USA Today. N.p., 3 Nov. 2009. Web. 22 Mar. 2015.
"Play On (Carrie Underwood Album)." Wikipedia. N.p., n.d. Web. 22 Mar. 2015.
Shriver, Jerry, et al. "Listen Up: Carrie Underwood expands worldview in 'Play On'." USA Today. N.p., 3 Nov. 2009. Web. 22 Mar. 2015.
Staff, Cmt.com. "CMT Insider Interview: Carrie Underwood." CMT. N.p., 4 Nov. 2009. Web. 22 Mar. 2015.