Written by Alyssa Hazen. 21 October 2014.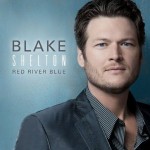 Blake Shelton has been on the country music scene for over a decade. However, the release of his sixth studio album, Red River Blue, and his involvement with mega-hit show, The Voice, took Shelton's career to unbelievable new heights. Today, he is one of the most popular and influential personalities on television. Shelton also sets a great example for the ever changing ways of the music industry. This album reflects on elements of country music's past while tying in modern sounds of country to hopefully appeal to new audiences.
Although Blake Shelton had many country hits, including "Austin," his participation on the instant hit show The Voice created an even bigger platform. The Voice is a reality singing competition on network television that prides itself on focusing on a contestant's voice rather than appearance. Four superstar coaches relevant in today's music industry sit in giant red chairs with their backs turned, waiting to hear a special voice to turn their chairs for. Throughout the competition, the coaches create teams and guide contestants with their expertise in the industry to hopefully win the show or at least get their names out there. Blake Shelton has been a coach on the show since the very beginning with the show now in its seventh season.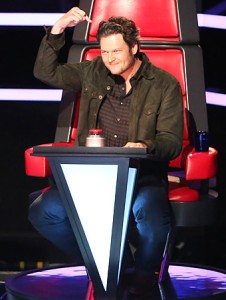 As the show continues to grow, Shelton continues to gain popularity. Every week over 12 million viewers tune in with over 5 million in the younger 18- 49 demographic waiting to hear what crazy thing Blake says next. He has won the show three times, more than any other judge, and he did it all in consecutive seasons. There is something about that fatherly instinct with contestants and witty banter with fellow judge Adam Levine that have viewers swooning over the country star. His "sense of humor and friendly but slightly naughty playfulness through interviews, Twitter, and as host and mentor on the TV singing program The Voice" give Shelton a wider appeal than just                                   country music lovers (Heaton 1).
Shelton's album Red River Blue mixes some of the old, familiar elements of country music with a new, modern sound that seems to be slowly taking over the genre. For example, the song "Good Ole Boys," seems like a tribute to Hank Williams Jr. with an outlaw, rock twist and familiar references to country ideals such as lines like "livin' life the cowboy way" and "working on the farm." The broken ballad "Red River Blue" is a duet with fellow country superstar and wife, Miranda Lambert, accompanied by country classics such as the accordion, fiddle and acoustic guitar. His rendition of "God Gave Me You" shows Shelton can also blend well in a new era of country, mixing elements of rock with country. Red River Blue showcases his versatility as an artist as well as the bubbly personality viewers have grown to adore on The Voice.
Shelton's "likeable, smirking goofball persona" has spread into his music giving this album a "looser atmosphere than previous ones" (Heaton 1). The song "Get Some" showcases Shelton's charm and witty personality with lines like "You get gas, you get beer/You get drunk, you get weird." Here, Blake exudes that classic hilarity that has made him so popular on the show. Shelton's "greatest strength is his personal charm and storytelling ability," and this album showcases that by displaying his goofy, fun- natured personality into the songs (Morrison 1).Blake Shelton has created a rather large following of loyal fans and first time listeners thanks to his new direction in this album.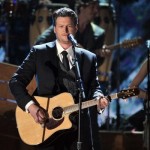 Red River Blue was scheduled to be released in late July of 2011. However, due to Shelton's instant popularity on The Voice, his record label decided to drop the album about a month early while the show was still airing. This strategic move proved to be successful as Shelton claimed the top spot on the Billboard 200 Chart for the first time in his career. He also earned three Grammy nominations and Male Vocalist of the Year at the Country Music Awards for Red River Blue. He debuted "Honey Bee," one of the four singles off this album, on a live edition of The Voice.
The show opened doors to many new listeners, including those who may have never heard of Shelton before. By releasing the album at the same time he was being beloved by millions of television viewers, Shelton became more mainstream and not just that country boy who used to have a mullet. The expansion of the album's sound from pure classic country to a more modern up-tempo beat, Shelton opened up the doors for listeners who may not have had an interest in country or even knew what it was about until now.
What makes this album so relevant today is the undeniable fact that a reality singing competition helped to raise awareness and spread interest in the album in dramatic fashion. Even Blake credits The Voice for his outrageous success stating, "If it hadn't been for The Voice and the success of that show, my music career probably wouldn't have gotten to the level that it's at. I want to make the most of it. This is what I've been waiting for my whole life… I'm going to have fun with it (Edwards 1)." Although Shelton is clearly a success story, people have raised many questions such as is participating in reality competitions selling out?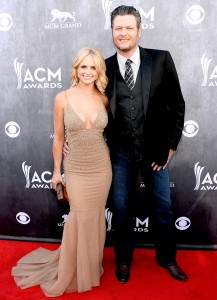 Many people criticize the authenticity of reality singing competitions and their effect on the music industry. One recent public debacle occurred when fellow country singer Eric Church called reality competition shows a waste of time and selling out. Church's statements are not uncommon, however, with so many celebrities participating and performing on competition shows these days this trend is not likely to lose steam anytime soon. In Caramanica's article, he explains how appearing on a singing competition show is beneficial to the musicians. He states how recording contracts and viable careers are often the "carrots dangled in front of these contestants," yet just being on the show seems to have a positive impact on careers (1). The author believes the evolution of changing       technology is good for musicians to directly get their music out to the general public.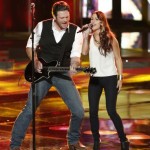 The sudden emergence of a new platform has opened the doors for artists everywhere. Using his large influence, Blake Shelton has become a spokesperson for artists to branch out of their genres and showcase their talents, even including the country music world. Blake has used his time as a coach on the voice to advocate for the resurgence of country music with a twist. For instance, his contestant, winner of season four of The Voice, Cassadee Pope has made a name for herself in the country music industry, blending classic rock with country elements. Shelton endorses a new sound, starting with this album that proves that country today knows no boundaries only wide open possibilities.
In conclusion, Blake Shelton's album Red River Blue mixes that old familiar country sound with a new modern sound that is slowly increasing in the country music industry. This album tells how Blake is mixing the old and new sounds of country music appealing to listeners for generations to come. He has become more than just a lovable country singer, but rather a mainstream phenomenon. By embracing his role as a cultural influencer, "down home, charismatic, big hearted, country boy" Shelton recognizes that an artist must continually adapt and connect with the times to remain relevant (Edwards 1). As Joe Caramanica suggests, "the old game isn't worth playing anymore, and new kinds of stardom awaits" (Caramanica 1).
---
Track Listing:
"Honey Bee" (R. Akins, B. Hayslip)

" Ready to Roll" (J. Beavers, J. Singleton, C. Stapleton)
"God Gave Me You" (D. Barnes)
"Get Some" (Z. Maloy, C. Tompkins, C. Wiseman)
"Drink On It" (J. Alexander, R. Clawson, J. Randall)
"Good Ole Boys" (D. Davidson)
"I'm Sorry" ft. Martina McBride (C. DuBois, A. Gorley, C. Stapleton)
"Sunny in Seattle" (J. Beavers, C. DuBois, C. Stapleton)
"Over" (P. Jenkins, D. Johnson)
"Hey" (C. Lagerberg, C. Tompkins, C. Wiseman)
"Red River Blue" ft. Miranda Lambert (R. Stephenson, B. Owens)
---
Works Cited
Caramanica, Jon. "Singers Embrace the TV Road to Stardom." The New York Times. 21 May 2011. The New York Times. Web. 6 Oct. 2014.
Edwards, Veverly. "Blake Shelton- all the world is singing country with you." LibertyVoice. 8 June 2013. Web. 14 Oct. 2014.
Heaton, Dave. "Blake Shelton: Red River Blue." PopMatters. 22 August 2011.Web. 14 Oct. 2014.
Morrison, Allison. "Blake Shelton: Red River Blue." AmericanSongwriter. 8 July 2011. Web. 18 Oct. 2014.