Written by Alyssa Hazen. 10, November 2014.
Blake Shelton's sixth studio album, Red River Blue, showcases the singer's experimentation with different song styles and structures. Shelton's song "Over" creates a more dramatic effect; hence the singer pouring out his heart while surrounded by burning flames in the music video above. "Over," Shelton's fourth number one hit off the album is a great representation of breaking the typical mold. The song resembles more of a country rock ballad than the typical Shelton twang on the radio. "Over" introduces a more versatile side to Blake Shelton, and depicts a more mainstream sound.
In the song "Over," Blake Shelton conveys an emotional message that talks about his determination to make the girl in the song stay with him. At the time, Shelton had already proposed to longtime girlfriend, fellow country superstar Miranda Lambert. Although the song may not be specifically about winning her over, since she already clearly said yes, he could be telling her that he will always protect her and be there for her through this marriage. Through the song, Shelton makes it clear that he wants listeners to be able to relate to his emotional determination. In a way, one could even interpret that Shelton is not only talking to his soon to be wife but that he's also trying to win over the audiences' hearts.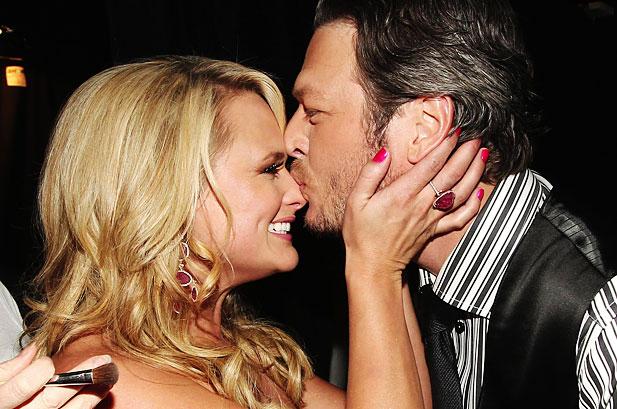 Shelton's "performance is soaked in emotion" by holding out some of the notes, especially in the chorus (Dukes 1). His use of strained "uh huhs" in every chorus shows the emotional weight the lyrics have on him. As the song progresses, he wails a little higher and holds notes a tad longer, especially in the third and final chorus. Songwriters Paul Jenkins and David Elliott Johnson mention that they wrote the song to tell a moving story, and Shelton delivers in a very vulnerable way with his soft delivery of verses like "I would dare/ feed your dreams/ and starve your fears" (Conaway 1). The song has an emotional flow that makes the listener feel for Shelton. He really wears his heart on his sleeve throughout the song, making the listener believe his determination to prove he'll do anything to keep her and the audience as well.
"Over "sheds light on a different side of Blake Shelton. Unlike other songs on this album, the instrumentation has a more rock vibe. The effective use of loud guitars and drums in the build up to and during each chorus depicts the urgency and importance of the lyrics with more authority. Creating sudden pauses and complete silence right after the loud and adamant choruses adds a dramatic emphasis to the song. For example, after the last chorus all sounds stop and only complete silence remains until Shelton comes in for the softer outro. This shows pause for dramatic effect and to reflect on the message Shelton just poured his heart out for. "Over" also showcases Shelton's vocal range due to the longer notes he holds.
Most of the song, Shelton sounds as if he's belting, or rather almost screaming out the lyrics, especially the word "handout" in the last chorus. The typical country twang he embodies is not as distinct or noticeable in this song. Shelton usually has a distinct southern drawl that matches the accent he has when he speaks. In this song, most of that extra emphasis is gone because he sings much louder than usual. The background instrumentation also hides his voice rather than focusing on it. Even the instrumentation interlude splitting up the repetition of the two choruses has an upbeat ballad feel to it with the use of violins and what sounds like a small electric guitar solo. The violins create a softer energy to the high strung guitar and loud drum beat, creating a nice contrast.
The song also opens up the idea that Shelton recorded this song to appeal to other listeners then just die- hard country fans. His involvement with The Voice has certainly given him a larger audience to interest and engage. The upbeat tempo and absence of steel guitar shows Shelton is possibly trying to appeal to listeners who are maybe not too familiar with country music. The loud percussion beats in the chorus create a high energy that could be appealing to other types of listeners like rock fans.  Shelton creates catchy verses by using repetition with the words "If I could" in each verse. Off of this album, "Over" seems like the song that would convince audiences that Shelton can also be mainstream and relevant to people who like other genres then just hard core country.
Shelton has many songs on the album that showcase the bubbly, charming personality many people have grown to love while watching him on The Voice. However, "Over" leaves out the humor and country references, making it hard to really recognize Shelton at all. Many have even criticized the song as being a "lukewarm rock ballad" rather than a country song (Coyne 1). Yet many must have enjoyed Shelton's new spin on country because "Over" charted at 43 on the Billboard Hot 100 and landed at 59 on the Canadian Hot 100. Shelton relies heavily on his personality rather than his actual vocal abilities, but the verdict is in and the people love him anyways.
| | | | |
| --- | --- | --- | --- |
| Time | Form | Listening Cues | Discussion |
| 0:00 | Verse 1 | "If I could…" | Starts with Shelton singing low and deep then soft drum beat comes in with a guitar. Soft, electronic flutter. He takes small pauses between lines. Holds last note for a long time, sound builds |
| 0:32 | Chorus | "So tell me…" | Sound continues to build. Drums are loud. Sounds like he's almost screaming, straining voice. Holds the last note of each line for effect, uses "uh huh" for emotional emphasis. Short pause |
| 0:56 | Verse 2 | "If I could…" | Starts with same line as Verse 1. Back to soft and slowly building. Instrumentals higher like violins toward the end. Harmonizes with another male. Picks up at the end in volume and drums as he yells at the end. |
| 1:34 | Chorus | "So tell me…" | Loud like the first chorus and uses "uh huh" like the first chorus but a little higher. |
| 1:57 | Instrumental | Drums, guitar chords, violin | Keeps the loudness as the chorus but adds more violin which creates a little softer sound. The instruments break up the two choruses. |
| 2:23 | Chorus | "So tell me…" | Gets louder like the other choruses, but the violin is more adamant and louder this time. Keeps intensity with violins strong. Notes sound a little more urgent than before. Last few lines of the chorus are longer and higher. The word "handout" held out longer and higher. More urgency with the last "uh huh." Complete silence at end of chorus, dramatic pause. |
| 2:48 | Outro | "If I could…" | Silent at beginning and comes in slow like the very beginning, small electronic fluttering. Ends with a guitar by itself drawn out, creating dramatic music at the end. |
---
Works Cited
Conaway, Alanna. "Blake Shelton 'Over'- Lyrics Uncovered." Taste of Country. 27 May 2012. Web. 5 Nov. 2014.
Coyne, Kevin John. "Single Review- Blake Shelton  Over." Country Universe. 6 May 2012. Web. 5 Nov. 2014.
Dukes, Billy. "Blake Shelton, 'Over'- Song Review." Taste of Country. 30 April 2012. Web. 5 Nov. 2014.