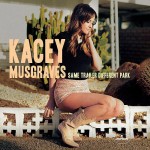 In Kacey Musgraves' first release with the label Mercury Nashville, she strikes a balance between traditional country and more modern music. As Texas Music writer Geoffrey Himes put it, "Musgraves and her two co-producers, Shane McAnally and Luke Laird, have gone for neither bluegrass purism nor that '70s rock sound now described as 'hot country.' Instead the three producers have struck a balance of acoustic and electric instruments that sounds both connected to the past and pointing to the future."
Same Trailer Different Park was released in March of 2013 and debuted at number two on the Billboard 200 chart. It also reached number one on the country album charts. That same year, Musgraves won Grammys for Best Country Album and Best Country Song for her hit single off the album, "Merry Go 'Round," the CMA award for Best New Artist, the ACM for Best Album and in 2014 the CMA for Song of the Year for "Follow Your Arrow" which was featured on Same Trailer Different Park. She was nominated for myriad other awards by various groups including American Music Awards, World Music Awards, and American Country Awards. The album as a whole went gold while "Merry Go 'Round" went platinum and "Follow Your Arrow" went gold. Her accolades since the release of this album have made her a major player on the country music scene and come at a time when country music is looking for a talented singer/songwriter that can reach traditional, older fans while still speaking to younger audiences.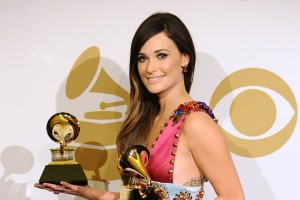 Musgraves accomplishes this in many ways, including her natural songwriting talent that pushes the boundaries of what traditional country would talk about. Musgraves is one of "the three sharpest writers in Nashville today," with Shane McNally and Brandy Clark rounding out the group, according to Keith Harris who writes for a music blog (Harris). She had help from both McNally and Clark on her album, which probably helped win the hearts of country lovers everywhere. The three co-wrote Miranda Lambert's hit "Mama's Broken Heart" earlier this year, giving Musgraves even more fame. Her witty lyrics often poke fun or criticize small town life, but combined with upbeat acoustic and electronic riffs, the criticisms don't seem so harsh (Grimes).
In her hit single "Merry Go 'Round," she talks about cheating, smoking pot, and shopping—not exactly typical unless you're Willie Nelson. While she does name the famous outlaw as one of her greatest influences, Musgraves certainly isn't one to be lumped into just one category. She's not beyond singing vengeful songs about mean girls, like her catchy tune "Step Off." She sings, "it's a real fine line / between telling a joke and turning the knife / don't wreck my reputation / let me wreck my own." The lyrics echo the likes of Taylor Swift but also are very much uniquely her own. As she said in an interview, "I simply cannot sing and write about things I don't personally relate to in some way. If l don't believe it, no one else will… Nothing about the music I make is targeted to any one group, just to straight-up music lovers" (Grimes). Though many have drawn the link between the two artists, Musgraves seems compelled to continue down a more traditionally country route rather than make the crossover to pop. Even though she admits that she often listens to other genres, she stays true to her country roots. "I am influenced by so many different types of music. Literally. One minute I'll be listening to Simon & Garfunkel or Merle Haggard, then some crazy pop or Indian music. I hope all of that comes through on the album in a good way. But, I have a huge love for country music so hopefully traditional country fans will love it as well" (All Access).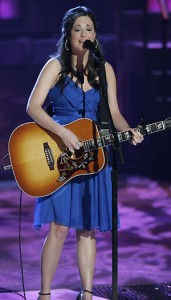 Musgraves grew up in Golden, Texas. She played the mandolin and later the guitar while also practicing her songwriting talents. Her guitar teacher, John DeFoore, was a huge influence in that he not only taught her chords, but also cultivating her songwriting by assigning that as work, too (Grimes). As she grew up, her mom began talking her to rodeos where she would perform covers for crowds to dance to. She credits this with giving her a certain amount of comfort on stage. When she turned eighteen she began releasing covers as a way to break into country music. By 2002, she was popular enough to be invited to perform at one of George W. Bush's inaugural balls and in 2007 she made it on to the show Nashville Star, forcing her to move from Austin and her first label, Triple Pop. She placed seventh on the show, which had also featured fellow East Texan Miranda Lambert in 2003. She then became engrossed in song writing, including hits such as "Merry Go Round" that appear on her latest album. Then, in 2011, she collaborated with fellow up-in-comers Josh Abbot Band to create "Oh, Tonight," which peaked at number 44 on the US country charts and served as a catalyst for her budding fame. She toured Europe with Josh Abbot Band for the remainder of the year and did several performances in Nashville with big names, such as Darius Rucker, Radney Foster and Vince Gill (East Texas Reflections). The next year she signed with Mercury Nashville and went on tour with Lady Antebellum. From there, her following grew and her music became more popular, even being featured on the TV show Nashville in 2012. So, when she released this album she was a familiar face to many country music fans and thus launched her career.
At the time, "bro-country" was becoming a very popular sub-genre. Florida-Georgia Line's song "Cruise" spent 22 weeks at number one, breaking the old three-way tie of 21 weeks. Musgraves has a completely different sound from the hip-hop country that was popular and I think a lot of traditionalists found her more appealing than Florida-Georgia Line as many believe they're "not real country." As Amazon critic Jamie Levine put it, "her voice is angelic and she doesn't need watered down rock 'n' roll in her songs like what the majority of country radio is filled with today" (Amazon). Another commenter, D. Pitts, says that "she captures real life as it is for much of America, and it's not all pretty. I'd say most of us have had a lot of the same experiences and feelings, admit it or not." That's a far cry from bro-country's beer, trucks, and girls motto.
Musgraves's song "Follow Your Arrow" also comments on some prevalent issues facing our country today. In it she talks about smoking marijuana, homosexuality and the double standards that society puts on women. The song is open and honest about these issues at a time when the country as a whole is having trouble grappling with how to address them. Coming from a small town in Texas, it's unexpected for her to be so open-minded—it makes her stand out from other artists.
All-in-all, Musgraves makes bold statements in her lyrics that are softened by her sweet voice and catching beats. She follows her own arrow, if you will, without losing touch with her roots. It makes her accessible to a huge fan base that varies in age, gender, and even genre preference. She's a breath of fresh air in a genre that seems bogged down in rock n' roll wannabe's and pop crossovers. This album cemented her name as a songwriter and now performer.
---
Works Cited
Harris, Keith. "Kacey Musgraves Is as Real as Country's Ever Been." Minneapolis City Pages. N.p., 23 Feb. 2015. Web. 22 Mar. 2015. <http://blogs.citypages.com/gimmenoise/2015/02/kacey_musgraves_state_theatre_review_2015.php>.
Himes, Geoffrey. "Kacey Musgraves: Following Her Arrow." Texas Music: 45-71. Print.
"Kacey Musgraves." East Texas Reflections. N.p., 2009. Web. 22 Mar. 2015. <http://easttexasreflections.com/kacey-musgraves.html>.
Lavine, Jamie. "An Outstanding Major Label Debut." Amazon. N.p., 19 Mar. 2013. Web. 22 Mar. 2015. <http://www.amazon.com/Same-Trailer-Different-Kacey-Musgraves/dp/B00B6QXN6U>.
Pitts, D. "Hate Nashville, Love Kacey." Amazon. N.p., 7 Apr. 2013. Web. 22 Mar. 2015. <http://www.amazon.com/Same-Trailer-Different-Kacey-Musgraves/dp/B00B6QXN6U>.
"10 Questions with Kacey Musgraves." All Access Music Group. N.p., 20 Nov. 2011. Web. 22 Mar. 2015. <http://www.allaccess.com/country/10-questions/archive/12040/10-questions-with-kacey-musgraves>.