Written by Hannah Parmer. 21 October 2014.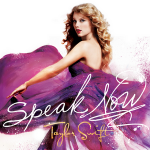 Taylor Swift's third album, Speak Now, was released worldwide on October 25, 2010. The album was produced after her strictly country album, Fearless, and included hit songs such as "Mean," "Ours," and "Sparks Fly." Before the album, Swift said that her new release, titled Speak Now, would be a kind of "concept" album (Farley). Speak Now is a gathering of songs based on events and breakups for Swift in years 2008-2010. With her release of this album, the upcoming country artist also had some new pop sounds on tracks such as "Better Than Revenge" and "The Story of Us." The album was a success, debuting at number one on the Billboard 200 chart, selling more than one million copies in its first week (Grein). As a country artist, this is an incredible reward amongst the usual pop or hip-hop albums recognized on the chart.
While writing and producing this album, Taylor Swift had gone through many breakups, hard times, and beat downs. This album was originally named Enchanted, coming from another song on her album. Scott Borchetta, CEO of Big Machine Records explains, "We were at lunch, and she had played me a bunch of the new songs. I looked at her and I'm like, 'Taylor, this record isn't about fairy-tales and high school anymore. That's not where you're at. I don't think the record should be called 'Enchanted'" (Roland). "Swift excused herself from the table at that point. By the time she came back, she had the "Speak Now" title, which comes closer to representing the evolution that the album represents in her career and in her still-young understanding of the world" (Roland).
As Swift grew up between albums, her type of music and outlook on the world changed. Borchetta saw this change and knew where she was in her life at the time and what was best for her. He explains that the title Enchanted seems like a younger album full of young love versus Speak Now, which sounds like a grown, independent album of a girl who isn't afraid to speak her mind. This album was perhaps a step into adulthood for Swift being situated on her very own personal experiences for over two years. Speak Now was written completely by Taylor Swift herself with no co-writers.
In September 2009, Swift won the MTV Video Music Award for "Best Female Video" from a song on her previous album Fearless. The win created controversy when Kanye West charged the stage during Swift's speech, grabbed the microphone, and declared that singer Beyoncé deserved to win the award. Shocked and confused, Swift was unable to finish her acceptance speech, and West was removed from the show. When Beyoncé accepted her award for "Best Video of the Year" later in the show, she called Swift to the stage to finish her speech. Kanye West eventually apologized to Swift privately, and made a public apology on The Jay Leno Show ("Taylor Swift Biography").
However, Swift has threatened before she will write a song about anyone who comes in contact with her, and that is just what she did. While making the Speak Now album, Swift included a song called "Innocent." This song leads to hints and clues about the incident with Kanye. "32 and still growing up now" is a line from Swift's song, which points to Kanye West at the time of his attack on Taylor. Fans were waiting and curious as to what Swift was going to do at the next VMA show. As predicted, she wrote and performed this situational song at the Video Music Awards the next year. In the song, Swift sings with forgiveness "Who you are is not what you did" (Kaufman). Hence the title Speak Now, Swift often seeks revenge and forgiveness through lyrics, and that is a reason so many people can relate to her music.
With lyrics concerning heartbreak, love, and romance, the album received mostly positive reviews from critics complimenting Swift on her songwriting and themes. Swift lets the audience into her life by writing about her personal experiences and every day thoughts, almost as if it was her diary. Not to mention, she even says names in her songs. During her acceptance speech at the Country Music Awards, Swift jokes, "I think a lot of people who know me know that if I talk to you for more than five minutes, I'm probably going to write a song about you." Although she has not confirmed whom most of these songs are about, there's much controversy and wonder about the inspirations for the album. For example on the album the song "Back to December" is rumored to be about ex-boyfriend, Taylor Lautner along with "Better Than Revenge" which is said to be about another ex, Joe Jonas.
In the most obvious reference on her album, Swift's song "Dear John" created controversy over the famous artist and ex boyfriend, John Mayer. In this six and a half minute song, Swift writes about his womanizer games and the way he took advantage of her. Mayer and Swift recorded "Half of My Heart" together which appeared on Mayer's 2009 album (Vena). Shortly after, the two had a romantic relationship in late 2009 through early 2010, when Swift was just 19 and John 32. Taylor sings, "Don't you think nineteen's too young to be played by your dark, twisted games?" In a form of heartbreak and regret, she takes her real world emotional pain and turns it into a form of art (Caramanica).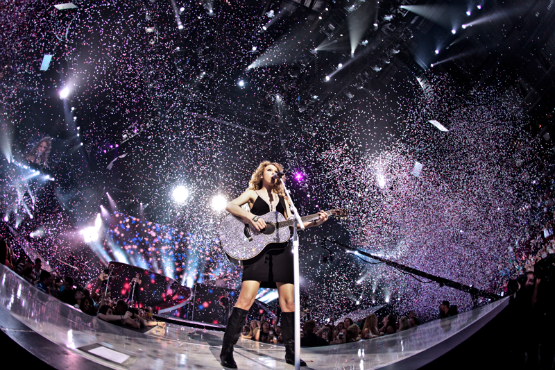 Rolling Stone described Swift as one of the best songwriters in "pop, rock, or country" (Sheffield). Based on the huge success raging from the album, Swift took this album on tour with the name "Speak Now World Tour." This tour gathered over 1.6 million fans and had a gross over $123 million (Allen). As mentioned earlier, because she writes her own music, the audience is kept informed about her love life. For Swift, writing music just happens to be her get-away. She is known to be brave and careless when it comes to her journey to write about personal experiences. As the speaker and artist of her music, Swift writes to her ex-boyfriends and sometimes, current boyfriends through her lyrics. Some like to call her a "lyrical genius."
Although Swift's songs are mainly based on her personal experiences, every song is relatable to almost every girl because of how real and deep the lyrics are. "As with all her CDs you really feel every song. Full spectrum of feelings the whole cd. You can not pick one favorite song" (VinceWest75). It seems as if her fan base is made up of mainly girls between the ages of 13 and 25.Although this is a big age gap, Swift pulls girls in by her lyrical abilities. Erica Morgan, 21, states, "Hearing Swift's stories of heartbreak and fitting in while she was in high school made me feel like, 'Oh, I'm not that weird girl who likes playing country music instead of going to parties.' She's really been my inspiration" (Sortal).
She has helped many fans through hard times and lifted them up when needed. She bases her success on her fans and never fails to take the time to greet them and thank them for all they do. Swift was named Billboard Women of the Year in 2011 because of her inspiration and influence on her fans all over the world through her music (Roland).
---
Tracks
1. "Mine" (T.Swift)
2. "Sparks Fly" (T.Swift)
3. "Back to December" (T.Swift)
4. "Speak Now" (T.Swift)
5. "Dear John" (T.Swift)
6. "Mean" (T.Swift)
7. "The Story of Us" (T.Swift)
8. "Never Grow Up" (T.Swift)
9. "Enchanted" (T.Swift)
10. "Better Than Revenge" (T.Swift)
11. "Innocent" (T.Swift)
12. "Haunted" (T.Swift)
13. "Last Kiss" (T.Swift)
14. "Long Live" (T.Swift)
Deluxe Edition
15. "Ours"
16. "If This Was  A Movie"
17. "Superman"
18. "Back To December" (Acoustic)
19. "Haunted" (Acoustic)
20. "Mine" (Pop mix)
---
Works Cited
Allen, Bob. "Hot Tours: Taylor Swift, George Strait, Cirque Du Soleil." Billboard. 29 Mar. 2012. Web. 13 Oct. 2014.
Caramanica, Jon. "Taylor Swift Is Angry, Darn It." The New York Times. 23 Oct. 2010. The New York Times, Web. 13 Oct. 2014.
Grein, Paul "Week Ending May 29, 2011. Albums: Gaga Goes On Sale". Yahoo! Music. December 18, 2011. Web. 13 Oct. 2014.
Kaufman, Gil. "Taylor Swift's VMA Performance: Experts Analyze 'Innocent.'" MTV News. 4 Sep. 2010. Web. 13 Oct. 2014.
Roland, Tom. "Taylor Swift Ready to Speak Now with Third Album." Reuters. Thomson Reuters, 15 Oct. 2010. Web. 13 Oct. 2014.
Roland, Tom. "Taylor Swift: Billboard's Woman of the Year." Billboard. 2 Dec. 2011. Web. 13 Oct. 2014.
Sheffield, Robert. "Taylor Swift Speak Now Album Review." Rolling Stone. 26 Oct. 2010. Web.13 Oct. 2014.
Sortal, Nick. "The Taylor Swift Effect." South Florida. 10 Apr. 2013. Web. 16 Oct. 2014.
"Taylor Alison Swift." Bio. A&E Television Networks, 2014. Web. 06 Oct. 2014.
Vena, Jocelyn. "Is Taylor Swift's 'Dear John' About John Mayer?" MTV. 1 Oct. 2010. Web.16 Oct. 2014.
VinceWest75. "Speak Now Reviews" Amazon. 1 May. 2014. Web. 16 Oct. 2014.