Written by James Pruitt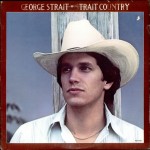 The album Strait Country by George Strait, released in 1981, was the watershed album that triggered a generation of Neo-Traditional country music and changed the landscape of country music forever. In the 1970s and first two years of the 1980s country music was dominated by more "pop" country, and Strait arrived on the scene in 1981 with his simple traditional sound to try to bring country music back to its roots.
As Strait sings in the opening line of his 2010 song "I'll Always Remember You", "it all started back in 1981." In a time when country music was becoming more and more tangled with pop, Strait Country put the steel guitar, fiddle, and twang back into the genre.
In 1981, there really wasn't any so-called "traditional" country music being released or on the music charts. The country music charts were being run by singers and groups that were drifting away from traditional sounds in favor of more pop-influenced music. It's evident that at the time, there wasn't much success to be had by traditional artists. The few traditional singers like Ricky Skaggs and Moe Bandy never reached number one on the charts, and the award shows that year were generally dominated by pop-country artists. However, Skaggs, who did not have a "pop" sound and sang traditional songs like "Bury Me Beneath the Weeping Willow", won the Academy of Country Music's Top New Male Vocalist. Skaggs' award seems to show that even the country music industry was ready to divert back to traditional country music. The stage seemed to be set for someone to come in and drive country music back to its roots.
Despite the perception that the country music industry was ready for a switch back to its traditional sound, Strait Country didn't experience as much as success as people today would probably think. The album "only" reached No. 26 on the U.S. Billboard Top Country Albums. However, the song "Unwound", Strait's first single, made it all the way to No. 6 on the charts and brought with it Strait's signature sound. The song is an upbeat, fast-paced western swing song with a powerful fiddle intro that seems to scream "This is what country music should sound like." In addition, Strait's "twangy" voice was not like anything that was on country radio at the time, and portrayed Strait as a genuine cowboy. The success of "Unwound" cast Strait into the national spotlight and garnered Strait a record deal with MCA.
The title Strait Country is a proper name for Strait's debut album, and does a good job to explain just what Strait's sound is going to be. Now when someone thinks of George Strait, they're likely to think that he's "just country", nothing extra. That's exactly what this album is and exactly what Strait was aiming to accomplish. In a time when country music was overrun by electric instruments and "pop"-sounding voices, Strait arrived with his guitar and changed the industry forever with his twang.
Strait's music reflects who he is as a person, which also reflects the Neo-traditional subgenre. Country music traditionally is a production of the artist's experiences and values, dating back to "hillbilly" music sung by the "hillbillies" of the mountains and the South. As time went on, and as pop's influences were beginning to be seen in country music, the music lost its authenticity and hit songs were starting to sound like one another. Part of Strait's Neo-traditional sound is that old-fashioned, traditional style whose influences can be seen. Although he doesn't write the songs himself and doesn't actually experience everything he sings about, his fans know that he is a genuine "Texas boy", and his sound reflects that.
Prior to the release of Strait Country, Strait was working at a ranch in San Marcos, Texas, where he attended what is now Texas State University. He played shows at dancehalls across Texas with his band, the Ace in the Hole Band, until a Nashville producer was called to give them a listen. The producer, enamored with Strait's image and sound, knew he was listening to a future star, and soon after Strait was in a studio in Nashville recording the sound "Unwound". It could be seen through Strait's appearance that he wasn't a "fake cowboy" like those in Nashville at the time. In the late 1970s and early 1980s country music was run by artists like Conway Twitty who wore sparkly and colorful sequin suits. Strait's image on the other hand fully captivates what his type of music is, and the album cover of Strait Country shows that.
The image of Strait in a cowboy hat has become the staple image of both Strait and Neo-traditionalism. In 1981 nobody was used to this type of image, and as critic Stephen Thomas Erlewine of AllMusic.com says, in a time when country music was run by "lush country-pop crossovers, aging outlaws, urban cowboy swagger, and the emergence of Alabama-styled country rock", Strait "flew in the face of all of these trends, drawing deep on honky tonk tradition, undeniably rooted in Texas but willing to wander outside of the Lone Star State's borders." Shortly after the release of the album, Strait claimed that he would go to Nashville if he had to but he would "hate to ever leave Texas." Furthermore, Strait's loyalty to Texas was reinforced when he refused to bend to the pressure from Nashville to change his image and dress more like the mainstream country singers of the time. Strait took on Nashville with his cowboy hat and blue jeans, and his image helped change the landscape of country music almost as much as his sound did. The album cover of Strait Country was the first exposure to this image that country music listeners had.
The most well-known songs off the album have to be the three singles. "Unwound" reached No. 6 on the charts and was the first single. Contrasting with the pop sound of Countrypolitan music, the opening fiddle in "Unwound" followed by Strait's distinct voice serve as a perfect debut single.
"Down and Out", similar to "Unwound", opens with a powerful fiddle instrumental. It's easy to imagine both of these songs being played by Strait in a dancehall, which helps expand the perception that Strait is a genuine honky-tonk performer. "Down and Out" peaked at No. 16 on the U.S. Billboard Country Hot Country Singles chart, and most importantly followed "Unwound" as a second hit that catapulted Strait into the spotlight.
"If You're Thinking You Want a Stranger (There's One Coming Home)" is the third single from Strait Country, and actually the most successful on the charts, reaching No. 3 on U.S. Billboard Country Hot Country Singles chart. The simple instrumentation paired with Strait's gentle twang serve as a perfect representation of what Strait and the new subgenre of Neo-traditionalism are all about. Billboard gave the song a favorable review, saying that "Strait's got another winner in this lively promise of changing ways."
In addition to the three single from the album, songs like "Friday Night Fever" and "Blame It on Mexico" are perfect examples of the type of music that Strait would become known for. "Friday Night Fever" contains heavy guitar and steel guitar, can't be listened to without thinking of honky-tonks and dancehalls. The subject of "Friday Night Fever" does both relate Strait to the western swing music played in dancehalls, and also relates to the intended audience of Strait, which probably was young adults who would relate to the bar scene. "Blame It on Mexico", one of Strait's many iconic songs, contrasts with the heavy instrumentation of the country music of 1981 with its simple structure. Also, the carefree spirit of the lyrics once again relates to Strait's intended target audience. Strait Country has been certified as platinum by the RIAA.
The subject matter of the songs are interesting in that most of the song on the album are either about the woman leaving her man, like the song "Her Goodbye Hit Me In The Heart", or going to the honky-tonk on Friday night, like in "Friday Night Fever". Although Strait himself didn't write the songs, they do a good job of portraying him as an everyday guy with everyday problems. Also, the content of the songs in Strait Country set the precedent of what Neo-traditional country music would come to be about.
In conclusion, George Strait's debut album Strait Country was the album that set off a wave of future Neo-traditional artists, including more work from Strait himself. In the years following the release of Strait Country, more Neo-traditional artists began to emerge on the charts, and Strait began to rack up the No. 1 hits. Today, the album remains as one of the staples of the Neo-traditional country music sound. The album was influential, but also the events in country music and in Strait's life at the time helped to make the album timelier. With the pop-country and Countrypolitan influence on country music in the early 1980s, country music was straying away from its roots. Strait was working on a ranch and living in Texas, which helped create his signature image of a good ol' Texas boy. The timing of the album was great, and the release of "Unwound" contrasted deeply with other sounds of the time, which garnered Strait some extra attention, a record deal, and ultimately a 30 year career that altered the shape of country music.
---
Track Listing
1. "Unwound" (Dean Dillon, Frank Dycus)
2. "Honky Tonk Downstairs (Dallas Frazier)
3. "Blame It on Mexico" (Darryl Staedtler)
4. "If You're Thinking You Want a Stranger (There's One Coming Home)" (Blake Mevis, David Wills)
5. "I Get Along with You" (Dillon, Dycus, Murray F. Cannon, Raleigh Squires, Jimmy Darrell)
6. "Down and Out" (Dillon, Dycus)
7. "Friday Night Fever (Dillon, Dycus, Mevis)
8. "Every Time You Throw Dirt on Her (You Lose a Little Ground)" (Michael Garvin, Tom Shapiro)
9. "She's Playing Hell Trying to Get Me to Heaven" (Dillon, David Wills, Charles Quillen)
10. "Her Goodbye Hit Me in the Heart" (Dillon, Dycus)
---
Works Cited
Erlewine, Stephen Thomas. "George Strait Bio/George Strait Career." CMT Artists. Web. 9 Mar. 2015.
Erlewine, Stephen Thomas. "George Strait Biography/AllMusic." AllMusic. Web. 2 Mar. 2015.
Erlewine, Stephen Thomas. "Strait Country – George Strait | Songs, Reviews, Credits, Awards | AllMusic." AllMusic. Web. 2 Mar. 2015.
"Neo-Traditionalist Country/Significant Albums, Artists and Songs/AllMusic." AllMusic. Web. 2 Mar. 2015.