Written by Abby Shamis. 13 March 2015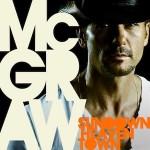 Tim McGraw. If you listen to the radio, go to the movies, or watch TV, it's a name that you are sure to recognize. Although he gives off the impression that he is just a normal guy living in Nashville with his country music superstar of a wife and three children, he is much more than just that. In Tim McGraw's career so far, he has had thirteen albums, countless number one singles, and he has had starring roles in multiple hit films (such as The Blind Side, Friday Night Lights, and Country Strong). There is no question that Tim McGraw has made a name for himself in the country music world with over 50 top ten hits. And his latest album, Sundown Heaven Town, shows no sign of slowing down.
In this latest album, Tim McGraw changed up the tempo and even the style of his latest work by reflecting on the things he appreciates most in life, and it proved to be a worthy creative decision. This album hit the number one spot on the US Top Country Albums chart, number three on the US Billboard 200, as well as number three on the Canadian Billboard charts. The single titled "Shotgun Rider" was a particular fan favorite of the album, reaching the number one spot on both the US and Canadian Country charts respectively. Following close behind that single is another song from this same album, "Meanwhile Back at Mama's" sung as a duet with McGraw's wife, Faith Hill. This song reached the number two spot on the US Country charts. These latest accomplishments can be added on to the accolades he has already piled up, as he inches closer and closer to George Strait's record of having the most albums reach the number one spot on the country charts, ever. George Strait sits at 21 number one albums, while Tim McGraw is climbing his way up there with 15 number one albums. He is not quite there yet, but this album brought him that much closer.
This brings up an interesting question. How is it that Tim McGraw is able to keep up with producing hit songs with all of the new and younger country artists? Not many artists other than George Strait have been able to keep their career in the limelight. It could be due to his career in Hollywood and how he still wants his fans to know that even though he has been in movies, he is still a country singer at heart. But it could also be because he knows how to relate to his audiences and anticipate what it is that they want. This album is something different than his previous albums. It is more reflective on his life and of who he is and his fans were ready for him to take that avenue.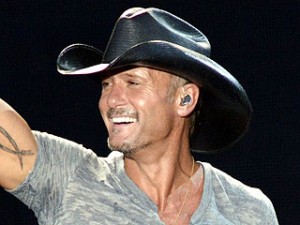 One quality in particular that gives Tim McGraw a unique ability to relate to his listeners is his past experiences. Tim McGraw grew up in Louisiana with his mother. His father, commonly known as "Tug" McGraw was an esteemed pitcher in Major League Baseball. However, Tim McGraw was unaware that this was his biological father until he came across the birth certificate one day in his mother's closet. McGraw was just 11 years old when we found out the man that he thought was his father was actually his stepfather. At that point, his stepfather and mother had just recently gotten divorced. When Tim McGraw was 18 years old, his biological father finally accepted paternity. After that, they remained close until Tug McGraw passed away. Having suffered deception, love, and heartbreak in his life has enhanced his ability to make music that people can relate to. This album in particular displays how his past has influenced his music. From Sundown Heaven Town, one can see how McGraw's life has thrown him some curveballs. His songs have often found ways to portray that. In this album, the song "Dust" exemplifies this. He sings:
"Everything I know, everything I love
Is covered up in dust"
This could tie in to when he found out that his life was not as he had thought it was. His life was in a way, "covered up in dust" and he can now see it more clearly than he had as a child. People are able to relate this to their own lives when they listen to McGraw's music. He can sing from the experiences he has had in his own life, and people can then reflect that in to their own lives, while also understanding how it can tie in to Tim McGraw's. This album encompasses Tim McGraw's past as well as his current life experiences and it allows for the broad themes in his music to relate to his listeners.
This latest album of his, Sundown Heaven Town, has had such success in the charts because it shows an additional, even deeper side to Tim McGraw, which is a side that is much different and more personal than albums he has released before. He has stated that this album was something that he really wanted to do. He wanted to "slow down" and appreciate the things in his life, whether it was the sound that his fans and record label wanted, or not. Although he has made albums and songs that were to please his producers and his fans, he did not do so this time. It wasn't the primary goal that he was looking to achieve. This album was a way for his listeners to relate to his life, in whatever ways that that would happen.
This album has reached out and tugged on the heartstrings of many people. One fan of the album, Will Martin, is quoted on an Amazon review saying, "Sundown Heaven Town is Tim McGraw showing off what he's done and causes me to wonder what he's planning for the future as he approaches the big 50." The star continues to please his fans with his ability to relate to his music. This album in particular allows for listeners to also slow down and remember the important things in life. People can relate that whether it's family, love, or faith, there's always a reason to be appreciative. The mellow tone of the album gives its listeners something to think about, and then come back for more. It is a similar skill that he seems to share with George Strait, which may further explain why the two of them are able to keep up with country music trends.
In addition to that, McGraw has even further expanded his fan base by performing in blockbuster hits. He was the husband to Oscar winner Sandra Bullock in The Blind Side, as well as starred in Friday Night Lights, Country Strong, and Four Christmases, just to name a few. His successful movie career has increased the range of his fan base. As he has become more famous, he travels farther and farther away from the down-home, country singer he started out as. But in this latest album, he gives his fans the sense that he is still a normal guy who is grateful for all of the little things in his life. Fame and fortune may have increased his financial status, but he appears not to have let his tremendous success or his star status change the genuine guy that he always has been.
---
Album Tracks:
"Overrated" (S. McAnally, J. Osborne, R. Rutherford)
"City Lights" (D. Ruttan, J. Singleton)
"Shotgun Rider" (M. Green, H. Lindsey, T. Verges)
"Dust" (R. Atkins, R. Clawson, B. Hayslip)
"Diamond Rings and Old Barstools" (B. Dean, L. Larid, J. Singleton)
"Words are Medicine" (T. Douglas, D. Hodges, Z. Maloy)
"Sick of Me" (A. Dorff, J. Singleton)
"Meanwhile Back at Mama's" (T. Douglas, J. Johnston, J. Steele)
"Keep on Truckin'" (B. Daly, T. McGraw, B. Warren, B. Warren)
"Last Turn Home" (E. Arjes, R. Hurd, M. Morris)
"Portland, Maine" (A. Stoklosa, D. Woods)
"Lookin' for That Girl" (M. Irwin, J. Slater, C. Tompkins)
"Still on the Line (No Ghost Ending)" (B. DiPiero, S. McMorran, J. Nite)
---
Works Cited:
Bio. A&E Television Networks, 2015. Web. 5 Mar. 2015.
Mansfield, Brian. "Tim McGraw likes glow of 'Sundown.'" USA Today 16 Sept. 2014: n. pag. Academic Search Complete. Web. 26 Feb. 2015.
Martin, Will W. "Sundown Heaven Town: an Easy to Listen to Trip Down the Memory Lane of McGraw's Career to This Point." Amazon. N.p., 16 Sept. 2014. Web. 5 Mar. 2015.
Newman, Melinda. "Tim McGraw, Sundown Heaven Town." Billboard 13 Sept. 2014: 56. Academic Search Complete. Web. 5 Mar. 2015.