by Julianne Staine
Taylor Swift's debut album Taylor Swift contains many chart topping hits, but few epitomize that album and its success like her track "Tim McGraw." The song, while no more successful than other teen country jams like "Our Song" and "Picture to Burn," is the most significant because it serves as our first introduction to quintessential Taylor, as the opening track on her debut album and her first single. She's sweet, and the simplicity of her story telling style allows her fans to feel like they are listening to a friend on a talent show stage rather than a country singer they don't even know. The key to Taylor's perceived openness? References. Taylor Swift's song "Tim McGraw" references the famous country singer as the singer to the soundtrack of her and her ex-boyfriend's memories.
"But when you think Tim McGraw,

I hope you think my favorite song.

The one we danced to all night long

The moon like a spotlight on the lake."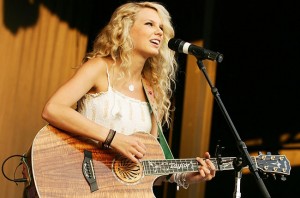 Like a special edition of Us Weekly's page, "Stars: They're Just Like Us," Taylor's ability to connect with her fans through her lyrics is based on her ability to invoke familiarity with non-famous people's actions. The calculated decision of using artist Tim McGraw as her song title and musical reference demonstrates to the country music scene in Nashville that she's just like them. She admires and listens McGraw, who coincidentally happens to be a country singer with one foot planted in Nashville and another planted in Hollywood as he pursues his acting career. "When I originally wrote 'Tim McGraw' and first played it for the label, I didn't think it would become a single," Swift said in an interview with Songwriter Universe in 2007. "But the label said it was a single, and they were right."
Taylor's intention with the song in my opinion is certainly to demonstrate that she is just a regular girl. Just like every other girl in high school she has dated boys, and broke up with boys. You could argue that most of Swift's songs fall into one of two categories: the wistful and the vengeful. Just like a regular girl, Swift gains a lot of her lyrical inspiration from her relationships- with boys mostly, but also with friends, family and as her career evolved even the music industry. "Tim McGraw" is the establishing song for the sound and motivation of Swift's lyrical prowess. She has a true knack for knowing when to rely on simplicity and letting the music speak for itself.
The issue with Swift's intended audience is that it might not be as wide as she wishes. While her lyrics certainly hit home with fellow blondes and doe-eyed teens and tweens, her music does not appeal to the male audience. (Unless of course they are tuning in for their love of blondes.) And not every girl in high school grew up driving around in a pickup truck, and living a quintessential high school experience. But while artists intend to reach as many listeners as possible, it is impossible to appeal to every type of audience. Just like the decision to write about Tim McGraw and consequently appeal to the country music industry, Swift's decision to chronicle the trials and tribulations of her high school love life consequently appeals to a very specific predominantly white and female audience.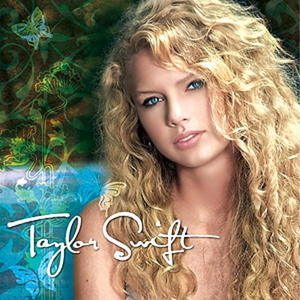 In 2006 when "Tim McGraw" was released, some of the country chart topping singles were "Jesus Take the Wheel" by Carrie Underwood, "What Hurts the Most" by Rascal Flatts, and "Would You Go With Me" by Josh Turner. I don't think that the similarities in song structure and the tone in "Tim McGraw" compared to these songs is a coincidence. In fact, I think Swift probably listened to a great deal of successful country artists at the time and let the fads of current country inspire her music. Imitation is the sincerest form of flattery, right?
Swift's song is composed in a verse-chorus-bridge structure. When writing "Tim McGraw" it was a pretty simple process according to Swift. "In my head it all came at once as a phrase with the melody and words," said Swift in an interview with Unrated Magazine in 2007. The song doesn't deviate from the current country formula very much and most of the country music at the time was also verse-bridge-chorus. She references "old faded blue jeans" and a "little black dress" in the chorus smartly. Not only are both associated with the "girl next door" image, but they are also familiar. The listener can't help but picture their own LBD and worn in jeans as they hit repeat on "Tim McGraw" in their car. They also can't help but picture their old high school boyfriend and wistfully hope that he still thinks of them when he hears their song.
The simplicity of Swift's lyrics also leave a lot up to the imagination of the listener which I don't think was an accident on Swift's part. The lyrics of "Tim McGraw" succeed at being both intimate and vague, leaving out just enough details about the described relationship that it is easy to imagine the song is about you and not Swift, assuming the listener is a fan of Swift of course.
Nostalgia is a powerful emotion to evoke and the concept is closely tied to the ritual of listening to music. As listeners, we often associate certain songs with the moments in our life that were occurring when we listened to them. The more emotional or important the moment, the more emotions the song can trigger. Most artists probably attempt to write songs that evoke these types of emotions, but Swift writes directly about this concept in "Tim McGraw". It is honestly pretty meta. And based on the success of the song and its staying power in my own memory, it works.
---
Bibliography:
Kawashima, Dale. "Special Interview (2007): Taylor Swift Discusses Her Debut Album, Early Hits, And How She Got Started." Taylor Swift Interview 2007. Song Writer Universe, n.d. Web. 7 Mar. 2015.
King, Jackie Lee. "Taylor Swift – A Place In This World." UnRated Entertainment Magazine. N.p., July 2007. Web. 7 Mar. 2015.
"Taylor Swift Discography." Wikipedia. Web. 23 March 2015.