Written by Gerrit Cook. 21 October 2014.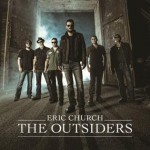 Country music audiences enjoy the variety of sounds and lyrics that the industry has to offer, but understanding rhetorical situations artists face while composing their songs can lead to a better understanding and appreciation for the genre. Eric Church had multiple occasions and ideologies that shaped his recording of his latest album, The Outsiders. They include: previous experiences with country artists, past successful albums and their reviews, and his idea of not being the standard of country music. All these characteristics that affected The Outsiders reflect Church's perspective of his audience, and where he aims his message.
Early on in his career, Eric Church opened for one of the Rascal Flatts' tours. In an article written by Rob Harvilla, posted on SPIN's website, it says that Church was eventually kicked off of the tour for playing too long for an opening and was replaced by Taylor Swift. This led to his bitterness towards mainstream country artists. After the release of his hit album Chief, he was considered the new "standard" of country. Chief won the CMA Album of the Year, and was boosted by the hit "Springsteen." The success of Chief made Church the new standard of country, but he considers the album to be different from mainstream country. Church says that he was "left of center, and all of the sudden, the center moved left."
Before the release of The Outsiders, Church made a leap from getting kicked off of a tour to the top of country by appealing toward new fans. He performed at Coachella, Austin City Limits, and Lollapalooza. Although he was labeled as a country artist, Church received a huge amount of praise by fans that listened mostly to alternative music. With the new fans, Church tries to keep that connection intact through new sounds.
His music is different from present-day artists because he has a larger emphasis on Rock and Roll, and he frequently includes long jam sessions in his songs. In an article on Rolling Stone's website written by Patrick Doyle, critics thought that Church's previous success with Chief would never be topped, but Church insisted that he can continue to be more creative with his Rock and Roll sound. Instead of using the same blueprint as he did in Chief, Church leaned towards more screeching guitar, louder drums, and longer interludes in the middle and end of his songs in The Outsiders.
Church's experiences with the country industry aren't the only contributors to his recording of The Outsiders; his ideologies pertaining to country music affected the album as well. Church thinks that country artists are afraid to push their limits and do something different than expected from audiences and labels. After Brad Paisley was criticized for his duet with rapper LL Cool J titled "Accidental Racist," he soon apologized. Church felt appreciative of Paisley's attempt at being different although the song received negative feedback (Harvilla). Church's feelings toward Paisley show that artists are too afraid to be different from mainstream country music.
Church also gives his opinions about country radio and how most of the songs sound the same. He notes "When something's working, everybody falls into a pattern. One thing I miss is turning on the radio and having a song punch me in the gut" (Doyle). Church's opinion on country radio displays his belief that people are following an assembly line process, and are making the same songs. Finally, Church's animosity towards other artists "selling out," and going on TV shows contributed to his idea towards country artists. Church criticized Blake Shelton's involvement on the TV show The Voice, and believes that once artists' careers become about something that is different from music, their musical contributions are coming to an end (Doyle). Church's beliefs about country artists and TV show that he is all about the music, and his idea of individuality is important to his career.
In previous albums and The Outsiders, Church has focused on an audience dominated by males. His lyrics are seen as less "sappy" than other country artists, and he mentions the stereotypical beer, hunting, and rebelling. In The Outsiders, he reflects the idea of appealing to male listeners through songs about brotherhood and road trips with best friends.
Before he gained speed in the country industry, the genre was mostly marketed towards "soccer moms." Church infers that artists like Blake Shelton focus on the "sappy" love songs and add just a little country sound to them. He also believes that artists like Shelton churn out too many records and give little focus to the music. Reviewers of the album on Amazon agree that Church isn't the "cookie-cutter" artist, and that he is taking his sound to a different level. One reviewer describes him as not "regular country," and The Outsiders has everything including bluegrass, Southern rock, 60's rock, and funk.
Another reviewer describes the album as "pushing the envelope," and praises Church as being ahead of his country artist peers. Will Hermes put a review of the album on Rolling Stone's website. Hermes states "On his fourth studio album, he could have copied the formula, or dialed it back to court uptight country-radio programmers. Instead, the North Carolina singer-songwriter made a record that's weirder, louder – and even more badass" (Hermes). Church previously stated his intention of going with a different route, and critics have backed that claim up. Hermes also mentions some ideas that align with Church's. Hermes explains "And why not? His success raises the bar of the possible in an overcautious industry" (Hermes). This is significant because audiences are picking up on the notion that country artists are afraid to experiment, and that Church is willing to take that risk.
The recording of The Outsiders was influenced by a variety of occasions that Church faced. His different sounds reflect a new Eric Church. Church's ideas of how the country industry should be run, and how artists are afraid to break away from the normal sound show the rebellious aspect of The Outsiders. He attempts to convey his message of change towards the audience. Audiences are picking up on that message, and are responding with positivity. In my opinion, Church really showcases his talent in this album, and every time it gets played I struggle to not stomp my foot to the beat.
---
Track List
"A Man Who Was Gonna Die Young"
"Cold One"
"Roller Coaster Ride"
"Talladega"
"Broke Record"
"Like a Wrecking Ball"
"That's Damn Rock & Roll"
"Dark Side"
"Devil, Devil (Prelude: Princess of Darkness)"
"Give Me Back My Hometown"
"The Joint"
---
Works Cited
Doyle, Patrick. "Eric Church on Scalpers, Bro-Country and Blake Shelton Scandal." Rolling Stone. N.p., 11 June 2014. Web. 11 Oct. 2014.
Harvilla, Rob. "Eric Church Marks His Territory." SPIN. N.p., 4 Feb. 2014. Web. 05 Oct. 2014.
Hermes, Will. "Eric Church The Outsiders Album Review." Rolling Stone. N.p., 11 Feb. 2014. Web. 11 Oct. 2014.
"The Outsiders Customer Reviews." Amazon. Amazon, n.d. Web. 19 Oct. 2014.