Written by Abby Wills. 23 March 2015.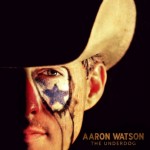 Aaron Watson, an independent Texas-bred country artist, has been in the country music industry for 15 years. Most fans of Texas Country know Watson's name and recognize that he sticks to his roots. However, mainstream country music has never embraced Watson, forcing him to be an independent artist struggling to make his music known. Often called a "traditionalist," Watson makes an effort not to conform to the repetitive pop country style that dominates country music today. He released his first album Aaron Watson in 1999 but did not appear on the US Billboard country album chart until 2006 with his sixth album San Angelo. In 2015, he released his most successful album The Underdog, which grabbed the number one spot on the US Billboard Top Country Albums chart. This achievement marked the first time a solo male artist debuted in the top spot with a self-released and independently distributed and promoted album. The Underdog has received praise from country music fans and has advanced Watson's career significantly.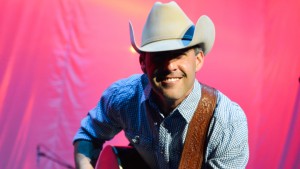 Aaron Watson was born in 1977 in Amarillo, Texas. He was musically influenced by the gospel hymns he sang in church and his father's classic country record collection. In the collection he often listened to Willie Nelson, Waylon Jennings, and Merle Haggard. He went to college at Abilene Christian University where he picked up the guitar and discovered his love of songwriting. He began his career selling singles out of his backpack on the ACU campus. In the late 1990s, as Watson was trying to make his music heard, the country music scene was rapidly moving to embrace country pop. The new genre transformed all aspects of country music, from radio to concert tours to awards shows.
Mainstream country radio never fully embraced Watson and he turned to other options to further his career. Watson realized that he had to be more than an artist; he had to be the label and the PR guy. Watson joined the company roster of Thirty Tigers, a business that offers its clients management, marketing, and distribution. With the help of Thirty Tigers, he enjoys the luxuries provided by a record label without giving up his independence. Watson built up his support the old fashioned way through numerous tours and then leveraging Thirty Tigers for national reach.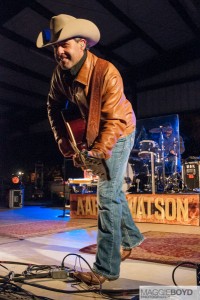 The Underdog is a masterful album that shows the skill and commitment Aaron Watson has invested in his music the past 15 years. As Watson has grown, his music has also evolved. The album reveals that in a genre where the biggest stars believe that radio airplay and major-label record deals are the keys to success, an independent artist can get both critical and popular recognition. The album features 14 songs that showcase a wide variety of styles – from up-tempo to acoustic to "saw on the fiddle" songs. Watson produces an album that sticks to his roots and the traditional sound of country music. It is the underdog spirit that gives the album so much success.
Aaron Watson centered his album on the three main pillars of his life: his family, fans, and faith. Songs like "Bluebonnets (Julia's Song)" and "Family Tree" center on his love of family and the loss he experienced after the death of his daughter after childbirth. His strong faith is revealed through songs like "The Prayer," "That's Why God Loves Cowboys," and "The Underdog." The last song focuses on laying your faith in God even when you face rejection – a song that directly correlates to Watson's life. The whole album is a dedication to his fans. He gives them a varied experience in terms of style and delivers an album that honors his traditional roots. While the album as a whole focuses on the three pillars, several of the songs touch on what country music used to be and what it has become. "The Prayer" reminds the listener what was great about country music before it became influenced by pop music. "Fencepost" tells the story of a Texas songwriter who is unable to get the attention of the Nashville music executives.
The Underdog takes advantage of fans' boredom with the mundane sound of current mainstream country music and appeals to listeners who want something different. He shows country music fans that to make a great album it has to be all about the music. The Underdog is a message to everyone that has ever felt the sting of rejection. The album is stating that despite being put down, staying true to who you are and what you stand for is all that is necessary. By utilizing the three pillars of family, fans and faith, Watson provides country music fans with relatable and authentic songs. It is apparent that over the 15 years of his career, his fans realized they wanted authentic songs over mainstream music.
Comments on Amazon prove that fans obviously enjoy this independent country artist. Chance B commented, "Where country music attempts to appeal to the masses, Aaron Watson attempts to appeal to the listener." This review shows that the listeners of The Underdog recognize that Watson has a different style and is not trying to conform to the mainstream country style. S. Bolton "ThunderGus" commented that The Underdog picks up "where Nashville abandoned real country in the 90's." Fans understand that country music has drastically changed and they appreciate Aaron Watson's commitment, which is a huge reason why this album has been so successful.
The Underdog's success proves country fans want something different. With 15 years, 12 albums, and 2,000 shows under his belt, Aaron Watson is that "something different." He persevered despite the rejection he faced from mainstream country radio stations. Watson built on the momentum from his previous albums and with the help of Texas radio stations and his supportive fans, was able to finally get a No. 1 on the Billboard chart. The Underdog proves that you don't need to be played on mainstream country radio stations to receive the most important recognition – the recognition that comes from knowing you stayed true to yourself.
---
Tracks
"The Prayer" (A. Watson)
"Wildfire" (J. Mayer)
"Freight Train" (A. Watson, T. Olsen, T. Nichols)
"That Look" (A. Watson)
"Getaway Truck" (A. Watson)
"Bluebonnets (Julia's Song)" (A. Watson)
"That's Why God Loves Cowboys" (A. Watson, T. Olsen, S. Buxton)
"That's Gonna Leave a Mark" (A. Watson)
"The Underdog" (A. Watson)
"Blame it on Those Baby Blues" (A. Watson, H. Hutchinson)
"One of Your Nights" (A. Watson)
"Family Tree" (A. Watson, K. Stegall)
"Rodeo Queen" (T. Olsen, J. Caldwell, J. Beavers)
"Fence Post" (A. Watson)
---
Works Cited
"Aaron Watson Talks Hitting #1 with "The Underdog"." Saving Country Music. 25 Feb. 2015. Web. 1 Mar. 2015.
Chance B. "An emotional roller coaster of enjoyment." Amazon. Amazon, 26 Feb. 2015. Web. 6 Mar. 2015.
Dukes, Billy. "The Underdog: Aaron Watson on the Good and Bad of Being Independent." Taste of Country. 17 Feb. 2015. Web. 6 Mar. 2015.
Hudson, Scott. "Country Chart-topper Aaron Watson: 'Music Is like Jelly'" Argus Leader. 4 Mar. 2015. Web. 6 Mar. 2015
S. Bolton "ThunderGus." "Picking up where Nashville abandoned real country in the 90's-…" Amazon. Amazon, 17 Feb. 2015. Web. 6 Mar. 2015