Written by Paige Hinkle. 2 March 2016.
"You know what's funny? That the black guy has the country-est song on country radio!" said an older gentleman to Darius Rucker in the grocery store about the song "Wagon Wheel".  As this man pointed out, Rucker is an unlikely candidate for the country music scene.  First of all, country artists are predominantly white and Rucker is black.  Rucker is one of only two black people to ever win a Country Music Award and is only the third black member of the Grand Ole Opry.  Additionally, Rucker got his start as the lead singer and guitarist for the 90's rock band Hootie and the Blowfish and dabbled in R&B music in the early 2000s.  When Rucker released his first country album in 2008 at the age of 42, many people thought it would just be a one time thing.  Rucker went on to create some of the "country-est" music despite all of these factors, culminating in the song "Wagon Wheel".
"Wagon Wheel" was originally written and performed by Bob Dylan but was never released. After finding a bootleg version of Dylan's song, the bluegrass band Old Crow Medicine Show edited and recorded their own version of "Wagon Wheel". The song became incredibly popular with bluegrass and country fans alike and was even banned at some music venues because it was overplayed.  Rucker first heard the song played by his daughter's high school band and, like many others, fell in love with the song.  He wanted to put a more country spin on the song so he included drums, a pedal steel guitar, and added background vocals by the popular country band Lady Antebellum. Rucker debuted the song on the night of his induction to the Grand Ole Opry, showing that he understood how to make good country music.
Overall, the reception of Rucker's version of Wagon Wheel was positive.  Fans loved the country sound and the catchy melody. "Wagon Wheel" won the Grammy Award for "Best Country Solo Performance" and was nominated for "Single of the Year" by the Country Music Association.  The song reached number 1 in the Hot Country Music charts and has sold over 3 million copies in the United States.  "Wagon Wheel" really highlighted Rucker's talent as a country musician and proved that he was here to stay.  The only criticism left was for people to outright say that he doesn't belong in country music because he is black.  And that is what some people did.  One person tweeted "Leave country to the white folk" which prompted a response by Rucker and made headlines in the country music scene.  Others claimed that he had "stolen" the song, which rarely happens to white artists like Rascal Flatts who record covers of popular songs frequently.
2013, the year that Rucker's "Wagon Wheel" was released, was the beginning of heightening racial tensions in the United States.  The previous year, Trayvon Martin, a young African American, was fatally shot by a neighborhood watch volunteer which sparked outrage all over the nation.  While many famous black artists such as Beyonce and Jay-Z publicly supported Trayvon and the black community, Rucker was silent on the issue.  Rucker was criticized by many black activists, especially since he tackled racial issues while singing with Hootie and the Blowfish with the song "Drownin" which criticizes the North Carolina state house for flying the Confederate Flag.  However, "Drownin" was very controversial and caused Rucker to receive a large amount of hate mail, including death threats. Needless to say, Rucker wasn't jumping at the opportunity to talk about controversial race relations with an even more conservative country audience.
In the midst of heightening race relations, Southern culture, including country music, was dealing with racism within its own community. In 2013 Brad Paisley, one of Rucker's friends, released "Accidental Racist" which showed that country music was still "caught in between Southern pride and Southern blame" as the song puts it.  "Accidental Racist" includes a lyric about the Confederate Flag, the same issue Rucker had been singing about almost a decade earlier.  Rucker merely claimed that Paisley is not racist and the song "got the conversation going".  Even these comments were enough to upset some country music fans who didn't want to discuss racial issues at all.  Although Rucker probably disagreed with some of the song's lyrics, he was careful not to offend the country music community or betray his friends in the country music industry.
Rucker realized that even one controversial comment could derail all of his success and hard work.  In 2003 the Dixie Chicks were ostracized from country music after making controversial comments about President George W. Bush and the Iraq War. After the comments many former fans boycotted the Dixie Chicks and some radio stations even stopped playing Dixie Chicks songs. These comments had a serious impact on the Dixie Chicks' success even though many people stood up for their right to speak their mind.  Rucker knew that if he made controversial comments about race he could easily end up like the Dixie Chicks no matter how good his music.
The "Wagon Wheel" music video was another chance for Rucker to show which side he was on. The music video for "Wagon Wheel" includes cast members of the reality television show Duck Dynasty about a conservative, Louisiana family who made a fortune selling duck-calls.  Duck Dynasty was beloved by many people in the country community, however the show has decreased in popularity after homophobic and racist comments by the cast.  In an interview just a few months after the release of "Wagon Wheel", one cast members said that black people were happy during the pre-civil rights era. These comments were criticized by the NAACP as "dangerous" and "inaccurate".  Once again, Rucker sided with the country folk, saying that the cast of Duck Dynasty "are good people" and that the press created the controversy.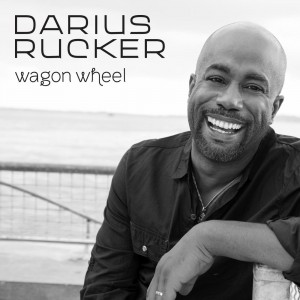 Although Rucker has been relatively tame with his comments about race in order to preserve his reputation as a country artist, he has still quietly supported black people. Rucker is known for being the first black singer to have a number 1 country song since Charley Pride in 1983.  Rucker and Pride have a friendly relationship and many of Pride's stories influence Rucker. Shocking stories about how Pride's record label wouldn't allow him to display his face on the album cover show how far country music has come despite current shortcomings.  Although Rucker can't sing about the racism behind the confederate flag or make comments about Trayvon Martin's death, he prominently displays his face on all of his albums and cover art, including "Wagon Wheel".  Additionally, Rucker opens up country music to a new audience and shows that you don't have to be white to enjoy country music.  Hopefully the success of black country musicians like Rucker will help diversify the faces of country music and allow future artists to be more open about their stance in regard to race.
At first glance, the song "Wagon Wheel" doesn't seem to be about race.  By choosing the song Rucker subtly shows that even a black man should be accepted in Southern culture.  Lyrics like "running from the cold in up in New England" and "north country winters keep a-getting me down" contrast the cold, sad Northeast with the vibrant, musical South.  The repeated phrase "rock me mamma" could be about playing music or it could have a sexual connotation.  Either interpretation shows the South as a place of love and music.  When slavery was prominent in America black people tried to escape the South to go to the free Northern states, but the lyric "if I die in Raleigh at least I will die free" suggests that the South is now the place of freedom.  The lyrics suggest that the South is free from the constraints of money and is more about relationships and culture.  Rucker shows that black people also have the same desires to be free, to love, and to play music.  Finally, the lyric "I ain't turning back to living that old life no more" speaks both to Rucker's permanent position as a country music artist and black peoples' gradual escape from the pre-civil rights era.
In an interview with The Washington Post Rucker reminisces on how he used to tell his son "You can be anything you want, except president or a country singer."  Well, he can't say that anymore.  Rucker's transition into country music wasn't easy, but songs like "Wagon Wheel" helped him assert that he belongs despite being black in a sea of white faces.  The popularity of "Wagon Wheel" and Rucker's careful commentary about race lead to his acceptance into the country world.  Country music is better because of his contributions both as a black man and a talented musician.
---
Work Cited
Coleman, Miriam. "Jay Z and Beyonce Attend Rally for Trayvon Martin."Rolling Stone. N.p., 21 July 2013. Web. 01 Mar. 2016.
"Darius Defends Accidental Racist." Country Countdown USA. Cumulus Media, 18 May 2013. Web. 23 Feb. 2016.
Du Lac, Freedom. "Former Hootie & the Blowfish Frontman Darius Rucker Leaves Rock for Country Music." Washington Post. The Washington Post, 10 Dec. 2008. Web. 23 Feb. 2016.
Dunkerley, Beville. "Darius Rucker Making 'True Believers' with Country Music." Rolling Stone. N.p., 21 May 2013. Web. 23 Feb. 2016.
Greene, Andy. "How Bob Dylan Co-Wrote Darius Rucker's 'Wagon Wheel,' 40 Years Ago." Rolling Stone. N.p., 30 May 2013. Web. 23 Feb. 2016.
Hawkins, Lee. "Darius Rucker Discusses Race and Country Music." Wall Street Journal. N.p., 15 Sept. 2014. Web. 23 Feb. 2016.
Hicks, Shannan. "Travyon Martin Case Magnifies Everyday Race Relations." The Washington Post. N.p., 12 Apr. 2012. Web. 23 Feb. 2016.
Lee, Morgan. "Country Star Darius Rucker Wins Grammy, Sticks Up for 'Duck Dynasty' Family: 'They're Good People, Press Made That Controversy'" Christian Post. N.p., 29 Jan. 2014. Web. 23 Feb. 2016.
Sieczkowski, Cavan. "Darius Rucker Responds To Racist Tweet: 'Is This 2013 Or 1913′" The Huffington Post. N.p., 22 May 2013. Web. 01 Mar. 2016.
Sieczkowski, Cavan. "'Duck Dynasty' Star Phil Robertson Claims Black People Were 'Happy' Pre-Civil Rights." The Huffington Post. N.p., 19 Dec. 2013. Web. 02 Mar. 2016.