Written by Dena Lipper. 21 October 2014.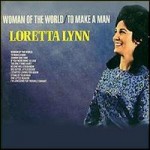 Woman of the World/To Make a Man was Loretta Lynn's 11th studio album, and second released in 1969. The name of the album, although very long, is fitting because it encompasses the names of the two singles that started it off. Although the album only received 3 out of 5 stars from the All Music Guide, it did get up to number 2 on the Billboard Top Country Albums chart (Chadbourne). The album consists of 11 songs, five of which are Lynn originals or collaborations and the rest of which are covers of popular songs, such as Tammy Wynette's "Stand By Your Man." The compilation of songs on this album came to be very controversial, in that it presented different views on very hot topics of the time period. Some songs on this album were seen as very feminist, while others from the same LP could be called very anti-feminist.
In 1969, there was a lot going on in the world that can be connected in one way or another to possible motives for the release of this album. One big thing at this point was the Vietnam War, which had been going on since 1955 and would continue for another six years. One part of the album that stands out, as a possible reaction to this, is the cover the Lynn did of Tammy Wynette's "Stand By Your Man." During this period of time, men were getting called to go to war all of the time, so the message to 'stand by your man' is something that would have been very well received, even though it was not one of Lynn's originals.
Another very important happening to take into consideration is the death of Loretta Lynn's close friend, Patsy Cline, just 6 years prior. After Cline's fatal plane crash in 1963, Lynn became the one of the next big, female, country music stars. Although it had been 6 years since Patsy Cline's death, her guidance and expertise that were passed on led Loretta Lynn to her truly big breakthrough. Starting with her first number 1 hit in 1967, Lynn went on to become one of the most popular names in the female country music industry. She used her influences from her early years to really start to fuse her traditional country sounds with more contemporary issues that country music was addressing at the time, which is not something that many people were able to accomplish. Loretta Lynn has Patsy Cline to thank for the sudden rise in her career from the mentorship and publicity she provided her.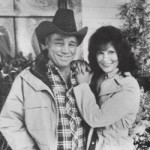 The biggest historical situation to take account of, when looking at this album, is that it was released in the middle of the feminist movement. In his book on the politics of country music, Chris Willman calls Loretta Lynn "The one-woman women's-liberation movement in country music" (165). Lynn has been labeled as a strong feminist throughout her career; however, the release of this album makes this kind of difficult to comprehend. Some songs, such as "Woman of the World," reinforce this feminist notion; however, the same cannot be said for all parts of this album. Lynn's "To Make a Man (Feel Like a Man)" and cover of "Stand By Your Man," go against the idea that Lynn was a part of this movement. While the first song emphasizes female empowerment, like her later controversial song, "The Pill," the second two go against everything that women of that era were working so hard to eliminate. The song "To Make a Man (Feel Like a Man)" is all about Lynn telling women to show that they are women by "washin' clothes and dishes," and saying that "he's not that hard to please if you love him right and fill his needs," implying that the only way to make a man happy is to service him.
Lynn herself was not trying to be an advocate for or against the feminist movement; however, people of that time, mainly traditional men and people with similar ideals, were very intent that she was a feminist. They held onto this feeling, even after Lynn made a statement in an interview that really went against the entire concept of feminism stating she was not trying to be a feminist, she "just wanted to please her husband," though this did settle their criticisms a little more (Willman 165). Lynn admitted that everything she had done in her career was to make her husband proud, and not because she felt empowered as a woman or wanted to empower other women. This makes the fact that so many historians and fans look to her as a feminist model very interesting.
The intended audience of this release may be assumed to be women; however, based on the statements released by Loretta Lynn herself, it is very possible that she did not actually have a targeted audience. The album reached people everywhere, from all walks of like, even though from an initial look it would seem to only appeal to women. There are certain songs, like the aforementioned ones that went against the feminist movement, that connected very effectively with men, although the songs are addressing women and giving them directions to 'stand by their men' and telling them how 'to make their men feel like men.' These also could have completely different meanings to audiences that are in different places in their lives. For women that may have men fighting in wars, it could be a warning to put aside and feminist thoughts to support your husbands. Although half of the songs were not actually written by Loretta Lynn, she was able to put her own spin on them and make them her own.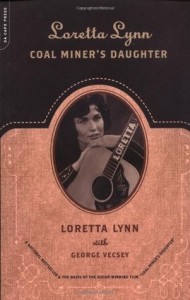 Loretta Lynn did not let the ideas that people held of her control her music or her career. Although the people in her life motivated her, such as her husband and Patsy Cline, Lynn's release of any album, especially this album, was not forced. She mentioned in her autobiography, Coal Miner's Daughter, that she sees her fans as her friends, not just random strangers that like her music. She always gets very close to them, mainly because all of her songs are relatable. Her fans really are able to connect to her music since she writes from personal experiences that they may share. Everything that she has released has come from her heart, whether in her own words or her own take on someone else's words. These friendships, both with her fans and figures like Patsy Cline, engrained themselves into Lynn's memory, as she stated "Everyone from my past is still with me – either right here with me or with me in my memory" (Lynn vi). These memories that she holds of all of the people from her past have contributed throughout her career to the popularity and personality of her music. This album was very controversial because people had very different opinions on what exactly the album meant. Feminists were likely disappointed because of the composition of the song list, while men and more traditional women were probably glad to not have to deal with too much feminist drama from Lynn. Even though this album is controversial when looking back on Lynn's career and presuppositions, she took the heat and worked with it, not letting anybody get in the way of her and her music.
---
Track List:
"Woman of the World (Leave My World Alone)" (Higgins)
"Johnny One Time" (Dallas Frazier, A.L. Owens)
"If You Were Mine to Lose" (Mickey Jaco)
"The Only Time I Hurt" (Loretta Lynn)
"No One Will Ever Know" (Mel Foree, Fred Rose)
"Big Sister, Little Sister" (Frances Heighton, Loretta Lynn)
"To Make a Man (Feel Like a Man)" (Loretta Lynn)
"Today, I Started Loving You Again" (Merle Haggard, Bonnie Owens)
"Stand by Your Man" (Billy Sherrill, Tammy Wynette)
"One Little Reason" (Loretta Lynn)
"I'm Lonesome for Trouble Tonight" (Loretta 

Lynn, Doyle Wilburn)
---
Works Cited
Chadbourne, Eugene. "Loretta Lynn: Woman of the World/To Make a Man." AllMusic. All Media Network, LLC. Web. 14 Oct. 2014.
Lynn, Loretta. "Preface to the Vintage Edition." Preface. Loretta Lynn: Coal Miner's Daughter. Unabridged ed. N.p.: Knopf Doubleday Group, 2010. Iii-Vii. Print.
Nash, Alanna. "Loretta Lynn." Behind Closed Doors: Talking with the Legends of Country Music. New York: A. Knopf, 1988. 290-308. Print.
Willman, Chris. "Running With The Devil: The Politics of the Campaign Trail." Rednecks & Bluenecks: The Politics of Country Music. New York: New, 2005. 165. Print.