Written by Dustin Hixenbaugh. 11 June 2014.
In July 1927, producer Ralph Peer set up a makeshift recording studio on the top floor of a warehouse in Bristol, Tennessee. Representing the Victor Talking Machine Company, which was based in New York, he proceeded to record 76 songs by local musicians. Some of these musicians, like Ernest Stoneman, were already famous and had planned to record with Peer even before he arrived. But others, drawn by the company's promise to pay them $50 per tune, had never performed professionally. These recordings, collectively known as the "Bristol Sessions," have become one of country music's favorite legends.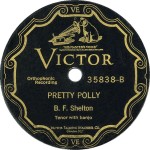 But like all legends, the Bristol Sessions have inspired both reverence and skepticism. Nolan Porterfield described them as a "Big Bang," suggesting that country music would not exist as we know it today if they had not taken place; Johnny Cash said they are "the single most important event in the history of country music"; and the town of Bristol, eager for tourists, opened an ostentatiously-titled Birthplace of Country Music Museum in 2014. But as a number of recent music historians including Charles K. Wolfe and Jocelyn Neal have recognized, the importance of the Bristol Sessions is frequently overstated, Peer's participation too easily romanticized.
For one thing, the Bristol performers were not the first to put white folk music on record. Eck Robertson's "Sallie Gooden," which specialists agree is the first hillbilly record, appeared in 1922, and Stoneman, Vernon Dalhart, Charlie Poole, and others had had hits with hillbilly songs they recorded in New York before 1927. For another, this was not the first time a producer had scouted new talent in the South: Peer himself had already taken recording equipment to Atlanta in 1924, where he "discovered" a number of African American blues singers as well as the white folk performer Fiddlin' John Carson. To be sure, the tracks Peer released after returning to New York sold well, validating his decision to make field recordings and bringing new attention to musicians living in rural Appalachia. But it is misleading to suggest that the Bristol Sessions "gave birth" to country music.
Moreover, there is evidence that Peer, who was interested in making records that would sell, not in collecting folk music for posterity, asked his performers to alter the traditional songs they brought him. As Clarice Shelor, who performed in the Shelor Family and Dad Blackard's Mountaineers groups, recollected, he also requested that musicians add lyrics to songs they usually played instrumentally because "singing helped sell the records" (qtd. in Wolfe 27). The players wanted their records to sell, of course, as the Victor company could promise them 2¢ in royalties for every copy sold, but Peer had even more to gain: At the auditions, he had his musicians sign a number of documents, one of which granted the publishing company he owned the copyright to the traditional and self-composed songs they performed. One part of the legend that is often overlooked is that the Bristol Sessions made Ralph Peer a very wealthy man.
This is not say that the Bristol Sessions should only be remembered for their impact on country music's underhanded business side. They also marked the debuts of two performers who would quickly become powerhouses in the United States music industry and who would inspire generations of followers: The Carter Family and Jimmie Rodgers.
---
Key Figures
Ralph Peer (1892-1960) was the Victor producer and talent scout who recorded the Bristol Sessions. He was one of the first people to take recording equipment into the south in search for "authentic" hillbilly music. He was also one of the first to understand the profits to be gained from controlling the copyrights for his performers' songs.
Ernest "Pop" Stoneman (1893-1968) came to New York City to record old-time music in 1924 and continued to perform, most notably as a member of the Stonemans, for the next forty years. He helped Peer locate talent for the Bristol Sessions and recorded a number of songs himself. His faithful renditions of popular hymns may not have sounded as "authentic" as the older, authorless songs performed by new acts like the Carter Family.
 The Carter Family (above) was one of the most successful acts to emerge from the Bristol Sessions. The group included A.P. Carter (1891-1960); his wife, Sara Carter (1898-1979); and his sister-in-law, Maybelle Carter (1909-1978). Sara left A.P. in 1936, but the trio continued to perform together (with Peer's encouragement) until 1944. At this point, "Mother" Maybelle, whose guitar-picking is one of the group's most important legacies, enlisted her daughters and continued to perform for another twenty years.
Jimmie Rodgers (1897-1933), like the Carter Family, is considered one of Peer's great discoveries. But his two Bristol recordings, neither of which made a commercial splash, are not what have made him the "Father of Country Music." Rather, he is remembered for the "blue yodels" he recorded with Peer later, in New York City, which cobbled African American and white European influences and have been covered by everyone from Gene Autry to Bob Dylan and Bono. Rodgers suffered from tuberculosis his entire time in the spotlight and died, in 1933, from a hemorrhaged lung.
---
Recommended Listening
For an introduction to Rodgers, start with RCA's Essential Jimmie Rodgers (1997), which collects 20 of the blue yodeler's best-known recordings. RCA Country Legends: Jimmie Rodgers (2002) is a bit shorter, but it does an even better job showcasing his diverse musical roots. Bear Family's The Singing Brakeman (1992) is a six-disc collection of all Rodgers's recordings from the 1920s and '30s and includes a 60-page booklet of biographical notes and images by historian Nolan Porterfield.
In 1972, Mother Maybelle Carter joined Roy Acuff, Merle Travis, and Earl Scruggs on the Nitty Gritty Dirt Band's landmark Will the Circle Be Unbroken? album.
Maybelle's daughter, June Carter Cash, recorded several Carter Family songs for what would be her final album, Wildwood Flower (2003). Reese Witherspoon, who plays June in the movie Walk the Line (2005), also performs "Wildwood Flower."
The Birthplace of Country Music organization is currently working with Vince Gill, Dolly Parton, Steve Martin, and others to record a Bristol Sessions tribute album. The album will be called Orthophonic Joy and should drop in October 2014.
---
Annotated Bibliography
1. The Carter Family: Will the Circle Be Unbroken. PBS Online, 2007. Web. 11 June 2014.
The Carter Family: Will the Circle Be Unbroken (2005) is a documentary directed by Kathy Conkwright and produced for Nashville public television. Accompanying the documentary is this website, which provides additional information about the Carter Family's origins and career, including a timeline, a gallery of family photos, and a teacher's guide. Readers will probably be most interested in the "People and Events" section, which includes biographies of the three Carters as well as Ralph Peer. The Carters biography is divided into subsections highlighting the stages of their lives and career ("Orphan Girl" for Sara's childhood, "Born Rambler" for A.P.'s travels around Appalachia looking for new material to record, etc.). While the website includes some information about the Carter Family's participation in the Bristol Sessions, it is more interested in the fame the group won thereafter. As the author puts it, the Carters' songs about "random, personal tragedies" struck a chord with poor men and women struggling through the Great Depression and guaranteed the group a strong fanbase for decades to come.
2. Dawidoff, Nicholas. In the Country of Country: A Journey to the Roots of American Music. 1997. New York: Vintage, 1998. Print.
In this book Dawidoff, a long-time fan of country music, records the travels he has taken to meet his favorite country performers in the places they grew up or currently live. Jimmie Rodgers and the members of the original Carter Family group had already died when he began making these trips, but he visits their hometowns anyway. As he says of Rodgers, "he was such an influential figure that it seemed important to begin by walking over his home ground" (7). The author shares the stories, many of them impossible to prove, that southerners continue to tell about these performers. He learns, for example, that although Rodgers became famous for singing about "frowsy living," the Meridian, Mississippi, townsfolk considered him "highfalutin" because he didn't like to play baseball and wore shoes in the wintertime (9-10). Dawidoff comments only briefly on the Bristol Sessions, sharing that Maybelle Carter was eight months pregnant and that A.P. Carter had to agree to "handle a nasty weeding project" before his brother (her husband) would let her travel into town for the audition (56). Still, the book puts the Bristol Sessions and the careers of Rodgers and the Carters in the context of all the country music that has come since.
3. Neal, Jocelyn. "Creating History: Jimmie Rodgers and the Origins of Country Music." The Songs of Jimmie Rodgers. Bloomington: Indiana UP, 2009. 1-27. Print.
Neal, who is an Associate Professor of Music at the University of North Carolina, Chapel Hill, has written a number of books and essays about the history of country music. Here, her focus is not the life of Jimmie Rodgers, though she does share some biographical details in her first chapter, but rather the impact his songs have had on the development of country music. As she explains, fans and musicians tend to call for a return to his songs when country music "drifts too far from its musical and cultural roots," and modern listeners have probably heard Rodgers covers from their favorite performers (16). None of the three songs Neal focuses on was recorded in Bristol, but in recalling the events of Rodgers's early life she does share a few stories about his first run-ins with Ralph Peer. She points out that many songs we attribute to Rodgers were actually written by other people, but that Peer wanted Rodgers to declare himself their "author" or "arranger" so that he (Peer) could collect copyright royalties when they became popular.
4. Neal, Jocelyn. "Ernest Stoneman's 1927 Session: Hillbilly Recordings of Gospel Hymns." The Bristol Sessions: Writings about the Big Bang of Country Music. Ed. Charles K. Wolfe and Ted Olson. Jefferson, N.C.: McFarland, 2005. 187-213. Print.
Like Wolfe, whose essay on Ralph Peer opens this volume, Neal thinks it is important to escape certain myths that have clouded the facts of the Bristol Sessions. Focusing on the first performer Peer recorded, Ernest Stoneman, she dispels the notion that he recorded only amateur acts playing "traditional" music they had inherited from their ancestors. What is notable about these first recordings, she says, is that they are of gospel hymns that had been written fairly recently, during the period of Evangelical revivalism that swept Appalachia at the turn of the twentieth century. It is unsurprising that Stoneman, a preacher's son, would record the same kind of music he performed in church, and it is likely that he and the family members who accompanied him could read musical notation. If Stoneman and his group, the Dixie Mountaineers, is not as well-known today as Jimmie Rodgers and the Carter Family, it is because their music–neither traditional nor original–was hard to market as "authentic" and "pure" (209). Many people have acknowledged gospel music's influence on country music, but Neal reminds us that this influence also closed doors for performers like Stoneman who found it difficult to prove their authenticity.
5. "Orthophonic Joy: The 1927 Bristol Sessions Revisited." Cybergrass: The Bluegrass News Network. Cybergrass, 7 June 2014. Web. 11 June 2014.
The news that the opening of the Birthplace of Country Music Museum in Bristol, Tennessee, would be followed by the release of a tribute album featuring well-known contemporary artists appeared on various news sites in early June 2014. This article summarizes the announcement itself, which came at a Country Music Hall of Fame and Museum press conference, and describes some of the talent involved. The collection will be produced by Carl Jackson, who is best known for the Louvin Brothers tribute album he put together in 2003. A number of established musicians like Vince Gill, Dolly Parton, Marty Stuart, Emmylou Harris, and Steve Martin have already agreed to contribute to the album. However, in "the spirit of Ralph Peer," who brought unknowns like Jimmie Rodgers and the Carter Family to the national spotlight, the album's organizers have also launched a search for an unknown act to record the final track. The Bristol Sessions took place nearly ninety years ago, and the new museum and tribute album represent the industry's interest in preserving their legacy for new generations of country music fans.
6. Peer, Ralph. "Discovery of the First Hillbilly Great." 1953. The Bristol Sessions: Writings about the Big Bang of Country Music. Ed. Charles K. Wolfe and Ted Olson. Jefferson, N.C.: McFarland, 2005. 137-141. Print.
By the 1950s, when this essay first appeared, country music had become a lucrative industry, and Peer seems mostly interested in confirming the role he played in promoting "the First Hillbilly Great." In Bristol, Peer says, he received a call from Jimmie Rodgers asking if he and his "string band" could audition (138). Rodgers did not bring the band to the audition and tried to sing pop songs instead of the roots songs Peer was looking for. Even so, the talent scout was impressed with Rodgers's unique sound and he encouraged Rodgers to write more original music. He could already tell just how sick Rodgers was, and the rest of the essay discusses the fame and wealth Rodgers enjoyed in his last years. As Charles K. Wolfe points out, Peer's reflections are not entirely accurate. For example, it is hard to believe that he "considered Rodgers to be one of [his] best bets" when he only recorded him singing two songs in Bristol and did not even include them in the first batch of records he released from the sessions (138). Still, the essay is an important first-hand account that includes specific details about the Bristol Sessions and Rodgers in particular that would become invaluable to later country music historians.
7. Porterfield, Nolan. Introduction. The Singing Brakeman. Bear Family, 1992. CD.
Music collectors love Bear Family Records for the extensive, expensive sets it assembles of hard-to-find classic music. The Jimmie Rodgers collection includes all of the Singing Brakeman's recordings and 60 pages of pictures and notes by Nolan Porterfield, author of Jimmie Rodgers: The Life and Times of America's Blue Yodeler (1979). Porterfield discusses Rodgers's entire life, committing only a little space to his Bristol auditions, but the stories he shares from the singer's youth–being passed from family member to family member, running away to perform in medicine shows, working for the railroad, being diagnosed with tuberculosis and trying to raise a family when railroad labor became to strenuous–help us appreciate just what Rodgers stood to gain from recording with Peer. As the author explains, Rodgers had promised to audition with a band, the Jimmie Rodgers Entertainers, but the band's members didn't like the name and decided to record on their own (as the Tenneva Ramblers). The notes are valuable in that they share a number of telling Rodgers anecdotes and reprint rare photos, posters, and other documents. However, Porterfield views Rodgers (and the Bristol Sessions) through rose-colored lenses, and his remarks perpetuate the kinds of myths that Wolfe, Neal, and Tabler all strive to debunk.
8. Tabler, Dave. "1927 Bristol Sessions—Not the 'Big Bang' of Country Music?" Appalachian History, N.p. 19-20 May 2010. Web. 11 June 2014.
Tabler has run the blog Appalachian History since 2006, and in that time he has written thousands of blog posts and recorded hundreds of podcasts recounting the history of the region he knows and loves so well. In this two-part post, he dispenses with the notion that Ralph Peer's 1927 sessions were a "Big Bang" and gives a quick run-down of the many hillbilly records that had been made before Peer even set foot in Bristol. What is, in fact, the first country music record? It is hard to decide. For one thing, words like "country" and "hillbilly" were not yet used to describe white folk music, and the production companies seemed confused about how to find and promote this kind of music. For another, performers like Eck Robertson and Fiddlin' Joe Carson had come to New York as early as 1922 to make recordings of traditional music, and Vernon Dalhart, a vaudeville singer, had sold millions of records singing with an affected backwoods twang. While it is hard to debate the influence of Peer's Bristol recordings, Tabler concludes, it is important to remember that "he and Victor [records] were far from being the only show in town."

9. Wolfe, Charles K. "The Legend that Peer Built: Reappraising the Bristol Sessions." The Bristol Sessions: Writings about the Big Bang of Country Music. Ed. Charles K. Wolfe and Ted Olson. Jefferson, N.C.: McFarland, 2005. 17-39. Print.
In "reappraising" the Bristol Sessions, Wolfe's point is not that Peer's recordings were unimportant but that they are too often romanticized. According to the legends that Peer himself helped popularize, the performers he recorded in Bristol were poor country folk who had never been to town before. However, most of these performers were in fact professionals whose auditions Peer had scheduled before he even arrived: Jimmie Rodgers, for example, had already become something of a local radio celebrity, and the Carters probably did not arrive shoeless for their audition. Wolfe argues that Peer went to Bristol for primarily self-serving business purposes, and the sessions were "a calculated exercise in recording and marketing an emerging commercial artform within a bustling Southern city" (29). Ultimately, he was more interested in recording songs that he thought would sell in the developing market for hillbilly music, and when he liked an act he had them sign contracts naming him their manager and granting him copyright royalties for the songs they played. Citing first-hand accounts and contemporary news sources, Wolfe's essay debunks some of the myths associated with the Bristol Sessions and helps put this important–but perhaps not all-important–event in its appropriate context.
---
Guiding Questions
Who was Ralph Peer? How have stories about the Bristol Sessions tended to romanticize him, and how have recent historians refined our sense of his intentions in Bristol?
Throughout its history country music has striven for "authenticity." How have Peer, the artists he recorded, and later historians tried to prove the songs performed in the Bristol Sessions are authentically country? How has their authenticity been challenged?
Even people who recognize that artists like Vernon Dalhart had been recording hillbilly songs since the early 1920s refer to the Bristol Sessions as the "Big Bang" of country music. Why is the "Big Bang" label so sticky? What about the Bristol Sessions makes them so attractive a point of origin for stories about the country music industry?