Written by Reid Thompson, Jordanne Mickle, and Keaton Schlueter. 25 February 2015.
The 1960's and 1970's were dominated by political unrest and a rising carefree attitude among the youth of America. This era experienced more political, social, and musical revolutions than almost any other point in history. Rock and Roll dominated this reckless generation, but it did not appeal to the older, more conservative middle class. This is the audience with which the Classic Country sub-genre was born and thrived in. As artists like Conway Twitty, Loretta Lynn, and George Jones came on the country music scene, they blended the stylistic songwriting decisions of the Bakersfield Sound of the 1950's with the smoother pop sound of the Nashville Sound of the same era to create a sub-genre that became the dominant and representative sound of adult country listeners in the 1960's: Classic Country.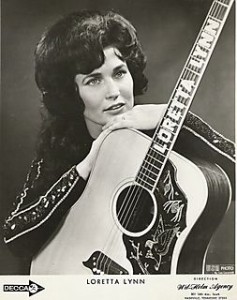 Originating in Nashville, Tennessee, the Classic Country sub-genre helped to put Nashville on the national map and develop it into the "Country Music Capital of the World" that it is today. Classic Country was not revolutionary for just its new sound, but also for what it did for the social and physical structure of the music industry as a whole. Before the 1960's, female stars were very rare and almost never appeared in the same era. Women like Patsy Montana and Patsy Cline had success in their respective decades, but the industry was dominated by men. For the first time, artists like Loretta Lynn and Tammy Wynette were not only performing in the same genre at the same time, but they were also major stars and popular celebrities. Classic Country helped redefine the place of women in the industry.
Classic Country also introduced popular duets to the world. While harmonies existed within the Gospel Music genre for decades, two equally successful stars had ever really dominated the same stage at the same time. Duets teams like Lynn and Twitty and Jones and Wynette took their audiences by storm and introduced a new style of music that lives on to this day. Duet teams gave the country yet another way to look at and listen to country music.
As mentioned before, the Classic Country sub-genre stole aspects from previous country sub-genres and incorporated them into a new style. In the same fashion, Classic Country, and its most well-known stars, did the same for the country music genre continuing forward. While the music in the following years from the Countrypolitan era tended to take on more of a pop and urbanized feel, country music remained in Nashville where Classic Country had left it to stay. Later sub-genres of country music, such as Neotraditionalism, have viewed the Classic Country movement in a very good light and incorporated aspects of it's sound.
---
Key Figures
George Jones (1931-2013) began recording country music in the 1950s and was regarded by many country artists as "the greatest living country singer" as early as the 1960s. Jones recorded many songs about heartache and drinking, which fit in with his troubled lifestyle. His ability to sing both of these songs also gave him fans both young and old. The carefree youth loved Jones' carefree attitude, and his sound appealed to the older generation of country listeners as well. Jones' clear, strong voice and his ability to convey so many emotions with his songs won over thousands of fans, both young and old, as well as the envy of his peers. As fellow country star Waylon Jennings once said, "If we could sound the way we wanted, we'd all sound like George Jones.
Conway Twitty (1933-1993) was originally a 1950s Rock and Roll singer, but made the transition to country in the 1960s. Twitty quickly became a reigning country superstar this classic country era, racking up a record 40 number one hits over the course of two decades. With his deep, resonant down-home voice, Twitty was one of the smoothest balladeers to work in this era, but he was also one of the most adventurous. He was mainly responsible for selling country music as "adult" music, slipping sexually suggestive lyrics into his music. His songs were also very sensitive and sensual, which is part of the reason why he achieved such a large success. Once Twitty reached the top of the country charts in the late '60s, he stayed there for years on end, releasing a consistent stream of Top Ten hits that both defined and expanded the limitations country music by adding subtle R&B, pop, and Rock and Roll influences.
Loretta Lynn (1932-present) is one of the most influential female country stars to come out of the classic country era. Lynn moved to Washington State with her husband in 1949. With encouragement from her husband, Lynn began to pursue her interest in music and recorded her first song with Zero Records in 1959. She soon moved with her family to Nashville and began recording her own material, in which she told stories about all sorts of relationships. The singer had a talent for capturing the everyday struggles of wives and mothers in her songs, while injecting them with her own brand of humor. Lynn quickly became one of the biggest female stars in an era of country music dominated by male singers. Lynn used social change and the women's rights movement as inspiration for her songwriting and making sure women's perceptions of different topics were being voiced.
Tammy Wynette (1942-1998) was another female star from the classic country era. She was a divorced mother of three when she moved to Nashville and got her first big break in 1967, signing with Epic Records. During the late 1960s and early 1970s, she dominated the country charts, scoring 17 number one hits. Along with Loretta Lynn, she defined the role of female country vocalists in the 1970s. In addition to a prosperous solo career, Wynette was noted for her collaborations with other country artists. Her most notable partner was fellow country singer George Jones, whom she married in 1968. Also in 1968, Wynette released the most famous recording of her career, "Stand By Your Man", which peaked at No.1 on the country charts, while reaching No. 19 on the pop charts. The blockbuster song sold over 2 million copies and became the bestselling single by a woman in the history of country music.
---
Recommended Listening
---
Annotated Bibliography
Cackett, Alan. "George Jones Obituary." Editorial. Maverick July 2013: 50-52. Web.As you can probably guess, this is an obituary for country legend George Jones. This article details the life and music of the great country star as well as his impact on country music. The author states at the very beginning of the article that George Jones was "undoubtedly the finest country singer of all time", and there are probably a lot of people that would agree with him. Jones kept his fans happy and continued singing until he passed away. This article details his early years growing up, his starting out as a musician, as well as his personal life. The author shares many quotes from George Jones himself, and really does an excellent job detailing the most important aspects of his life, music, and how he influenced Classic Country as a sub-genre as well as country music as a whole. I think that readers who are interested in learning about one of the most influential country artists, not just in the classic country era, but also of all time, would enjoy this article. Because of George Jones's acknowledgement as the "greatest country singer", it can be said that classic country not only allows an artist to shine as a vocalist having a natural sound but also as a songwriter with meaningful lyrics much like with the Bakersfield Sound.
Kingsbury, Paul, and Alanna Nash. "When Two Worlds Collide." Will the Circle Be Unbroken: Country Music in America. London: DK, 2006. 242-69. Print.Will the Circle Be Unbroken is a book detailing the history of country music in America. The chapter "When Two Worlds Collide" focuses on the 1960s and '70s, which is the era where "classic" country finally hit it's stride. As the author states, this era "constituted an immensely creative period for country music that cemented its place in America's mainstream." This particular chapter also has many "Profiles in Country" sections on almost every page. These detail the lives of some of the most famous artists to come out of this era including Conway Twitty, Loretta Lynn, Merle Haggard and Tammy Wynette. This chapter also details the things that were happening in the world that helped to change the face of country music, from the Beatles to the Civil Rights Movement to Vietnam. It was these changes in society and culture of the time that allowed country music to appeal lyrically and aesthetically to more people from a perspective that had not been popular, that of the poor whites. People were appreciating country music in a new light.
Lynn, Loretta, and George Vecsey. "An Honest- To- Goodness Record." Loretta Lynn: Coal Miner's Daughter. New York, NY: Vintage, 2010. 345-58. Print.In this autobiography, Loretta Lynn looks back on the memories of her journey to Nashville. Originally when Loretta moved her young family to Washington State for her husband's job, she didn't have a job herself. Doolittle, her husband, suggested that she start singing around for some extra income. She started off singing about things she observed, for instance "a girl [she] used to see in Bill's Tavern drinking beer and crying". She would go to the corner store to buy magazines with the lyrics to the latest hit songs to study songwriting. With the small contract she had at the time, she had enough money to take "Honky Tonk Girl" to Los Angeles. After that, the song climbed to number 14 on the charts and soon after Loretta and Doo were traveling to Nashville in their car with only casual clothes and one nice dress. On their way they stopped only to promote the record. One disk jockey she ran into along the way was soon-to-be star Waylon Jennings. Although it was expected to take years to make it to the Grand Ole Opry, Loretta Lynn's determination and talent got her there in a year. Her biography highlights the challenges of her life and her path to stardom as a non-Nashville Sound artists and as a woman; this was a common tale of the time.
McDonnell, Brandy. "Ronnie Dunn, Roger Miller and Sonny Curtis to Be Inducted into Texas Heritage Songwriters' Hall of Fame." NewsOK.com. N.p., 28 Jan. 2013. Web. 25 Feb. 2015.McDonnell gives a brief biography of Roger Miller. She talks about how Miller would compose songs on his way to and from school and as a way to stay busy in a small town. In the Special Service, he played the fiddle in the Circle A Wranglers. After his discharge, Miller worked a few small jobs and worked his way from being a fiddle player in Minnie Pearl's band, to songwriting with George Jones, and finally to being a solo artists with a recording deal with RCA records. Deservingly so, Miller was inducted into the Country Music Hall of Fame in 1995. There's no doubt that as a songwriter, Miller pulled from the strong songwriting styles of Bakersfield Sound. In 2013, Roger Miller was inducted in the Texas Heritage Songwriters' Hall of Fame alongside Ronnie Dunn and Sonny Curtis. Toby Keith said of Roger Miller, "If you want to hear cleverness, you want to hear wit, and you want to hear charm-you want to hear a 'Class A' songwriter, it's Roger Miller." Also Keith pointed out that many of the "greats would follow him around just for inspiration." Roger Miller has had a strong impact on fellow country music songwriters trying to stick to the roots.
Peterson, Richard A. "The Production of Cultural Change: The Case of Contemporary Country Music." JSTOR. N.p., n.d. Web. 25 Feb. 2015.Peterson focuses on the battle of "classic" country against the Nashville sound, country rock, and country pop sounds. Peterson describes this "pre-1974" sound as nasally with a "folksy presentation". In 1974, Grease star and Aussie-born Olivia Newton John won Country Music Female Artist of the year. This caused outrage as people, in particular "traditional country artists", disagreed that John's sound was not country but merely pop with country bits and pieces thrown in. Many artists of the time added some country sound to expand their audience. However this made it harder for classic country artists to make it big on the radio. Radio deejays wanted a more polished, smooth sound like that of the Nashville Sound. Outrage of John winning Country Music Female Artist of the year also caused 50 of the biggest country music entertainers to join together at Tammy Wynette and George Jones's home to form the Academy of Country Entertainers merely two weeks after the awards show. ACE was formed to give a definition to what country music is structurally and to give it a definition that would "exclude cultural carpetbaggers" such as Olivia Newton-John and John Denver.
Shipka, Danny. "Loretta Lynn: Writin' Life." Online Journal of Rural Research & Policy 5.4 (2010): n. pag. Academic Search Complete. Web. 16 Feb. 2015.Shipka asserts that Loretta Lynn, in a way, had control over her own perceived persona. Lynn used the background of the social change in the women's movement, a much more sexual society for women than in previous years, as inspiration for songwriting and making sure women's perceptions of different topics were being voiced. This movement was preceded by a conservative era and huge male domination of country/western music and the retaliation of Kitty Wells. It was Wells to which Lynn listened and gained inspiration to be criticize and retaliate against male artists and songs. Along with writing songs on controversial subjects of the time, for example "The Pill", Lynn also tells her life story through her songs. Songs such as "Coal Miner's Daughter" and "They Don't Make 'Em Like My Daddy" tell of not only Lynn's love for her father, but also the emotions tagged along with what it means to be of a poor rural family in her youth. As female artists became more liberated, Lynn found herself actually singing about using force, "You Ain't Women Enough", instead of guilt to get her point across. She then used the song as an open door to focus on the social nuances between men and women. Even though Lynn never believed she was a feminist, Shipka asserts that Loretta Lynn was seen as a "feminist writer in a conservative genre, she has given women not only a voice but also, a perspective." The kairos of classic country in the Civil Rights movement allowed Lynn to be more liberal as a (non self-proclaimed) feminist in a generally conservative music genre.
Twitty, Conway. The Rock 'N' Roll Years. Original MGM Recordings. 1997. CD. Print book inside: Conway Twitty: The Rock 'N' Roll Years by Colin Escott.While this CD set of eight discs contains mainly songs from Conway Twitty's rock and roll stage, before his transition to classic country, a book contained inside the box written by Colin Escott provides valuable insight about the life and legacy of Conway Twitty. Twitty's career was one almost incomparable to anyone else in music history. Escott, a country music historian, points out that, "there were five decades in which a Conway Twitty record was somewhere in the charts" (2). The way he dominated the music industry for half of a century in three different genres (rock, country, and pop) makes Twitty one of the greatest musicians of all time. Escott suggests that Twitty's success came from more than music though; it also came from his ability to connect with his audience. Knowing what the people wanted allowed Twitty to become, and more importantly maintain, his spot at the top of the charts. "When rock 'n' roll changed in the mid-1960s, he realized that neither he nor his fans were listening to it anymore, so he switched to country music. Country spoke to him and his audience in a way that rock didn't" (2). Conway Twitty's ability and experience in rock music was beneficial to experimenting to create a newer country sound that returned to country's roots rather than fitting in with the Nashville Sound. Twitty's music was clearly a fan favorite, but his success particularly in classic country was driven by his keen ability to read the desires of his audience.
Wolfe, Charles K. "Conway Twitty: The Man and His Image." Country Music Annual 2002. Lexington, KY: U of Kentucky, 2002. Print.The Country Music Annual 2002 by Charles Wolfe is an opportunity for country music fans to broaden their knowledge about artists or songs they may not have known as much about. In the first chapter of the book, Wolfe gives an in-depth look into the life, career, and successes of Conway Twitty. Instead of analyzing the actual music itself, Wolfe offers a more behind the scenes look into the history of the artists as well as the key factors that made them successful. For Conway Twitty specifically, Wolfe discusses the decision to transfer to the country music genre. A risky choice, with worry from Conway as well as his supporters, the choice to sing country music was ultimately one that Twitty had to make on his own, according to his gut. According to Wolfe, "Conway made this move, as he would others in the future, because he wanted to sing country and he believed that he would be successful at it" (7). As he proved so many times, Twitty made his decisions in life, no matter how life-changing they were, according to what he believed would be best for him and ultimately his fans.
---
Guiding Questions
What two previous sub-genres of country music had the biggest influences on Classic Country? How (and with what aspects of these sub-genres) were they able to blend into the new sound of Classic Country?
The 1960's and 1970's are known for being some of the most transformative years in US history both socially and musically. How (and with what audience) was Classic Country able to connect with people during this turbulent time?
Classic Country is often credited with being incredibly revolutionary in ways aside from its sound. What are two of these influences and how did these factors help transform the music industry into a more diverse place?
Before the 1950's, country music jumped from place to place across the United States. How did the Classic Country movement help country music as a whole finally find a home?