Written by Dena Lipper, Carilu Martinez & Tamar Oren
Although it may seem pretty straightforward, the definition of country rock is something that has been widely debated over the years. Some say that it is rock music that over time developed a country style, while some other historians say that it comes from more of a folk background. John Einarson addresses this confusion in his book Desperados: The Roots of Country Rock. The first chapter, titled "Sing Me Back Home," expands on the idea that country rock was simply formed through experimentation by emphasizing that it cannot really be defined since "what comprises country rock is largely in the ear of the beholder." (Einarson 2)
Because people didn't really know what it was, for many years country rock was just an outlier on the music scene. It was not until the early seventies that the genre really began to take flight with groups such as The Byrds and The Eagles. Chris Hillman from the Byrds and Flying Burrito Brothers credits the start of country rock to Elvis Presley in his original recordings at Sun Records before he went off to the army. Other artists, like Rick Roberts, claim that rockabilly and country rock are basically one in the same, so to really understand one, we need to understand the other. The distinction between genres was even less clear in states like Texas where the popular music was country music, but was just called music because that's all they knew (Einarson 4).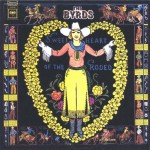 Key artists in the origins of country rock, such as Gram Parsons and Bob Dylan, set the stage outlining what most people think of and expect when they see a reference to the particular sub-genre. Dylan was one of the first rock artists to move toward a more country sound, starting in 1967 with the release of John Wesley Harding and subsequent Nashville Skyline, with Gram Parsons following close behind in '69 with his work with the Byrds on the release of Sweetheart of the Rodeo. Parsons, although his fame was short-lived because of his early death in 1975, is regarded as one of the most pivotal figures in early country rock (Flippo 291). Following in his footsteps, other artists, such as Emmylou Harris, took what he had done and use it in collaboration with other influences to further develop the genre.
Linda Ronstadt formed the Eagles around the time that Parsons was rising to fame, really becoming popular for her ability to connect to audiences in a way that Parsons was never able to do. After Ronstadt's initial climb in the country rock sector, she quickly drifted away from the country sound and continued with more of a pop music style (Ruhlmann 1). Although it took a few generations for country music and rock and roll to come together, this fusion, of two genres that are both very widely loved, has become a huge influence for modern artists that are looking to add an older touch to their newer country rock music.
---
Key Figures
Gram Parsons (1946-1983) is known as one of the most influential artists in the country rock genre. Parsons was an American songwriter, singer and guitarist. While Parsons was recording as a solo artist, he also performed as a member of different bands, such as the International Submarine Band, The Byrds, and The Flying Burrito Brothers. In 1973, he overdosed on morphine and tequila. Past Parsons' death, Parsons' legacy continued to inspire people and grow as country rock musicians built on the music he left behind.
Emmylou Harris (b.1947) was born in Birmingham, Alabama, and is a known American songwriter and singer in the country rock genre. Harris was greatly influenced by Gram Parsons, and learned a great deal from his groundbreaking country rock mixture style, and used it a lot in her career.  After Parsons' death in 1973, she released her major label solo debut album, Pieces of the Sky (1975). Harris had several successful albums that followed. She has gone through several changes throughout her music career, and has released many popular albums and singles. Harris has now won 13 Grammy awards as well as other musical awards.
Linda Ronstadt (b.1946) is an American country rock singer, and was born in Tucson, Arizona. Ronstadt was one of the most popular singers of the 1970s, with Top 40 singles and platinum selling albums. Throughout her career, Ronstadt changed her style from country-folk, to pop, and even adult contemporary and Latin albums. Ronstadt's first two albums – Hand Sown Home Grown (1969) and Silk Purse (1970) – were the highlights of her country roost, featuring a couple of honky tonk songs. Her 1971 album, featuring a group of musicians that later formed the Eagles, was another important contribution to the country-rock genre.
Bob Dylan ( b.1941), pictured above, was born in Duluth, Minnesota, and is an American singer, songwriter, and producer. Dylan is an influential role model to music artists and culture, but has made a significant impact, specifically, on the country rock genre. Dylan was responsible for one of country rock's earliest albums John Wesley Harding in 1967. Following, was a successful country rock album Nashville Skyline in 1969, which today is still an inspiration to country rock artists.
---
Recommended Listening
Sweetheart of the Rodeo: The Byrds are known as one of the most influential country rock bands. Even though they had a rough start at the beginning, their second album Sweetheart of the Rodeo was one of their most well known albums of all time. Within the album, one of the songs that was featured was "I Am A Pilgrim" by Merle Travis. Within the song we can hear that the only instruments being played were the banjo, fiddle, guitar, and upright bass. 

Not only did the The Byrds collaborate with Travis, but they also worked with the Louvin Brothers, Woody Guthrie, and Bob Dylan.

Pieces of the Sky; It wasn't until the launch of Emmylou Harris's second album in 1975, called Pieces of the Sky, that her career really took off.

After being away for some time she collaborated with Gram Parsons and created  'If Could Only Win Your Love", which was a country Billboard hit.

 It was said that the king of rock Elvis Presley also inspired her. It was hard at the beginning for people to get comfortable with her voice because she was being compared to Linda Ronstadt, but eventually the audience was able to adapt to her smooth voice and learned to love her.
"Hotel California"; The famous song "Hotel California" by the Eagles is thought to be one of their most famous songs of all time and was released in 1977. After the song was interpreted by the audience the wrong way and people were saying that it was written about bad addictions, it was later confirmed it was actually inspired by the examinations of the pitfall of living conditions of Southern California. Even though the song does include talk about drugs and even "piles of money," like mentioned previously, it was all based on the poor living conditions.
---
Annotated Bibliography
1. Ankeny, Jason. "Emmylou Harris." AllMusic. All Media Network, LLC, n.d. Web. 22 Sept. 2014.
According to Jason Alkeny in his biography on Emmylou Harris on AllMusic, Harris' first solo album, Pieces of the Sky, is an excellent showcase of the country rock talent that she became so well known for after her work in the early 1970s with the late Gram Parsons. The tracks laid out in this album are prime examples of the sheer, raw talent that Harris had when it came to country rock production. Although the songs were not her originals, the twist that she put on them was unique and not an easy feat to master. In the album, Pieces of the Sky, Harris covers a beautiful Beatles song written by John Lennon and Paul McCartney titled "For No One". The Beatles version of this song has more of a rock style, unlike Harris's version. Harris's version was clearly composed with heavy country undertones demonstrating the coexistence of country and rock in one song. Another prime example of Harris's contribution to country rock is the song "If only I could win your love." This track is not only Harris's shortest song in this album, but it is also the highest ranking hit on the Billboard country music charts, coming in at number four. Harris collaborated with other well-known country artists, still managing to express a rock flare throughout Pieces of the Sky. She is an inspiration for many country rockers, therefore extremely relevant to research on the topic. This will be an invaluable resource as it highlights the uniqueness and talent of Emmylou Harris, and ties together some of the other sources that talk about this album.
2. Einarson, John. "Sing Me Back Home." Desperados: The Roots of Country Rock. New York: Cooper Square, 2000. 1-20. Print.
As a rock-music historian, John Einarson has written more than a dozen published books, has been featured in magazines, and has even contributed to television productions regarding rock-music and all that comes with it. He is also a college professor at the University of Winnipeg, educating students on the history he has studied so in depth. Throughout the first chapter of his book Desperados, Einarson discusses in depth how informal the genre is, and how there really isn't a set definition of what country rock is. The genre began as just a bunch of rock artists experimenting and seeing what sort of country flare they might be able to add. In fact, since it has been seen as just a branch of rock and roll, many artists thought that categorizing the music, as country rock, was "a waste of time" (2). The overlap in genres shown in the chapter explains some of these artists' frustrations with the categorization of country rock, and even country music in general. This article is very extensive and contains information that is valuable in researching the genre. The fact that this chapter contains opinions from different artists who were vital in the foundations of country rock is very relevant and provides interesting perspectives on the roots of country rock music.
3. Flippo, Chet, and Geoffrey Himes. "Are You Sure Hank Done It This Way?" Will The Circle Be Unbroken. Ed. Paul Kingsbury and Alanna Nash. New York: DK, 2006. 271-295. Print
This chapter, written by Chet Flippo, titled "Are You Sure Hank Done It This Way?," discusses the changes and transformations of country-rock. Throughout  "West Coast Country Rockers" the authors explain how different artists changed country rock and how those artists have changed throughout time. This source relates to the other sources because it provides detailed information and background sources of country-rock singers and bands that had taken a part of creating and influencing country-rock, similar to our other sources. This source in particular provides information on several artists, such as Gram Parsons, Emmylou Harris, Linda Ronstadt, and the Eagles. Parsons was known for his great contributions to the genre, Ronstadt and the Eagles were famous for actually being able to connect with the audience in a way that Parsons and other artists were not able to accomplish before. Not only do the authors give detailed information about each one of these artists, but the authors also relate these artists to one another, and explain how they built off of each other to further the genre. According to the authors Parsons discovered Emmylou Harris and the duo began performing together, bringing Harris to the spotlight for the first time. After Parsons' death, Harris ended up in Los Angeles, recording her album Pieces of the Sky, which, according to Chet Flippo, "became a benchmark for Country-rock" (292). Gram Parsons' influence on Harris is just one of the many ways that the chapter explains how the how different artists affected country-rock, and how country-rock has changed them.
4. Fricke, David. The Byrds X2 Mr. Tambourine Man; Sweetheart of the Rodeo. Columbia Records, 1968. CD.
Released in 1968 by Columbia Records, Sweetheart of the Rodeo was the sixth album by American rock band The Byrds. After being released, the album reached number 77 on the Billboard Top LPs chart, and received mostly positive reviews in the music press. Despite being the most commercially unsuccessful Byrds' album to date upon its initial release, Sweetheart of the Rodeo is today considered to be an influential and highly significant country-rock album. This album, recorded with country-rock pioneer, Gram Parsons, was influential as the first major country-rock album by an established act and represented a move away from the psychedelic rock. Parsons had joined The Byrds before the release of the album; however, it is clear that this album is responsible for bringing Gram Parsons to the attention of the media and the mainstream rock audience for the first time. The album can be seen as an important chapter in Parsons' personal and musical movement, allowing young audiences to truly connect and learn to love country rock. This source gives us a sense of what real country rock sounds like, and allows us to better see into the Byrds' ability to cultivate different genres into one, and to better see the influence that Parsons had on the band in the short time that he was a member.
5. Hunter, James. "Country Rock (music)." Encyclopedia Britannica Online. Encyclopedia Britannica, 15 Jan. 2014. Web. 17 Sept. 2014.
As put by the Encyclopedia Britannica, Country Rock is "the incorporation of musical elements and songwriting idioms from traditional country music into late 1960s and '70s rock" (1). The author, James Hunter, argues that the genre peaked commercially with the hits released by the Eagles and Linda Ronstadt. The genre itself stemmed from the belief that many well known rock artists had originally experimented with folk and bluegrass music, which subsequently led to a country flare in their rock music. The author's views on the roots of country rock are generally in agreement with the other sources found: however, the thoughts on the peak of the genre are not, since there are many different opinions on who was really responsible for the climax of the country rock era. While this source does contain objective information, the author is a freelance writer and not necessarily an avid researcher on the topic. Other sources are more reliable in finding information on the genre because the authors are better versed in country rock studies.
6. Kealing, Bob. Calling Me Home: Gram Parsons and the Roots of Country Rock. Gainesville: U of Florida, 2012. Print.
Gram Parsons was an American songwriter and singer who greatly impacted the history of country music. At only 18 years old, he was able to evolve and take music to a different level by concentrating on his growing interest in country music. Parsons was able to create what he called "cosmic American music," a fusion of country, rock, and soul. Gram Parsons changed the music industry in particular by following his country music interest despite his family's wealthy background, by recording albums with The Byrds, The Flying Burrito Brothers, and debuting a solo act, and by his unexpected and sudden death. Kealing even goes as far as comparing Parsons to the king of rock, Elvis Presley: "not only did Gram look like Elvis, now he could begin to play the instrument that so many young boys his age thought transported them to instant cool and helped get them more attention from girls" (22). Not only are they comparable through their music and look, but their personal lives are not so different either. Both Elvis and Parsons died from extensive drug use. The author points out that through Parsons' music he is able to play the rock and roll genre with his country boy spark. This source can be used to better understand Gram's upbringing and its influence on his production of country rock.
7. Kingsbury, Paul. "The Eagles." The Encyclopedia of Country Music the Ultimate Guide to the Music. New York: Oxford UP, 1998. 159. Print.
The Encyclopedia of Country Music, written jointly by the staff of the Country Music Hall of Fame and Museum, contains information on an extensive list of topics related to country music. One chapter, on The Eagles, highlights the idea that the Eagles became "one of the most popular rock acts of all time and the most successful country-rock act ever" (159). Under the lead of the well-known Linda Ronstadt, the Eagles soared to the top of the country rock radar with their unique ability to seamlessly incorporate country themes and sounds into their rock music.  They also had an impeccable record of being able to connect with audiences in ways that many other artists were not able to do. While the section on the Eagles is not very long itself, there are other sections that, if combined with this one, would shed a good deal of light on the country rock genre. The editor of the book, Paul Kingsbury, who is also one of the editors of Will the Circle Be Unbroken, is a very reliable source as he has been regarded as one of the country's leading experts on country music by multiple sources. All of the other contributors to the encyclopedia are also good sources, as they research country music for their living and therefore have extensive experience doing so.
8. Ruhlmann, William. "Eagles." AllMusic. All Media Network, LLC, n.d. Web. 15 Sept. 2014.
AllMusic provides wide-ranging information including reviews and biographies on different artists and bands. This source is a bibliography that provides detailed history of the band, including information about each one of its members, general information about the music the band created, how they were brought together and formed a band, and what the achievements and influences they made as a band were. Ruhlmann emphasizes that the Eagles were in the midst of the most thriving recording artists of the 1970s, by stating that  "the Eagles achieved a perennial appeal among generations of music fans who continued to buy their records many years after they had split up, which helped inspire the Eagle's reunion in the 1990's" (1). This source relates to the other sources because this bibliography and all of our other sources describe and give information about bands in the country rock genre. Although this is not a very long source, the conciseness of the article will be very useful in compiling information in tandem with the other sources found.
---
Guiding Questions 
How did Country Rock begin? Did it slowly develop over time as some historians suggest, or was it basically nonexistent until figures such as Bob Dylan and Gram Parsons came to perform it?
What defines an artist or song as Country Rock? Artists that are considered Country Rock like Bob Dylan, Gram Parsons and the Eagles are very different from one another, whether it is by sound, performance or even looks. What is it about these artists that identifies them as country rock singers?
How has country music evolved with the integration of rock elements over time?
How is country rock perceived in this day and age? Who is its primary audience?