Written By: Holly Kern, MaKayla Markey & Zane Gurwitz. 22 September 2014.
Country music was beginning to fall out of popularity in America in the 1980s, but the emergence of Neo-Traditionalism changed all that. Neo-traditionalism can also be referred to as New Traditionalism, Neo-classicism or New Classical Country. This era began with changes in Nashville and Music Row. Music Row can be recognized as the capital of country music with hundreds of recording labels and studios, publishing houses, licensing firms and video production houses. During this era the primary executives of Music Row consisted of veteran musicians and producers such as Jimmy Bowen, Tony Brown, Jim Ed Norman, and Tim DuBois. The accountants and marketers who graduated into the president's chair were just as important. These career executives consisted of Joe Galante, Rick Blackburn, Brice Hinton and Roy Wunsch. This new board of executives consisted of wide ranging backgrounds and attitudes that believed they could lead country music in a whole new direction.
This new style of music consisted of young artists that wrote their own material and had unique voices that sounded like nothing heard before. This new direction of country music was headed to a more contemporary style while also holding onto its origins. The most vital part to the 1980s was the introduction of young hip artists. The '80s differed from the '60s and '70s in the sense that it wasn't as conservative and carefully produced as the years prior.
There was an incident in 1985 that stirred up Music Row. This was when the NY Times published the article "Nashville Sound: Blues for Country Music" by Robert Palmer. In his article, Palmer argues that country music was dying and had failed to attract younger listeners and started losing older listeners who had stopped buying albums. He claims that older country artists were beginning to fade away. Although Palmer had been correct about older stars dying out, it was the new energetic, attractive, young performers that had turned country music around. Being wrong in most aspects this article served as a rallying cry for Music Row. Palmer had failed to mention that country music sales were currently rising with the emergence of new artists and that the old style had been replaced by a new contemporary sound. Palmer had also failed to recognize the country's first million-selling country-rock band, Alabama, and Reba McEntire's first platinum album My Kind of Country. Out of these series of events the Nashville Network, or TNN, had emerged. This cable channel was completely devoted to country music and its videos. This helped bring a younger audience into country music. For the first time in years, the press had been very interested in country music and helped bring it back to the thriving era we now know as Neo-Traditionalism.
---
Key Figures
George Strait (1952-present) was one of, if not the most influential person in the era of Neotraditional country music and contemporary country today. He grew up around country and his inspirations growing up were Hank Williams, George Jones and Merle Haggard, and they influenced his modern sound on western swing and honky-tonk. The Texas native's success in country music has been highly awarded over his 4 generations in the industry. He has been dubbed the "King of Country".
Alabama member's included Randy Owen (1949-present), Teddy Gentry (1952-present), Jeff Cook (1949-present) and Mark Herndon (1955-present). They were the first million-selling country rock band. Alabama showed listeners what it took to be a successful country band during this era. They also gave listeners the idea that sticking to your roots and how you were raised is very important.
Reba McEntire (1955-present) demonstrated persistence and hard work for a decade before she broke out as one of the first prominent female country stars. In McEntire's music she portrayed the average American woman's life. By doing this Reba succeeded in reaching woman record buyers like nobody else had ever done before.
---
Recommended Listening
For an introduction to Reba McEntire, start with MCA's My Kind of Country (1984). This is the eighth album for Reba McEntire, but second with MCA. This album was a very pivotal point for Reba, which propelled her to the forefront of the New Traditionalists alongside artists such as Ricky Skaggs, George Strait, and Randy Travis. This album features both new material and covers of songs originally recorded by Ray Price, Carl Smith, Connie Smith, and Faron Young.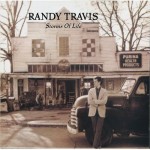 Randy Travis' Storms of Life was his first and best album, which was released on June 6, 1986 by Warner Bros. Records Nashville. Many of the songs like "On the Other Hand", "1982", "Diggin' up Bones", and "No Place Like Home" reached top spots on the Hot Country Songs charts when it first released and also when it re-released.
For a popular compilation of hits released by the American country music band Alabama listen to Greatest Hits. The album was released on RCA Nashville in 1986, and has since been certified platinum for sales of 5 million units by the Recording Industry Association of America. Eight out of the ten songs on the album reached No. 1 on the Billboard Hot Country Singles chart between 1980 and 1985.
A timeless album that we would recommend would be George Strait's "Does Fort Worth Ever Cross Your Mind". Its fiddle and steel high notes arcing over swinging, locked rhythms, are the perfect definition of 1980s neo-traditionalism, Nashville-style. It is his fourth studio album, released on September 26, 1984 by MCA Records. It is certified platinum by the RIAA for sales of one million copies in the U.S.
For a well put together compilation of songs by George Strait check out MCA's "Greatest Hits" which dropped in 1986. This was the first compilation of his songs released by MCA records.  It includes all ten singles from Strait's first three albums. It reached #4 on the Billboard Top Country Albums Chart and is certified 4×Multi-Platinum by the RIAA.
Ricky Skaggs is best known for bluegrass music, but because of his move away from the country-pop crossover he fits right into the "traditionalist" stereotype. Skaggs put his own stamp on the country format by infusing his bluegrass and traditional country music roots into the contemporary Nashville sound. This can be experienced by listening to his album, "Skaggs & Rice" by American guitarist Tony Rice and multi-instrumentalist Skaggs, released in 1980.
---
Annotated Bibliography
1. Akenson, James E. "EOA Links." Encyclopedia of Alabama: Alabama (Music Group). N.p., n.d. Web. 17 Sept. 2014.
James E. Akenson describes much of the background history and influence on the neo-traditionalism band Alabama in his article "Alabama (Music Group)".  Akenson begins the article by claiming, "the Fort Payne-based country music band Alabama was one of the most successful musical acts in the United States" (1).  The band started with three cousins, Randy Owen, Jeff Cook, and Teddy gentry. Later they added Mark Herndon, drummer, giving the band a "rock and roll beat" (1). From here their success began to boom. In 1980, they were named New Vocal Group of the Year by Cashbox magazine. Throughout their career, Alabama accumulated 42 singles hit number on country music charts, sold more than 73 million albums, and were presented with 150 industry awards. Alabama was revolutionary at this time by forming a band while most country stars were solo performers. The contemporary band Rascal Flatts credited Alabama for showing them what it took to be a successful country music band.
2. Cackett, Alan. "Reba McEntire." Maverick 108 (2011): 49-53. Academic Search Complete. Web. 16 Sept. 2014.
The new traditionalist era owned many revolutionary artists, but as far as the female artists in country music during the 80s, Reba McEntire was by far the most exceptional. In the magazine article "Reba McEntire" by Alan Cackett of Maverick Magazine, Cackett describes her as, "One of the most distinctive vocalists in the modern history of contemporary music"(Cackett 49). Red Steagall discovered her, while singing the national anthem at a rodeo he was at, and invited her to Nashville where she eventually signed with Mercury Records. She changed from Mercury to MCA in 1983. MCA gave her more control over her album where she brought forth a lot of new stuff to the table as well as covers of old classics. This is where she really got back to traditional country. Her success was not instant. It took Reba a decade for her to "really break out big" (Cackett 50). She is among the most recent group of inductees to be taken into the Country Music Hall of Fame. Reba set new standards in Country music. What shaped her new traditionalist identity was her transformation from country pop to a more "twangy" traditional style. Reba was a very unique and gifted vocalist. Cackett said that this is because, "Reba succeeded in reaching the women record buyers like no other female country singer" (Cackett 49). She really captures neo- traditionalism through her traditional and relatable songs. Cackett says that, "Reba's music poignantly captures the routine details and crushing disappointments of American women's lives, where a red-carpet moment is the result of a Kool-Aid spill, not a star-studded movie
premiere" (Cackett 51). This really hits home for American mothers and helped Reba's fan base as she furthered her career. When fans can truly relate to such a high profile entertainer it is truly a gift. Reba was a very iconic female Country music artist and will forever be noteworthy in the new traditionalist sub genre of Country music.
3. "Country: New Traditionalist, Contemporary." All Music. Web. 15 September 2014. <http://www.allmusic.com/style/new-traditionalist-ma0000011949>
Neo-traditionalist or new traditionalist artists are derived from an era in the 80s where young country singers went against the grain of the current 80s country music. They moved away from pop country and reimagined the classic and traditional country with some, "Contemporary production touches to make it more commercially viable". But even with these touches their music was hardcore country compared to the other subgenres of country during the 80s. Not only were the music different, but the style of performance as well. These artists moved away from flashy costumes and bell-bottoms that the label wanted them to wear, and stuck with jeans, boots, a belt buckle and cowboy hat. This was a very strong movement that held well into the mid 90s dominating the country charts in one form or another. The first wave of new traditionalists like George Strait, Randy Travis, and many others made the subgenre a bit more influenced by rock. But all in all it still changed the course of Country music history by getting back to the traditional roots of Country music.
4. Cusic, Don. "George Strait." The Cowboy in Country Music: An Historical Survey with Artist Profiles. Jefferson, NC: McFarland, 2011. 217-23. Print.
This is a great source due to its depth and background on many specific and successful George Strait songs that we will need to use in our suggested listening area for the project. This book goes into great detail about Strait's upbringing, how he got involved in music and all of his successes. It's a small chapter among many chapters in this book, so I believe since George Strait has his own 5 page chapter in this book that we should have a great deal of focus on him and what he brought to the new traditionalist movement in country music. This article is also essential because part of it's content is directly from the vice president of promotion for MCA records, Erv Woosley. When Ron Chauncey vice president of A&R, first heard Strait sing he said "liked Strait's voice and looks but didn't believe the western swing he performed was commercial for country radio." (Cusic 220) Boy would was he wrong.
5. Dickinson, Chrissie. "George Strait." Country Music Hall of Fame. Oxford University Press, 2006. Web. 16 Sept. 2014.
This article was written when George Strait was inducted into the Country Hall of Fame, so it is a very unbiased, informational article about Strait's life and career as a musician. The best part of the article was Dickinson describes Strait's voice and how he grew into his voices after listening to his idols Hank Williams, George Jones and Merle Haggard. These people are where he gets his western swing and honky-tonk sound. Not only does she talk about his new traditionalist sound, but she also talks about the legacy Strait built by saying, "his adorned Texas rancher's clothes- cowboy hat, western shirt and blue jeans- have been copied by the legions of young "hat acts"." (Dickinson 1) Along with his legacy, she describes Strait's rise to fame and then goes into detail about the many award he has received over the years.
6. Kingsbury, Paul, and Alanna Nash. "Tell Me 'Bout The Good Old Days." Will the Circle Be Unbroken: Country Music in America. London: DK, 2006. N. pag. Print.
In the book Will the Circle Be Unbroken the chapter "Tell Me 'Bout The Good Old Days" is predominantly about neo traditionalism and the big country artists of this time. The author of this chapter, Michael McCall, talks about the start of neo-traditionalism and its saviors George Strait and Ricky Skaggs. The author then talks about an article written by music critic Robert Palmer that got country music back on it high path. He insisted that "Country music was dying," and that "sales had fallen hard in recent years" (305). This sparked country music to get back on its feet. The author then discusses the impact of the band Alabama and all of their success. After this the author continues to write about all of the neo-traditionalism singers and their impact on country music. People like George Strait, Ricky Skaggs, Alabama, Reba McEntire and many more that shaped country music during the neo-traditionalist era.
7. Rhumble, John W. "Alabama." Country Music Hall of Fame. N.p., n.d. Web. 17 Sept. 2014.
In the article "Alabama" by John W. Rhumble, he discusses many achievements of the country band Alabama. He gives some background of the group, especially since the band is made up of cousins. As described by Rhumble "Few bands have influenced country music's commercial fortunes as much as Alabama" (1). Alabama was a neo traditionalist group that brought back the idea of a "band" to country music meaning there is no lead singer but rather everyone is involved equally. Alabama became popular with their two songs "I Wanna Come Over" and "My Home's in Alabama," these two songs landed them their first recording contract to RCA in 1980. Alabama's career took off from that point landing eight #1 singles in the next two years. With numerous albums going platinum and multiplatinum, the band won the CMA Entertainer of the Year Award three years in a row, 1982-1984. Concluding their farewell tour in 2003, they were inducted into the country music hall of fame in 2005.
8. Tribe, Ivan M. "Neotraditional Country." Country: A Regional Exploration. Westport, CT: Greenwood, 2006. 14-17. Print.
This is a great source for us, in that he goes into great detail on why the neotraditional movement started and what was going on with country music during this time so that this change emerged. He also goes into great detail about the audience during that time and during the time of this movement and what they thought and how they reacted to everything. He talks about how old traditional country had an old traditional twangy sound and the newer we get the farther away we kind of veer from that but Hank Williams did say "to sing like a hillbilly you had to have lived like a hillbilly… you had to have smelt a lot of mule manure." (Tribe 17) So when this movement started it was the first step towards what we know now of now is kinda of a "country pop" sound but since the audience during this time was starting to urbanize and become less rural, the music had to also change so people would continue to buy records and could relate to it.
---
Questions
What about George Strait made him the "King of Country Music"? Was it his contemporary honky tonk sound, his likeable personality, his willingness to venture into new mediums? In an industry where stars are only celebritized for 1 to maybe 2 decades, how did he manage to create this astounding legacy over a his career span of 33 years?
Like a lot of country artists, Reba McEntire grew up on a farm (in her case, one in Oklahoma). What do you think these rural roots have to do with the Neo-traditionalist subgenre? Do you think that a country artist can be considered Neo-traditionalist without these roots? For example, growing up in the city. If so, in what ways?
Hank Williams Alabama says it best, "If you're gonna play in Texas, you gotta have a fiddle in the band." So based off this lyric and George Strait's response with "Murder on Music Row", what is your opinion about country pop? We hear it today from people like Taylor Swift and Hunter Hayes, do you believe that country should have some sort of tradition instilled in the music? Do we differ these genres, country and pop or can there be a true subgenre of country pop?