Written by Amy Burt, Hannah Parmer & Ramie Payne. 25 September 2014.
The era of rockabilly started in the 1950's when Steve Sholes signed Elvis Presley over to RCA Records. At first, country fans were extremely opposed to this new sound and thought it was going to be the death of country music. Sholes took a huge leap of faith by signing Presley because he didn't quite fit into the typical Nashville "mold" of music artists. However, he knew that a change had to take place in order to attract a younger crowd and keep the country music industry going. The rockabilly subgenre encompasses a blend of mainstream country, rock and roll, pop, and jazz with an emphasis on the single guitar. Although rockabilly did give country music the refurbishing it needed to stay alive, it also paved the way for rock and roll to grow and develop, as it was on the rise to popularity.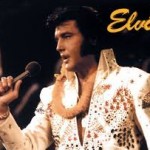 The key shift from slow and traditional country music to a more upbeat and youth focused "rockabilly" type of music did not happen overnight. When rockabilly first came out, music listeners didn't know what to think of its new multi-genre fusion that stemmed from mainstream country. Huge stars like Elvis Presley and Wanda Jackson would get "booed" off stage when they first started performing at places like the Grand Ole' Opry. The extreme aversion that country fans had to rockabilly changed in less than a year when Elvis Presley was credited the "King of Western Bop" and "racked up his fifth Billboard country chart number one in less than a year"(Décharné 15). Presley opened up a new threshold for struggling artists who were trying to sell their catchy and yet genre-confused music. Wanda Jackson, Jerry Lee Lewis, Carl Perkins and Johnny Cash were all artists that alternated between the two genres successfully. Jerry Lee Lewis for example received several Grammy Awards for his Country music, but also made it into the Rock and Roll Hall of Fame. The musical shifts that occurred in this era received a lot of criticism for betraying the traditional country music style. However, record companies hit it big by attracting a younger crowd and selling more records than ever before!
Nashville, Tennessee was once a place of strictly traditional conservative country music, but once rockabilly came around, it became more immersed with pop music than any other city in the South. Many of the artists that recorded in Nashville during the rockabilly era dominated the industry and gave Los Angeles' recording studios a run for their money.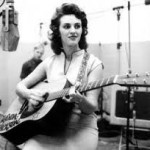 The cultural impact that rockabilly music had on society was immense. Elvis redefined the word "hillbilly" when he was nicknamed the "Hillbilly Cat" of music. Before, hillbilly was a
word used in a derogatory way to describe someone who lives on a farm and is unsophisticated. Since Elvis was so mainstream and popular at the time, people took away the negative association. Rockabilly artists also shaped the entertainment business when they wore elaborate and flashy suits while performing which changed performers' overall look. Overall, rockabilly enabled music listeners to realize that change can be a good thing, and to have an open mind when listening to new music.
---
Key Figures
Elvis Presley (1935-1977) was said to be the reason behind the invention of rockabilly music. In November 1955, Steve Sholes and RCA Company signed Presley. In 1956, Elvis Presley changed everything in the history of country music. His rock and roll style was new and different, but perhaps changed everything for the better. It gave country music a pathway to grow. By changing the way country and pop music developed as a whole, Presley became the first groundbreaking rockabilly star.
Wanda Jackson (1937-) signed with Capitol Records by the time she was 20. In 1955, while on tour together, Elvis Presley told Jackson to try singing rockabilly. In 1959, Jackson released one of her hit songs, "Let's Have a Party." This song hit the top charts on both country and rock and roll, earning her the "Queen of Rockabilly" title. However, because Jackson was one of the first artists to release rockabilly music, her albums had problems selling in the beginning.
Carl Perkins (1932-1998) is said to be one of the founding fathers of rockabilly music. He met with Sam Phillips, founder of Sun Records, and was later signed with the company. In December 1955, he recorded a song that would quickly become the signature song of the rockabilly genre: "Blue Suede Shoes." Although Elvis later took his spotlight with his own cover, it was Lewis' original recording that is held high by rockabilly purists.
Jerry Lee Lewis (1935-) signed with Sun Records in 1956 and quickly became a rockabilly sensation. Within a year of signing, Lewis had sold more records than any other artist in Sun Records history. One of his many hit song's "Whole Lotta Shakin' Goin On," sold many copies instantly and topped the charts of both country and rock. Shortly after, he earned his nickname of "The Killer" of both genres. His energy and enthusiasm on the stage contributed to the style of rockabilly music.
---
Recommended Listening 
To get a feel of Sonny Burgess' style and charisma, listen to Very Best of Sonny Burgess – We Wanna Boogie (1989). Although Burgess is not as well known as other rockabilly stars such as Elvis Presley and Wanda Jackson, his songs had a great influence on singers and performers who would follow him. His songs and albums are so energetic and exhilarating, it's hard not to enjoy them and want to rock out the way Sonny did during his performances. This collection of some of his best songs allows listeners unfamiliar with his work to experience how exciting of an artist Sonny is.
For those who are completely unfamiliar with Rockabilly music, listen to the album Elvis (1956) by Elvis Presley. This is Elvis' second ever recorded album and it became and immediate sensation and continued in the creation of a new sound that would eventually become known as Rockabilly. Including songs such as "Hound Dog" and "Love Me Tender", this album catches the essence of not only Elvis' sound, but of the sound that would create the Rockabilly music we know and love today.
ohttp://www.amazon.com/Elvis-Presley/dp/B001U3HUIG/ref=sr_1_12?s=music&ie=UTF8&qid=1411575811&sr=1-12&keywords=elvis+presley
If anyone wishes to listen to one of the first rockabilly songs, they should listen to "Blue Suede Shoes" by Carl Perkins. As one of the first songs that combined elements of country, blues, and pop music during this time, Blue Suede Shoes set the standard for Rockabilly music that followed it. Perkins first recorded the song in 1955 and remained on the best selling singles list for sixteen weeks. Elvis Presley, Buddy Holly, and Eddie Cochran all recorded their own version of the song. "Blue Suede Shoes" allows listeners unfamiliar with rockabilly an opportunity to get familiarized with the style that successfully meshed rock and country music.
ohttp://www.amazon.com/Blue-Suede-Shoes-Original/dp/B000S3RFEI/ref=sr_1_1?ie=UTF8&qid=1411577655&sr=8-1&keywords=blue+suede+shoes+carl+perkins
Wanda Jackson, recorded some of the greatest Rockabilly songs of all time, earning her the title of "Queen of Rockabilly." Wanda Jackson (1958) is the album that started her successful career and includes many great songs such as "Let's Have a Party" and "Day Dreamin'". For those who wish to listen to a female Rockabilly artist, Wanda Jackson is their woman. She combines all of the elements of Rockabilly with a tough, yet womanly vibe.
ohttp://www.amazon.com/Wanda-Jackson/dp/B00006I0CW/ref=sr_1_2?ie=UTF8&qid=1411599772&sr=8-2&keywords=wanda+jackson+by+wanda+jackson
Johnny Cash with his Hot and Blue Guitar. Johnny Cash (1957) After failing to impress Sun Records with his gospel singing, Johnny Cash recorded this album and luckily for him, it became an instant sensation. Even though this album is listed as country, in reality it is rockabilly because of its combination of country and rock 'n' roll. He was told to create a more commercial sound, or a more rockabilly sound, and that's exactly what he did. This album serves as a good model for listeners because it has some of Johnny's greatest hits such as "Cry! Cry! Cry!" and "I Walk the Line". A fan of any kind of music would enjoy this album because the songs are catchy, meaningful, and unforgettable.
ohttp://www.amazon.com/His-Hot-Blue-Guitar/dp/B002QXLTZE/ref=sr_1_1?ie=UTF8&qid=1411616941&sr=8-1&keywords=johnny+cash+with+his+hot+and+blue+guitar
---
Annotated Bibliography 
1. Burke, Ken. Dan Griffin. The Blue Moon Boys: The Story of Elvis Presley's Band. Chicago: Chicago Review Press, 2006. EBook.
"The beginning, there was Elvis, Scotty, and Bill. And it was good" (Burke, IX). Ken Burke and Dan Griffin's book details life on the road with Elvis Presley's Band, the founders of Rockabilly. Burke and Griffin describe rockabilly as "the first type of music to blend different styles together" (Burke, IX). These styles, country, blues, hillbilly, and jazz combined to make one of the greatest genres of music. The book describes the lives of these men (Scotty Moore, D.J. Fontana, and Bill Black) and allows the reader to get a better insight into their love of music, what life was like touring with Elvis, and their lives after Elvis. The book includes interviews with the band members and their families, allowing readers to receive new and more personal information about these men that is not available to them anywhere else. Photographs fill the book, giving it a fun and interactive aspect. This book is perfect for any music lover because it delves deep into lives and influential music that these men made with the King of Rock.
2. Byworth, Tony. The Billboard Illustrated Encyclopedia of Country Music. New York, N.Y.: Billboard, 2007. Print.
In Tony Byworth's book, The Billboard Illustrated Encyclopedia of Country Music, he takes us through the journey of country music and its background. Byworth has been involved in country music for over 35 years, working mostly as a country music journalist. In his book, the chapters trace country music in chronological order from the 20th century up to today's country, starting with hillbilly and making its way to rockabilly music. He not only informs the readers about country music as a whole, but the subgenres as well. The book has detailed information on the groundbreaking artist who helped develop and expand the genre. Focusing on the rockabilly chapter, Byworth goes into detail over the rockabilly decade. In the rockabilly chapter he includes legends such as Carl Perkins and Jerry Lee Lewis. Byworth examines and explains the history of the rockabilly genre. He claims rockabilly to be an early form on rock and roll, while contributing to rhythm and blues as well. The book displays words and pictures that help tell the story of a great American genre and subgenres of country music.
3. Carlin, Richard. "Rockabilly." The Big Book of Country Music: A Biographical Encyclopedia. New York: Penguin, 1995. 395-396. Print.
Carlin, Richard. "Wanda Jackson." The Big Book of Country Music: A Biographical Encyclopedia. New York: Penguin, 1995. 231-232. Print.
This encyclopedia-style book about country music gave a great insight to the rockabilly subgenre and also Wanda Jackson's musical career. She was "best remembered for her Rockabilly hits of the fifties and her spunky delivery"(231). Because Jackson was one of the first artists to release rockabilly music, her albums had problems selling so she switched back to performing country for a time period. Wanda Jackson's career bounced around between country, rockabilly, and gospel but ultimately her most devoted fans were the fifties rockers. The "Rockabilly" chapter of this encyclopedia gave a broad description to this musical era that will be key research for this project. This new, unheard of sound was "literally the wedding of rock and roll with hillbilly music" and was described as having "jazzy riffs from a single guitar, a heavy, slapped bass, and frantic, pounding drums"(395). Carlin goes on to claim that one of the greatest rockabilly stars was Carl Perkins. The simple instrumentation and catchy lyrics that originated in rockabilly can be seen in today's "New Country".
4. Décharné, Max. "Hillbillies on Speed: Rockabilly Roots Part One." A Rocket in My Pocket: The Hipster's Guide to Rockabilly. London: Serpent's Tail, 2010. 15-33. EBook.
This chapter analyzes the events that led up to the rockabilly craze in the 1950's. It starts out describing music listener's extreme aversion to the new pop-country sound. It goes on to describe the rapid rate of success it soon attained, which is largely credited to performers Elvis Presley and Wanda Jackson. Presley became so successful that he was credited "the King of Western Bop" and "racked up his fifth Billboard country chart number 1 in less than a year"(15). The struggle that rockabilly artists faced when they first started playing was explained by Décharné to be due to avid country music fans resistance to change. The birth of rockabilly music was partially inspired by the black music culture's soulful sounds and "boogie-woogie energetic dance-styles"(29). The rise in rockabilly music also came along with a change in the country music look. Hollywood changed it from being a "patched and thread-bare downhome look adopted by the first hillbilly performers"(32) to flashy, elaborate and sparkly suits. Another impact that Rockabilly had was how it changed the meaning of the word "hillbilly". This word went from having a negative meaning attached to it to a more acceptable slang term used in music. Presley helped change that when he was nicknamed "the Hillbilly Cat" of country music. This source relates to other sources researched because it went into detail about how Presley shaped the industry, yet was unique because it gave a great insight to the events that shaped the rockabilly age.
5. Escott, Colin. "All Shook Up: The Rock Revolution and the Nashville Sound." Will the Circle Be Unbroken: Country Music in America. Ed. Paul Kingsbury and Alanna Nash. London: DK, 2006. 214-241. Print.
Will the Circle Be Unbroken is a unique book in a way that every chapter is written by a different author, however Paul Kingsbury and Alanna Nash edited the book as a whole. In the chapter, "All Shook Up: The Rock Revolution and the Nashville Sound," it gives the reader an idea of how country music, in some way helped develop rock and roll. After reading the chapter, the ideal story of rockabilly seems to have started with Elvis. Escott states, "Neither country nor pop music would ever be quite the same again" (Escott, 221). However, it was thought that the Elvis-style rockabilly threatened to be the death of country music, therefore the studios developed the softer "Nashville sound" to compete. The chapter is filled with pictures and side-notes to help elaborate and really give the reader an idea about what it is all about. The author also helps explain the history behind rockabilly music and how it transitioned into country music, along with introducing famous music artists during that time period.
6. Homer, Sheree. Catch That Rockabilly Fever: Personal Stories of Life on the Road and in The Studio. North Carolina: McFarland and Company, 2010. Print.
 In her book, Sheree Homer outlines the lives and music of some of the greatest rockabilly stars the world has seen. Homer defines Rockabilly as "a hybrid of rhythm and blues with its twelve-bar progression, traditional country with its simplistic lyrics and chord changes, and gospel with its intensity and raw emotion." (Homer, 5) Each chapter is dedicated to different rockabilly legends, detailing their successes and contributions to rockabilly music. In the first chapter, Homer gives the reader insight into the life of Sonny Burgess, a great artist who gave the world songs like "We Wanna Boogie" and "Red Headed Woman." The chapter explains how Burgess, one of the wildest rockers for Sun Records, first started exploring the world of music, where he got his inspiration from, and how he helped rockabilly grow as a music genre. He played guitar with his family at a young age and drew inspiration from guitarists like Scotty Moore and Les Paul. He would then eventually inspire aspiring guitarists. Burgess and his band, the Pacers, were considered to have the best Rockabilly show at the height of the Rockabilly era. The book gives the reader great insight into how these legends came to be and gives them a better understanding of what it means to be a rockabilly artist by giving them background into their lives and inspirations.
7. Morrison, Craig. Go Cat Go! Rockabilly Music and Its Makers. Urbana: U of Illinois, 1996. Print.
In Craig Morrison's book, Go Cat Go! Rockabilly Music and Its Makers, he analyzes and explains the background of rockabilly music. Morrison identifies the genre, tells us the main performers of the genre, and its historical styles. He defines the term rockabilly, a mixture between country western rhythm and blues. It was created by the music industry to introduce a new style of upcoming music. He includes comparisons to other genres that help the reader get a true idea of what rockabilly is about. For example, he uses hillbilly bop in comparison to rockabilly. Hillbilly bop and rockabilly did have many similar features such as their fast tempos and note-filled music. Morrison states, "The definition of the style is a very individual thing" (Morrison, 2) Throughout the book, Morrison contributes personal and published interviews, his own record collection, and his own opinions on country music exploding into rockabilly. He truly writes about the who, what, when, where, and how's of rockabilly music.
8. Shestack, Melvin. "Carl Perkins." The Country Music Encyclopedia. New York: T.Y.           Crowell, 1974. 200-202. Print.
The Country Music Encyclopedia is filled with information about Country music's biggest stars, but specific to the rockabilly subgenre, key information was offered about one of the "founding fathers" of rockabilly, Carl Perkins. Early in Perkins' career, he worked with Johnny Cash. The natural harmony that Perkins had when he sang with Cash is what launched his career, however once Perkins heard Elvis Presley's sound on the radio he immediately knew that he wanted to start writing rockabilly. Inspired by the rockabilly sound, he wrote his first hit "Blue Suede Shoes" which "had kids all over America waiting in line at the record stores"(202). Perkins' music targeted a much younger audience and according to Shestack, he had "the first song by a white man that caught the essence of the new youth in all its spunky yet narcissistic glory"(202). After being in the spotlight, Perkins picked up some bad drug and alcohol habits, which he later quit with the help of his good friend Cash.
---
Guiding Questions
Why was Elvis Presley so significant to rockabilly music?
Although it was thought that rockabilly was going to be the death of country music, who and what made it [country music?] stay alive and become popular?
Why did Nashville pose such a threat to Los Angeles when rockabilly started to become popular in the 1950's?
Why were people so against rockabilly when it first came out?