Written by Elizabeth Stack, Gerrit Cook, & Mikey Casarez. 25 September 2014.

Whenever "Sweet Home Alabama" comes on everyone sings along regardless of what state they're from, and if a band is playing at a bar, you can be sure someone is going to yell out, "Free Bird!" These iconic songs are a product of the southern rock movement, which began in the late 60's and spanned the 70's.
It was a music reacting to the times in various ways. The tumultuous Civil Rights Movement era was coming to a close, and Brit rock was ruling the airwaves. Young Americans were looking for an outlet for their frustration, and a music that not only satisfied their rebellious inclinations, but also was relatable to their lives (Kemp xii). Southern rock filled this void with its sound characterized by twin lead guitars, gritty vocals, and heavy drumming. It incorporated blues, country, jazz and R&B with working class themes that strongly appealed to those searching for a way to regain pride in their roots. What began regionally quickly spread across the country.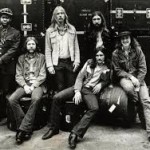 It is important to note that there were varying styles of southern rock. The first wave came out of Macon, Georgia's Capricorn Records with the Allman Brothers Band who had a distinctly bluesy sound. They became known for their jazz like improvisations on stage, and insightful lyrics relating to the chaos of the times (Kemp xii). Their 1971 live album At Filmore East became an instant classic and reacquainted listeners with songs like "Whipping Post" and Coltrane-inspired concert favorite "In Memory of Elizabeth Reed." Though their music was in many ways complex, they had an undeniable southern outlook.
Capricorn Records also gave rise to The Marshall Tucker Band who gained national recognition by touring with the Allman Brothers. Though the band has seen many incarnations throughout the years, they continue to tour extensively and put out new records. It is in part their durability that has led them to be recognized as southern rock pioneers.
The Allmans also paved the way for the next wave of southern bands whose music was more hard rocking and boogie driven than their contemporaries. Lynyrd Skynyrd left behind the jazz improvisations of the Allman Brothers, but came to national fame with "Free Bird," a tribute to the recently deceased Duane Allman, which features an iconic guitar solo. Skynyrd, however, took on a more macho, rebellious image than the Allmans. Rather than trying to make sense of what it meant to be southern, their songs proudly touted all things southern and denounced those who criticized it. One of their biggest hits, "Sweet Home Alabama," was a reaction to Neil Young's song "Southern Man," which attacked southern racism.
Big, bearded Charlie Daniels must also get a mention in the discussion of southern rock. His hot fiddling provided a more country sound, which lent itself to crossover ability on the music charts. "The South's Gonna Do it Again" became yet another southern anthem, and "The Devil Went Down to Georgia" remains extremely popular.
As the 70's drew to a close, so did the reign of southern rock. Many people view the death of Lynyrd Skynyrd's Ronnie Van Zant in 1979 as the end of the era. That's not to say it died out completely though. Throughout the following decades the influence of southern rock has continued to be felt. Many country artists, such as Zac Brown, heavily credit southern rock as an integral part of their music. Kings of Leon and Band of Horses are two alt-rock bands for which the argument could be made are the modern version of the southern rock bands of the 70's. A genre that was once looked down upon and dismissed is now regarded as an icon of American music.
---
Key Figures
The Allman Brothers Band was one of the first Southern Rock bands to get national attention. They started their career in Macon, Georgia, and gained popularity through free concerts that they would host. During these performances, the band would also encourage new Southern Rock bands to play in order to increase the popularity of the genre. Rock, country, jazz, and blues were all fused together in order to make a new sound that audiences had not heard before. In order to stay at the forefront of Southern Rock, the Allman Brothers Band insisted on staying in the South instead of moving to New York or Los Angeles because they wanted to be near the fans that helped start their career.
Charlie Daniels (1936-Present) went to Nashville to be a session musician after failed runs with previous bands. He played on several Bob Dylan albums, and was part of Leonard Cohen's touring band in the late 1960s. In 1972, he formed the Charlie Daniels Band, and used the Allman Brothers Band as a template to get the same Southern Rock sound. After the death of Duane Allman, lead guitarist for the Allman Brothers Band, Southern Rock's popularity was dwindling. Charlie Daniels boosted the popularity back up after his band released Fire on the Mountain; which eventually went platinum. In 1975, Nightrider was released, and had the Top 40 country hit "Texas."
Lynyrd Skynyrd (1966-1977, 1988-Present) started as a high school garage band from Jacksonville, Florida. Although the band was founded before the major Southern Rock influences of the Allman Brothers Band, they did not get mainstream radio play until the hit "Free Bird" on their first album Lynyrd Skynyrd. They remained popular after the release of the 1974 hit single "Sweet Home Alabama." Their connections to Southern Rock rely heavily on the lyrics that try to defend the negative connotations of the Confederacy, and the blend of country, rock, and blues. In 1977, lead vocalist Ronnie Van Zant, guitarist Steve Gaines, and backup vocalist Cassie Gaines died in a plane crash. The band broke up shortly after, but reunited with new members. The band focuses primarily on concerts, but continues to keep Southern Rock alive.
---
Recommended Listening
The Allman Brothers Band is the quintessential Southern Rock band and has been making music since the late 1960's. A nice introduction to the Allman Brothers is the album titled Eat a Peach (1972) which was again put out in 2006, re-mastered and including other hits from various albums like, "Midnight Rider", their most notable hit from the 1970 album titled Idlewild South. Another great example of Allman Brothers gold is the album Brothers and Sisters (1973) that features one of their most famous hits "Ramblin' Man".
As for Lynyrd Skynyrd, their first album self-titled Lynyrd Skynyrd (pronounced Leh-nerd Skin-nerd) (1973) is considered essential by fans and features the song "Free Bird" which was responsible for launching them to stardom. Their second album, Second Helping (1974) is another essential part of Lynyrd Skynyrd's discography and contains their biggest commercial hit "Sweet Home Alabama". Both albums are twice certified platinum.
For an introduction to Charlie Daniels, Million Mile Reflections (1979) is Daniels most successful album in his 50 year music career. It features the hit "The Devil Went Down To Georgia". The album is dedicated to Ronnie Van Zant of Lynyrd Skynyrd who died in 1977 in a plane crash. The album has also been three times certified platinum which makes it an essential listen when treading the waters of Southern Rock. Another good listen by Charlie Daniels is the hit song "In America" featured on the 1980 album Full Moon, which is also a certified platinum album.
 Another Southern Rock band worth listening to is the Marshall Tucker Band. Their 1977 album Carolina Dreams reached number 14 on the billboard charts for that year and also is a certified platinum album. It features one of their biggest hits "Heard It In a Love Song".
Kid Rock is also a cross-over artist that began to incorporate a Southern Rock sound in his music back in 2008 with his hit "All Summer Long" which samples Lynyrd Skynyrd's "Sweet Home Alabama". He also released an album titled Born Free in 2010 that was completely southern rock in nature.
---
Annotated Bibliography
1. Brant, Marley. Southern Rockers: The Roots and Legacy of Southern Rock. New York: Billboard, 1999. Print.
Southern Rockers: The Roots and Legacy of Southern Rock by Marley Brant is a conglomeration of the various aspects of what southern rock is and how it came to be and onto to how it has influenced modern day southern rock. The biographies of many "southern rockers" are masterfully included and drawn upon to give an overall extensive and in depth view into the world of 1970's Southern Rock. From the Allman Brothers to present day Lynyrd Skynyrd and everyone in between that contributed to the Southern Rock movement are thoroughly discussed. The history of Country music is certainly not complete with the inclusion of this period and the myriad of entertainers that gave Southern Rock of this time its unique sound. "If you're looking for a straightforward chronological history of Southern Rock, then by all means read on." (27). Indeed a bit of an obscure, underrated book with testimony from obscure, underrated southern rock artists, Southern Rockers will entreat you with a sense of gratitude for endowing you with the history of a subgenre of country music that has made a massive impact on the music industry today.
2. Erlewine, Stephen T. "Charlie Daniels Bio | Charlie Daniels Career." CMT Artists. N.p., n.d. Web. 16 Sept. 2014.
Charlie Daniels was a North Carolina fiddler/guitarist who joined in on the Southern Rock popularity in the 1960s and 1970s. In this article, Stephen Erlewine summarizes the life of Charlie Daniels including his early career, the different bands he played in, and his current standing in the country music industry. This source complements One Way Out because the Allman Brothers Band is credited as one of the influences of the Charlie Daniels Band. Erlewine notes "In 1972, he (Charlie Daniels) formed the Charlie Daniels Band, using the Southern Rock of the Allman Brothers as a blueprint." After the death of Duane Allman and the dismantling of the Allman Brothers Band, Daniels helped revive Southern Rock with the album Fire on the Mountain. The article describes the eventual shift from Southern Rock to a mainstream country band. According to Erlewine, Daniels sensed that the popularity of Southern Rock was on the decline, so he decided to change genres in order to keep the band in the spotlight. Daniels' "saving" of Southern Rock did not go unnoticed, and he was eventually inducted into the Grand Ole Opry in 2007.
3. Flippo, Chet, and Peter Cooper. "Are You Sure Hank Done It This Way." Will the Circle Be Unbroken: Country Music in America. By Paul Kingsbury and Alanna Nash. London: DK, 2006. 271-95. Print.
In his chapter of Will the Circle be Unbroken, "Are You Sure Hank Done it This Way?" (2006) Chet Flippo, a former Rolling Stone editor and pioneering country music journalist, discusses the circumstances that led to the emergence of Outlaw Country, Country Rock, Southern Rock, and the integration of Pop into Country. Flippo argues that the formation of these subgenres came as a result of the fight for creative freedom and more honest songs. He cites The Reunion at Dripping Springs as the spark for this separation from Nashville when he writes, "The Reunion gave hope to the performers that there was a future beyond Nashville record labels…" Also contributing was a new intermingling with the rebellious youth culture that led to a rock heavier sound, which appealed to a wider demographic. Within the chapter Peter Cooper takes a closer look at Southern Rock with his section, "The South's Gonna Do it Again: The Influence of Southern Rock." Unlike Flippo, who focuses more on historical context, Cooper looks forward with his analysis, emphasizing how the southern rock of the 70's has influenced today's country. It also expands upon the qualities and future impact of the genre along with giving examples of the key performers. Together they introduce southern rock and its relationship to its contemporaries, along with the key figures who strongly impacted the movement.
4. Kemp, Mark. Dixie Lullaby: A Story of Music, Race, and New Beginnings in a New South. New York: Free, 2004. Print.
Dixie Lullaby: A Story of Music, Race, and New Beginnings in a New South, follows the development of southern rock between the years 1968 and 1992. Mark Kemp, born and raised in rural North Carolina, is a prominent music journalist, former editor at Rolling Stone and was the vice president of music editorial at MTV. In his book Kemp discusses the role southern rock played in the lives of young southerners growing up in the post-civil rights movement era, and the identity they both struggled with and embraced. He also details the influential musicians who shaped southern rock, and the relationship he had with their music. He uses the Allman Brothers as a particular example, who he says, "…embraced that chaos, combining country, blues, jazz, and gospel into an otherworldly musical stew that allowed me to feel conflicting emotions: sadness, joy, sorrow, pride." Kemp successfully roots the genre in a time and place by providing rich anecdotal background that gives a clearer picture of how southern rock defined a generation. He also presents an alternative view of southern rock as a means for healing after a tumultuous time in our country's history. In comparison with Will the Circle be Unbroken, Kemp provides a more personal detailing of the music, which will be helpful in expanding beyond its mere history and physical sound, and into the more meaningful nuances that set southern rock apart. Additionally, he gives insight into the forms southern rock has taken as it has progressed through time.
5. Paul, Alan. One Way Out: The Inside History of the Allman Brothers Band. New York: St. Martin's, 2014. Print.
In this book, Paul interviews anyone and everyone who had a connection with the Allman Brothers Band, and these conversations can date back to thirty years. He records testimonies about the beginning, frustrations in the middle, and the current phase that the band members are in. Paul also takes the time to get opinions from other Southern Rock bands that were active in the 1960s and 70s. In an interview with Gary Rossington, founder/guitarist of Lynyrd Skynyrd, he quotes "You can go way back to Allman Brothers playing in Daytona and they were a step above. It's hard to describe the impact it had on us young guitarists to stand up there and see that guy (Duane Allen) play" (43). The author shares stories that highlight the Allman Brothers Band's significance in not only Southern Rock, but Southern culture as a whole. For example, Paul notes that the band members felt a connection to the music because it was made by people who looked, acted, and lived like they did (66). Even after the deaths of two original band members (Duane Allman and Berry Oakley) Paul believes that the band still managed to progress and keep moving forward. One Way Out gathers a raw and incredibly detailed story about the wild career of the Allman Brothers Band.
6. Price, Deborah Evans. "Charlie Daniels Band." Billboard 119.45 (2007): 33-34. Academic Search Complete. Web. 17 Sept. 2014.
The article referring to the legendary Charlie Daniels briefly describes his early life and how his famous music career started and how it continues to add to today's country and Southern Rock music scenes. Charlie Daniels is described as being "'…a true artist and a living legend.'" By country artist Brad Paisley and certainly many others would agree with Paisley on that note. During the 1970's Daniels was a key component of the both the Outlaw music movement and also, probably more prominently, the Southern Rock movement. The article includes mainly first hand testimony of who Charlie Daniels is and how his music came center stage through the eyes of his contemporaries and those who are now beginning to succeed him. From being a session player with Bob Dylan to still rockin' about in his much later years, Charlie Daniels is the quintessential southern music artists and has gone on to create tons of original music to inspiring the musical minds of today's talented youth. Without Charlie Daniels the Southern Rock movement and country music as a whole would be a much less interesting place. Without the Daniels, country music would still be years behind and would definitely be lacking the enriching rock sound and the huge fan base it has today.
7. Roberts, Diane. "Lynyrd Skynrd: Songs of the South." The Oxford American Book of Great Music Writing. Ed. Marc Smirnoff. Fayetteville: The University of Arkansas Press, 2008. 212-215. Print.
Diane Roberts, contributing writer to The Oxford American Book of Great Music Writing gives a short summary of Lynyrd Skynyrd's origins, and her personal experiences when they first started getting radio play. In this chapter, perfectly titled "Songs of the South," Roberts compares Lynyrd Skynyrd to their rebellious ancestors in the Confederate States. She notes "Lynyrd Skynyrd was anti-Establishment, but the Establishment they rebelled against were the liberal, earnest, righteous, Civil-Rights Promoting, anti-war middle classes, the hippie aristocrats as personified by Neil Young" (213). The harsh lyrics are seen as a defense towards the negative stereotypes of the South. This source ties in nicely with other sources that have been used. According to Roberts, "Free Bird" was a tribute Duane Allman's musical influence (Founder of the Allman Brothers Band) and it happened to be one Lynyrd Skynyrd's biggest hits. To give a better perspective of the Southern cultural ties that Lynyrd Skynyrd possesses, Roberts includes a variety of songs with their lyrics included to show that the band was all about the South.
8. Sall, Ralph. Liner notes. Southern Rock, Country Style. Bulletproof/WSM, 2004. CD.
Southern Rock Country Style is a compilation of classic southern rock songs performed by various country artists. In his liner notes, producer Ralph Sall gives a brief history of southern rock, and an explanation of how he believes it lives on in country music today. Unlike Kemp, Sall's history comes from a more musical standpoint. He describes the genre as being driven by boogie, pointing out its macho power. Rather than being a reaction against the social climate, the author believes it was more about reclaiming a music that had gotten away from its roots. He says, "…the record buying public's attention had been usurped by the British Invasion…Southern Rock brought the world's attention back to the land where the music had started." Though the end of the southern rock hay day is seen as 1977 with the plane crash that killed Ronnie Van Zant, Sall recounts the ways in which it lives on through a variety of performers and styles. In a nutshell, southern rock is timeless because as Sall puts it, "it really is a celebration of the power of the individual and the rebel spirit that built our great country."
---
Guiding Questions

1. What characterized the southern rock sound? How did this vary between bands?
2. In what ways has southern rock maintained a presence throughout the years?
3. Where does Southern Rock come from? How did it make its way to the musical forefront specifically in the 1970's? Where do you think it'll go and how?
4. Although Southern Rock is a completely separate musical subgenre within American music, it coincided with the Outlaw movement led by Willie and Waylon. What differentiated the two? What do you think the key aspects of Southern Rock are that separate it from the other country subgenres?