Have you ever heard songs like, "Sold (The Grundy County Auction Incident)", "I Swear", "Life's a Dance" or "I Can Love You Like That"? Well John Michael Montgomery is the man who sings these iconic songs. John Michael Montgomery was one of the biggest hits of the 90's and today many of his songs still play on the radio and are recognized by individuals of all ages. However, he, himself is unrecognizable and unknown by most.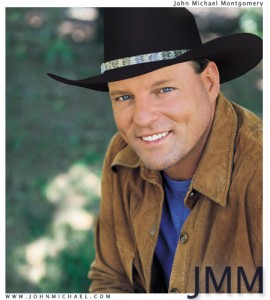 Today John Michael Montgomery is one of my favorite country singers of all time, but not to long ago I was singing his songs without knowing who he even was. As soon as I learned that I would be writing these blogs I knew I had to do one on John Michael Montgomery because he is too good for my generation and even beyond to not continue to listen to and know!
John Michael Montgomery has released eleven albums since his career took of in 1992 when he released his debut album featuring "Life's A Dance", and "I Love The Way You Love Me". He has had thirty singles on the Billboard Charts and seven of which that went number one. He has won multiple awards through the CMA's and ACM's. Montgomery was born in 1965 in Danville, Kentucky to a family who instilled his love for music in him early on. By the age of fifteen he was singing regularly with his family which ultimately led to him being seen and then signed by Atlantic Records.
I was drawn to John not only because his career took off in my favorite time period of country, the 90's, but because his love songs are incredible (I am a sucker for love). It is the between his voice, which focus' on country's traditional roots, and his deep emotional connection with his fans, and his piercing looks that all make him stand out from other balladeers of the 90's.
Like I previously said, many of Montgomery's songs play frequently on the radio and are even easily recognized lyrically and musically but their titles and who sings them is unknown. I want to point out three of these love songs that you may or may not have heard before, but that you need to listen to and remember the name and artist of, because if you ever have been in, are in, or plan to be in love these songs will make you feel like never before. My top three favorite love songs of his are "I Can Love You Like That," I Love The Way You Love Me," and "I Swear." Each of these breaks down what love should really be about.
"I Can Love You Like That" expresses a man saying he can fulfill all the dreams and hopes a woman can have about love. From a young age women are shown love stories through fairytales, movies, and more for example like the song shares Cinderella or Romeo and Juliet. He shares that he will do and love her in the ways she always wished for but never thought were true.
"I Love The Way You Love Me" reveals that one of the reasons behind his love for her is her love for him. He shares that its the simple things she does like laughing or taking long baths that all make up part of why he likes her. Its the way she puts up with him and does little things like cooking for him that also play a part in it. This song reminds you that true love should be when you love and accept everything about a person.
"I Swear" relates back to the original promise behind love, that it will be meaningful and last forever. This song mentions the oath that's taken during a marriage ceremony such as "for better or worse," and "until death do us part." It promises love that will last as appearances may change and things get hard. He compares this promise to things that are very constant such as the moon and stars and shadows.
Each of these songs are extremely powerful and full of feeling. I hope that you will enjoy them as much as I have. I know as a guy you may not want to admit it that you like love songs, but at least give them a chance or check out some of his other songs. He covers whimsical fun topics, family, and military life as well. John Michael Montgomery is an amazing musician that changed the 90's and my generation needs to remember!