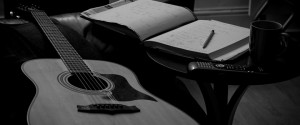 I don't get it. Why do I write song lyrics in a country accent? I don't sing with an accent, speak with one, or even think with one, but I write with one. The words that I write on any sheet, I always read back to myself as if it's a country song. It's not like I only listen to country music. My iPhone contains many different artists and genres, like (admittedly) Justin Bieber's album, Travis $cott, Jeremih, KISS, etc. Even if it were only country…in that sense, I would write in a British accent if I only listened to Ed Sheeran. It's wild to me because I began loving country music only 14 months ago. I used to never listen to country music, so every lyric written was just in Lee's voice. Now when I write, it sounds like a man named "Buck" or "Levi" is singing through my brain onto the paper. I struggle to find my own voice in my own lyrics. I can't pinpoint why, and it drives me insane.
I've come up with two possible reasons for my odd situation. The first is that most of the stories seem to sound BETTER with a country accent. Like "Good Directions" by Billy Currington, it just makes things seem more meaningful, or even more experienced. I guess it's because auto tune is less noticeable for country, all country beats seem man-made, and the lyrics can be understood, unlike today's rappers like Future or Fetty Wap. The second reason is most likely the more accurate reason. Is it is because country lyrics are so much more relatable than anything else? I mean, it ranges from cars to going out at night, but there's never anything too out of the ordinary.
While most hip-hop singers or rappers have lyrics that contain profanity, Lamborghinis, or a plethora of women, country music lyrics make the artist seem like a normal human, with an exceptional singing voice and reason to sing. Jake Owen's "What We Ain't Got" is a prime example of one of the most relatable songs I've ever heard. Take a listen if you haven't heard it.
There's no country verse (that I've heard) that talks about acid and lean like A$AP Rocky, none about getting dirty money like Jordan Belfort, and none about dealing drugs and needing to contact "the plug." Believe it or not, I do not sell drugs; I do not drop acid or sip on codeine; I do not even know how to make dirty money if I tried, so I can't relate to these lyrics. Here's my attempt at writing a rap, right now – "I've got two tattoos, one of my mom and one of my shoes." Who can't relate to that right? Here's a quick attempt of a lyric that I'd actually write — "I'd wrap my fingers in your chenille blanket, wondering when you're gonna stop faking." Correct me if I'm wrong, but I can only think that John Mayer or a country star could sing those lyrics.
No, I don't have tattoos. Yes, I tend to drink from a Red Solo Cup. My mind is stuck in reality, as well as country, where people sing about jobs, dancing, a significant other, or home. I'd say I'm more interested in John Mayer or (recently) Bieber when it comes to what I want to sing like. I don't sing with a country accent. Why do my lyrics have one?
*This video contains profanity*